Wind energy: Latest innovations in specialized transport
So much is happening at the moment, both in the onshore and offshore wind industry, that despite a couple of localised declines in 2021, business is running close to record levels and transport equipment manufacturers are working hard to keep up. Alex Dahm reports.
Last year came close to being a record year for the wind energy industry. At almost 94 GW the amount of installed capacity in 2021 was just 1.8 per cent behind the world record year of 2020. So says the Global Wind Report 2022, published by the Global Wind Energy Council.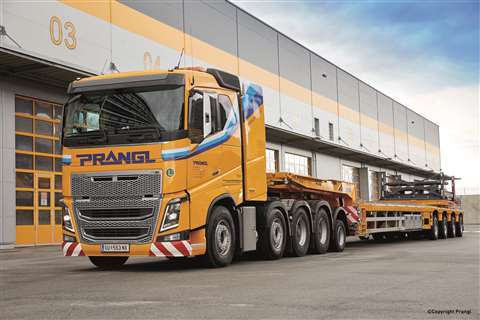 Europe, Latin America, and the Africa and Middle East, the report says, led the way in 2021 with new records for onshore installations. Total onshore installations globally were down, however, by 18 %, due to slowdowns in the USA and China.
Having said that, Asia-Pacific and North America still accounted for more than two thirds of the onshore installations in 2021, the GWEC report said. Offshore installation in 2021 was the highest ever at 21.1 GW installed in the year, an impressive three times more than 2020.
It increased the portion for offshore to 22.5 per cent, or almost a quarter, of the total. In a bid to meet climate change targets, installation of more capacity still needs to increase massively. GWEC forecasts the addition of 557 GW of onshore capacity in the next five years, or more than 110 GW a year until 2026. Offshore more than 90 GW is expected to be added by 2026.
That means a lot of new turbines with the associated transport and erection.
Cost-effective specialized transport
Each turbine requires specialized transport as a vital element, both in the onshore and offshore wind energy sectors. Assembling a wind turbine from as few parts as possible has safety, quality and efficiency benefits, among others.
It just increases the burden on manufacturers of specialized transport equipment who continue to be busy, developing smarter ways to move ever longer blades, larger and heavier components. New from Scheuerle in Germany is the G4 rotor blade adapter.
The newly improved fourth generation model was proved on a project by Steil Kranarbeiten in Germany. The specialized transport and crane rental company transported several rotor blades, each almost 79 metres long, along a short (6 km) but highly congested route.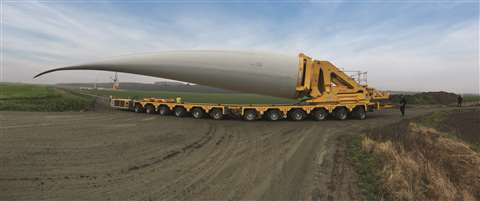 It was from the loading area near Salzgitter to the Flöthe wind farm. Steil matched the new G4 rotor blade adapter with an InterCombi self propelled transporter. It was configured with two sets of six axle lines.
"The rotor blade adapter G4 made a significant contribution to accomplishing the task," explains engineer Sebastian Sehl, company secretary at Steil Kranarbeiten and responsible for project management.
Crucial to the success were the equipment's high load moment and high set up angle, Scheuerle said. The G4 adapter allowed the blades to be elevated sufficiently to swing them over houses and other obstacles.
"We had to erect the rotor blade, which weighs more than 20 tonnes, by up to 45 degrees in order to shorten the transport," Sehl explains. At that point the load moment was around 650 tonne-metres. Its maximum load moment is 900 tonne-metres, with the blade at 60 degrees, which accommodates even larger blades.
Scheuerle says it is easy to adapt the new G4 adapter to suit blades with different root diameters. A height adjustment function allows passage under bridges when loaded. A further benefit of the InterCombi is that it can be set at a width of 3.00 or 3.49 metres.
It means the same kit can move small and large blades more cost-effectively. The G4 adapter supports remote diagnosis and stability monitoring capability, allowing the equipment owner access to status reports.
Transport solutions for the wind industry
Another first for a wind trailer is claimed by Ter Linden Transport from the Netherlands. The specialist contractor was the first customer to receive the latest MWT-XL Mega Windmill trailer from Dutch manufacturer Nooteboom.
It consisted of a 4-axle jeep dolly with lift adapter and a 7-axle self-steering dolly with lift adapter. The new MWT trailer accommodates the latest large diameter turbine tower sections. These have increased in diameter from 4.5 metres just a few years ago to more than 6 metres today.
Nooteboom says advantages of this type of trailer over modular types include less maintenance, a lower price and they are easier to move because they are lighter and have a shorter combination length. Key to its success, however, is the fact it can be loaded and unloaded without using cranes.
Now, with the XL version, turbine tower sections with a diameter up to 6.3 metres can be carried. With the extra diameter comes a higher centre of gravity so more stability is needed for these 100 tonne loads travelling at 80 km/h.
To increase stability the 7-axle self steering dolly is now 2,840 mm wide. To transport extra long turbine blades Goldhofer has designed new and larger elements for its Blades transport system.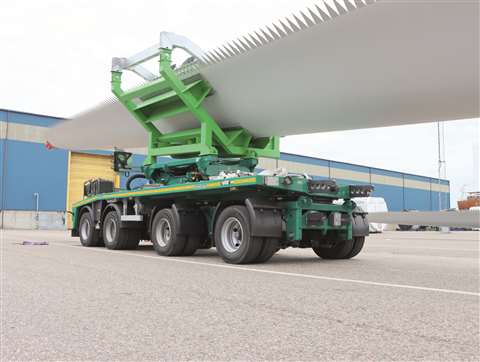 German transport specialist P. Schwandner Logistik + Transport invested in this new kit so it can be certified to move 80 metre blades from Danish wind turbine manufacturer Vestas. The Goldhofer hydraulically steerable trailing dollies are fitted with a new hydraulic blade tip carrier certified by Vestas.
To move the correspondingly larger tower sections they above are used in conjunction with a further developed Goldhofer RA 2-110 tower adapter. This can handle tower sections weighing 110 tonnes and 6.8 metres in diameter.
Its extra payload comes from a combination of a front bogie in the form of a four axle dolly on pendular axles with a heavy duty THP/SL-S (285) module trailing. Having one free-turning device (at the front between the dolly and the tower adapter) instead of the usual two, increases lateral stability.
Transport equipment manufacturer Faymonville and Austrian company Prangl have co-operated for years developing vehicle technology for special and heavy duty transport. Looking to the future, Prangl has three new WingMax flatbed trailers for wind turbine blades up to 70 metres long. Features include a long stroke gooseneck, what Faymonville says is the longest available loading platform with 4-fold extension, and 19.5 inch pendular-axles.
It has a slideable load support for the blade tipping frame to allow the flatbed to be shortened even under load. It is a refinement to help when passing through winding road sections.
Electric power pack unit
Another first with the wind industry as a target market is an electric power pack unit (PPU) on a four axle-line module of Scheuerle self propelled modular transporter (SPMT). To prove the ePPU in application Mammoet used it to replace a production vessel at a Dutch chemical plant. Historically, for such heavy loads, the amount of power required has been a barrier to the use of electricity in an SPMT application.
Working with Scheuerle and "thanks to extensive research and testing this has now become a reality," Mammoet said. Ludo Mous, Mammoet Europe operations director, explained the benefits of the electric PPU, "The ePPU is a really important step in how we support our customers with decarbonising projects.
"But in this case, the benefits were not limited only to a lower carbon footprint. With work taking place in a highly confined area, we would have been highly conscious of the emissions generated by a typical diesel PPU and would need to carefully manage operatives' exposure.
"By using an electric model, we removed this issue completely, while also creating a much quieter working environment." Mammoet said the technology is now proven and ready for further application on a broader range of work around the world.