Wind turbine erection: Ecological warriors
With renewable energy becoming an increasingly important source of energy around the world, there is a growing demand for equipment designed to help erect the wind turbines. In this feature we will look at look some of the sector's developments. Starting in the Netherlands, a country that prides itself on its green initiatives, Utrecht-based consultancy, engineering, design and engineering company Eager.one (formerly Euro-Rigging) has launched a new Transition Piece Lifting Tool (TPLT). According to Eager.one, its new TPLT uses clamps instead of pad-eyes (which its previous versions used) to interface with the TP Flange. It can also be used as a spreader or as a tool suitable for handling pad-eyes if pin pushers are used instead of clamps. The tool is suitable for transition pieces (TPs) with T-flanges and L-flanges weighing up to 600 tonnes. The modular top beam makes the tool suitable for multiple TP-diameter sizes, Eager.one explains. Because most TPs are equipped with a cover that remains on during installation, the TPLT is designed to cope with the height of the cover, it adds. For safety and ease of operation the Transition Piece Lifting Tool is operated by remote control.
The TPLT from Eager.one
Eager.one has also designed a foldable crane for sister company LiftWerx - which specialises in the replacement of major components in wind turbines. The YawHook crane lifts 800 kg from 100 m height with a 2.5 m radius. It is designed to be assembled by hand in the wind turbine's nacelle where it can then be used for jobs such as moving roof panels, exchanging yaw drives and lifting larger crane systems up into the nacelle.
LiftWerx has also announced new technology designed to lift single wind turbine blades using up-tower cranes. Called the BladeHook, it will be suitable for use on GE 1.X turbine platforms and LiftWerx says it eliminates the use of large traditional cranes for blade lifts.
It follows the launch of a LiftWerx 100 tonne capacity wind turbine maintenance crane called BoxHook, which is designed for larger wind turbines in the 3 to 8 MW range and can be mounted on towers up to a height of 175 m. In an offshore applications, LiftWerx says the BoxHook provides an economic alternative to using a crane mounted on a jack up vessel.
UK-headquartered wireless crane camera system manufacturer Blokcam says it has seen increased interest from crane contractors working in the wind turbine erection industry for its camera system. The company's Blokcam camera system can be magnetically mounted vertically or horizontally on the crane hook and the wind turbine tower to aid the crane operator's view as the tower sections are being lifted into position. Blokcam says that the use of its system can help reduce the amount of time a signalman might have to stand underneath a suspended load during turbine erection, thus increasing safety. Lifting operations can be observed by multiple people in real time, Blokcam adds.
In the offshore wind turbine erection sector, the Steady Top Feeder concept from Dutch motion compensation systems specialist Barge Master and Netherlands-based offshore equipment manufacturer GustoMSC is one step closer to fruition having received approval in principle from London Offshore Consultants, a UK-based independent marine and engineering consultancy and survey organisation.
The Steady Top Feeder is a modular motion-compensation platform concept that can be installed on any vessel. It is designed to allow the contractor responsible for installation of the turbines at an offshore wind farm location to have the components delivered next to the jack up and under the hook of the crane. According to Barge Master and GustoMSC, it provides a steady, level surface from which wind turbine components weighing up to 700 tonnes can be offloaded in seas with swells up to Hs 2.5 metres. This means operations can continue in more adverse weather, aiding project completion within the allocated time frame. Both companies believe there is a large demand in the US offshore wind market for such a product which complies with the requirements of US federal law, the Jones Act, because the Steady Top Feeder can be mounted on existing Jones Act compliant barges.
Finnish wind power production company Suomen Hyötytuuli has used a Synchoist load positioning system from US-headquartered high-pressure hydraulics specialist Enerpac for the installation of gravity base foundations at the Tahkoluoto Offshore Wind Farm, Pori, Finland. The Tahkoluoto Wind Farm is the world's first offshore windfarm designed for operation in ice conditions. The wind farm includes ten offshore wind turbines, each with a capacity of 4.2 MW.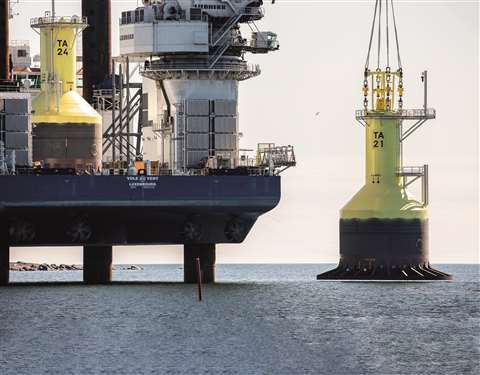 Following preparation of the seabed to provide a level surface, the hollow gravity base foundations weighing up to 500 tonnes were installed. During lowering through the splash-zone and positioning on the seabed, the Synchoist system was used below the crane hook to ensure the foundation remained as close to vertical as possible. Enerpac says this prevented damage to the levelled seabed surface and facilitated the subsequent addition of the turbine tower.
To handle the foundation lift without distorting the transition piece flange used to connect the turbine tower, an X-frame lifting tool was developed that connected to the flange. It comprised a lifting frame with four SyncHoist, self-contained PLC-controlled, double acting, push-pull hydraulic cylinders at each corner, and diesel hydraulic powerpack with battery back-up.
Manoeuvring the foundation by the Synchoist system was performed wirelessly by an operator working alongside the foundation installation team. According to Enerpac, this allowed the operator to lift and lower each cylinder independently to balance, tilt and position the load in response to feedback from four levelling sensors on the foundation. During installation, the level of the foundation was measured, and where necessary adjusted, at every stage of the lift.
"Synchoist made the job of installing the gravity base foundations a good deal easier than using a tailor-made levelling system," says Xavier De Meulder, marine operations manager, Suomen Hyötytuuli Oy. "The wireless control enabled us to make adjustments of as little as 50 mm during installation. The first foundation took 12 hours to install. Later foundations took eight as the installation team became more proficient."
Wind work roundup
On the job front, Goldwind Australia has appointed Boom Logistics, a leading provider of crane logistics and related industrial services in Australia, to undertake the lifting, mechanical and electrical installation of 48 Goldwind wind turbine generators (WTGs) at the Cattle Hill Wind Farm on the eastern shore of Lake Echo in Tasmania. The project started in February 2019 with revenue generated from this contract to be within a range of AU$13 to $16 million (US$ 9 to 11 million) and expected completion in late 2019.
South African rental firm Johnson Crane Hire has been awarded a number of wind turbine projects, starting in the third quarter of 2019. It says the wind turbines will be some of the largest to be built in South Africa with hub heights of up to 115 m and component weights of up to 90 tonnes.
To help out, Johnson Crane Hire is importing two Liebherr LG 1750 lattice boom cranes from Europe to join its existing LG 1750.
In India, crane rental company Sanghvi Movers has secured orders from GE India for the supply of various crane packages, plus auxiliary cranes and specialized trailer for the Gadhsisa Wind Farm in Gujarat. Sanghvi Movers has already erected a 132 m wind tower for GE India. For this it used a Terex CC 2800/1 crawler crane; it claims this is the first time in India that CC 2800/1 has been used to erect a turbine with a hub height of 130 m.
In Chile, crane contractor Burger Grúas is erecting wind turbines at a wind farm in the south of the country. To help with this the company had two of its LTM 1500-8.1 mobile cranes retrofitted by Liebherr with low temperature equipment and an altitude package. The company also ordered additional equipment for its LR 1750/2 crawler crane specifically to help with wind power projects.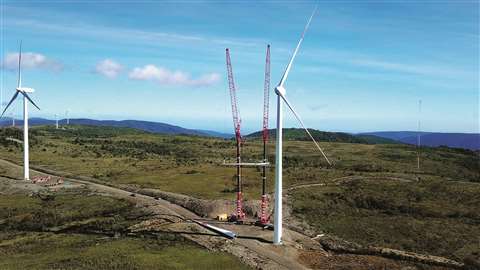 Burger Grúas's two Liebherr LTM 1500-8.1 mobile cranes erecting turbines in Chile
Netherlands-headquartered lifting and shipping company Jumbo has been awarded the contract for the transportation and installation of wind turbine generator (WTG) substructures at the Yunlin offshore wind farm in Taiwan. The job was commissioned by Yunneng Windpower Co, a Taiwanese subsidiary of Germany-headquartered windfarm developer and operator Wpd. Jumbo's scope comprises: the transportation of 40 monopiles and 120 monopile sections, from Germany to Taiwan; the transportation of 40 transition pieces from The Netherlands to Taiwan; and the offshore installation of 80 transition pieces in Taiwan. Jumbo will use its K-class and J-class vessels, as well as other third-party HLVs and deck carriers for shipping the monopiles, sections and TPs. It will use its J-class vessels with DP2 capabilities for the installation of the TPs.

Moving a crane complete
UK-headquartered heavy lift and transportation specialist ALE is using SPMT to move a complete 750 tonne capacity Manitowoc 18000 lattice boom crawler crane between wind turbine towers at the Loma Blanca wind farm project in Patagonia, Argentina.
ALE is using the crawler to install 16 wind turbine generators. The roads between the installation sites, however, are too narrow for the crane to travel along so ALE is mounting it on 36 axle lines of generation 3 SPMT in a 4 file 18 configuration. The SPMT fits within the limitations of the road enabling the crane to be transported whole. This, it says, is saving much time compared to disassembling it, moving it and then reassembling it.
Innovative portable turbine production plant
At the 2019 Bauma Innovation Awards German construction, technology and service company Max Bögl took home the Construction Method prize for its mobile fabrication facility for the production of wind turbine towers. According to Max Bögl, the mobile fabrication facility enables high quality German standard manufacturing of hybrid (concrete and metal) wind turbine towers to be carried out anywhere in the world.

The mobile fabrication facility is based on Max Bögl's two German manufacturing plants. "We rely on the established manufacturing processes that we use at our main plants," explains Stefan Bögl, CEO of the Max Bögl Group. "The transformation from traditional construction to assembly-line construction at our company is an important building block to implementing projects even faster, more flexibly and more economically."
Max Bögl says that by standardising the processes, it can quickly train local workforces around the world while still ensuring high process reliability. It also has the advantage of reducing any tower transportation costs and enabling local raw materials to be used.
The mobile production plant consists of four halls on an area of 40,000 square metres. The production facilities are located throughout the halls and include a concrete mixing plant, a water treatment system and a concrete milling system - which mills concrete segments of the hybrid tower to an accuracy of 1/10 of a millimetre, the same as at its stationary installations. Production can be carried out in all weather conditions and the facility can produce a tower every two days.
To date, the mobile fabrication concept has been successfully used to erect 90 wind towers in Huai Bong, Thailand, for the Thepharak wind farm. In August 2017 Max Bögl Wind AG began shipping 262 freight containers from Sengenthal in Bavaria to Haui Bong in Thailand, a journey of 17,000 kilometres. At the final destination, 260 km northeast of Bangkok, the mobile fabrication centre was constructed in a few months using 3.5 tonnes of equipment. Production began soon after using local resources and around 200 Thai workers.