Wirtgen forecasts stable sales
By Helen Wright18 September 2012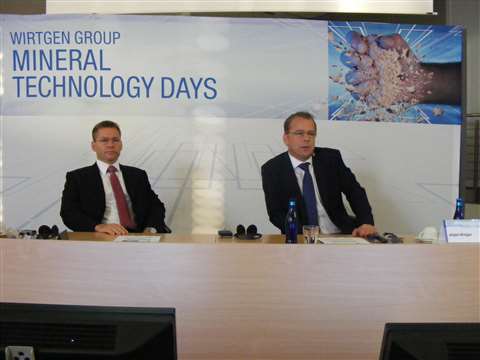 Privately-held German road building and quarrying equipment manufacturer Wirtgen is expecting to report revenues of €1.8 billion for 2012, according to company president Jürgen Wirtgen.
That would make 2012's revenues a new record, albeit only representing a marginal increase in 2011's net sales of €1.76 billion. Wirtgen owns the Kleemann, Vögele and Hamm equipment brands, which manufacture products ranging from surface miners and crushing and screening machines to milling machines, pavers and rollers.
Speaking at Wirtgen's Mineral Technology Days dealer and customer event, which took place from 13 to 14 September, Jürgen Wirtgen's brother and co-president Stefan Wirtgen said business was strong.
"The markets have shifted - international markets are playing an increasingly important role, and growth markets are taking up a larger share of our total sales. We have entered major emerging markets and are now rapidly expanding in these locations."
Emerging markets

In Latin America, Wirtgen has set up a factory in Porto Alegre, Brazil, which produces mixing plants for road construction under the Ciber brand, while the company produces Hamm single drum compactors in Pune, India, and has also built a new sales and service centre with a final assembly plant and spare parts depot.
In China, meanwhile, Wirtgen has set up a base in Langfang, near Beijing, to accommodate an assembly plant, a sales and service centre and a parts warehouse. The local producer range includes selected models of Wirtgen cold milling machines, Vögele road pavers and Hamm rollers.
Stefan Wirtgen said the company had invested €40 million in the China facility. "We must develop new products for these markets, products that are adapted to these markets," he added.
"It is a family-owned company and we are investing in our future," Stefan Wirtgen said. "We have invested an average of €75.1 million a year in the company since 2001, with our German factories another major area of investment. We have completely reconstructed our Vögele factory [in Ludwigshafen] and also built a new Hamm drum factory [in Tirschenreuth]."
Hamm produced more than 6,000 rollers last year, according to Stefan Wirtgen, while Vögele produced 1,900 road building machines in 2011 - all small and mini pavers.
As far as Kleemann is concerned, Stefan Wirtgen said the company estimated it had between 70% and 75% of the world market share of road milling machines. In addition, he forecast that Kleemann would sell €361 million worth of crushing and screening machines this year, compared to around €300 million in 2011, while net sales of €424 million are predicted from the surface mining range in this year.
Expansion plans

"We want to expand our crushing and screening product range considerably and are in the process of developing new mobile units. This is where we see the future," Stefan Wirtgen said.
"We see there are clear advantages to mobile technology, compared to static crushing and screening systems, but that is not to say that we will stop producing static systems. But with mobile units, there is less capital tied up in the investment, and the decision can be made more quickly. The machine is obviously very flexible, too, and can be moved exactly to where it is needed," he explained.
The manufacturer showcased its new Kleemann range of mobile crushing and screening machines during the Mineral Technology Days event - machines on show included the Kleemann Mobicat and Mobirex series of tracked jaw crushers, and Mobiscreen tracked screening units.
Stefan Wirtgen said the company would continue to follow the mobile path in terms of its launches at the upcoming trade shows this year and next.
Indeed, Kleemann technical director Thomas Khühle said that, while static crushing and screening machines took up 80% of the market in 1990 and just 5% of the market was represented by mobile machines and 15% by semi-mobile machines, today 45% of the market was static machines, and 40% mobile, with 15% semi-static.
"By 2020, we forecast that 40% of the crushing and screening market will be represented by static machines, with 50% mobile and 10% semi-mobile," Mr Khühle said. "We haven't reached the end of what is feasible yet," he explained.
Jürgen Wirtgen added, "On the mineral technologies side, we see enormous potential. Increasing raw material prices and worldwide demand for mining and quarrying products continue to drive the market."
Staying in the family

Jürgen Wirtgen also commented on general trends in the German privately-held manufacturing sector, which has been rocked to its core in the last 18 months after two big names in the concrete equipment market - Schwing Stetter and Putzmeister - were acquired by Chinese competitors.
"Writgen is a strong company, we are innovative and have good returns, so we don't consider ourselves as a target for the Chinese and instead want to grow our business to hand it to the next generation," he said.
Over 1,400 mining specialists and quarry operators from more than 65 countries atteded the Wirtgen Mineral Technology days, held in the company's Windhagen headquarters in Germany.