Wirtgen Group promises quality and quantity
By Mike Hayes13 March 2019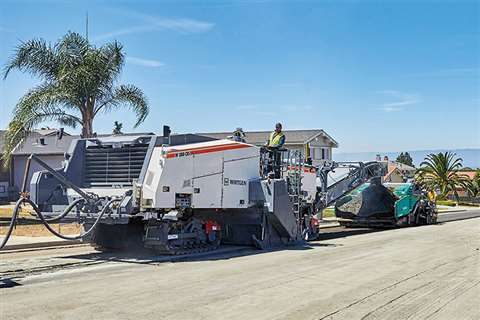 The W 380 CRi cold recycler will be unveiled at Bauma
The Wirtgen Group will have approximately 120 exhibits and 13,000m² of exhibition space at Bauma, and this year the group's slogan for the show will be Smart Synergies & Innovations.
It said its booth would showcase its compatible product solutions and application processes that enabled customers to meet the challenges of road construction in a cost-effective manner while producing high-quality results.
And Bauma will be the first time that the Wirtgen Group will be exhibiting at a joint booth together with John Deere, which acquired the company in 2017.
It said that innovative technologies and intelligent solutions were the hallmarks of its specialised product brands Wirtgen, Vögele, Hamm, Kleemann and Benninghoven.
Wirtgen said it would will be presenting world premieres and innovations in all its product segments – showcasing cost-effective premium solutions for cold milling, cold recycling, soil stabilisation, concrete paving and surface mining.
The Wirtgen brand itself has developed the high-performance W 380 CRi cold recycler, which will be unveiled to the world at Bauma.
With available working widths of 3,200, 3,500 and 3,800mm, the recycler mills the road between 100 and 300mm deep in most applications. At the same time, it granulates the material and transforms it into a new, homogeneous material mixture by adding binding agents such as cement, bitumen emulsion, or foamed bitumen.
With a mixing capacity of up to 800 tonnes/h, the cold recycler can feed enormous quantities of recycled material to a Vögele paver via its swivel-mounted and height-adjustable discharge conveyor at the rear. It said this made it possible to complete extremely long stretches of road in a single day of work.