WOLFLIFT INTERVIEW: In with the new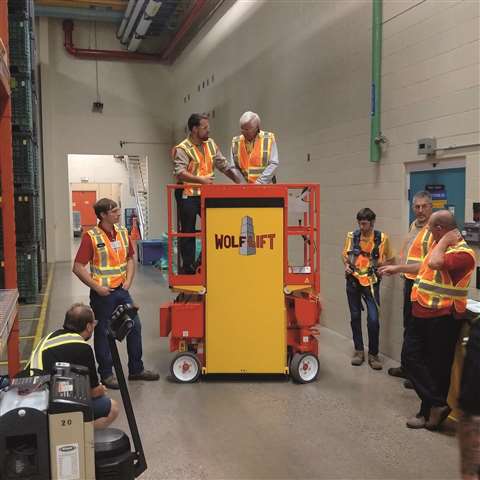 Wolf Haessler is a pioneer of the access industry and has played a major role in the vast scissor industry that North America boasts today, as does much of the rest of the world.
He started as a co-owner of a specialist machine equipment manufacturer back in 1969, and designed his first scissor lift prototype, a rough terrain, around 1980. He came up with the Skyjack brand name in 1984, just one year after he had built his first electric scissor. "We call them electric but they were electric hydraulic," adds Mr Haessler.
"There were already scissors on the market but we were the first I would say to make them user friendly and service friendly; we introduced, for example, swing out draws in the smaller electric machines, we had a cleaner design and they were generally accepted as a superior product."
Remembering those early days, Mr Haessler says rental was dominant just like it is today. "The rental market in the early eighties was already pretty strong, although it wasn't anywhere near the size it is today. In a lot of ways it hasn't changed a whole lot, there are some new technologies that have come in. They had to deal with strong competition and competitive rates - the rates were much higher in those days - but the fleets were smaller and the maintenance costs were higher."
In 1988 Mr Haessler bought out his partner, continuing to run the company under the Skyjack Inc. name and taking the business to Guelph in Ontario, Canada, where it has been ever since. Skyjack went public on the Toronto Stock Exchange in 1994 and by 1997 was achieving annual sales of about $200 million. At that time Skyjack had seven locations in the US and Europe. Then in 2001, Mr Haessler sold the company to Linamar group.
The desire to create better aerial work platforms never left him, however, and soon after - some 14 years ago - Mr Haessler developed a more stable version of the scissor lift, ultimately to become WolfLift. "I always felt the scissor concept from a structural view is rather inefficient, heavy and they are not very steady. I wanted to improve on that."
Forward thinking
A prototype partially made from wood – for design purposes only - would follow almost a decade later in 2013 based on a rack and pinion concept. Another benefit soon became apparent. "I then found, that rather than having to use hydraulics for the lifting function, I could replace the cylinders by replacing them with electric motors that drove directly in to the stabilising pinions. So, we have no hydraulics in there, which means drive and steering is done electrically too."
Now, with a new company Haessler Inc, Mr Haessler hired a small group of young engineers from the University of Guelph, an organisation that he has supported through the years, to help him to develop the concept in a small industrial unit he owned in the town. The company moved to a 5000 square metre building in the same town, although WolfLift required little space, at the time, and in a bid to make better use of the building Haessler Inc. started up a reconditioning division. "There's quite an interesting development in North America for reconditioning used equipment – scissors and booms," adds Mr Haessler.
Indeed, those who have been following the Haessler Inc. story will have noticed there was a short pause in production of the WolfLift around that time. "I stopped work on the WolfLift around November 2015 and started up again in April 2016, I wanted to evaluate what we had achieved and wanted to have a better understanding of the market because we were about to start production of our first 50 machines and do some field evaluation."
Since then around 45 machines have been produced and are rented in the field. "First we did some surveying and now they are all on rent and we are getting 30% more than you would get for an equivalent scissor. We are now preparing for the next batch of 100 machines."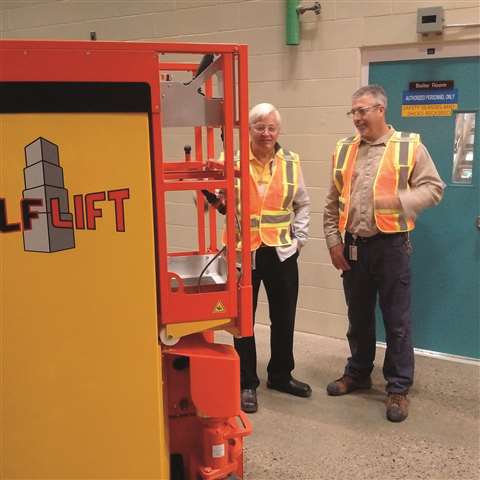 Thus far, there is just the one model, a 20 ft lift with 650 pound capacity, 30 inches wide, 60 inches long.
Apart from the significantly improved stability, the machine uses all-electric AC motors for all functions - that's drive, steer and lift - eliminating all hydraulic components. "There is no chance of oil on the floor, which turned out to be a bigger issue than I realised to our customers. This offers a better efficiency and we get 30% more work cycles per battery charge, compared to an equivalent-sized scissor," continues Mr Haessler.
The WolfLift has a 650 pound lift capacity, for two people, with the benefit of a smaller footprint. Another major feature is the fully-enclosed lift structure. "First of all, no one is going to put an arm in there like you could with a scissor and, secondly, it prevents any debris falling into the lift structure; for example, an electrical worker who drops cut off cables or dry wallers who drop pieces of dry wall. "
Were there any challenges that had to be overcome in the design process? "Some people have expressed concern about the enclosed lift structure and if it has more wind resistance," explains Mr Haessler. "We tested and compared it with the equivalent scissor lift in a wind tunnel in Ottawa - there was minimal difference. Besides, it's not an outdoor machine. We are looking at indoor applications, although you need some wind resistance there too."
So far Mr Haessler says has received positive feedback from contractors building computer data and server centres in the mid-west, which have rented the machine – and are paying that 30% extra. "In the applications where they are used, they are the preferred machines."
Clean approach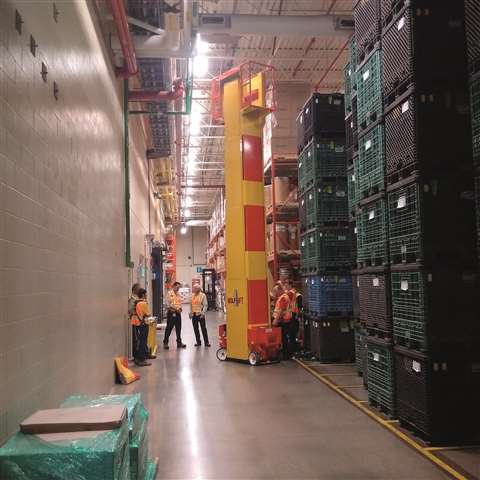 One reason, is the previously-mentioned benefit of no oil leaks. For example, Mr Haessler says major North American retailer Walmart charges a standard fine of $1000 to service providers that leave oil on its floors. "So, this is becoming a more important feature than I first realised. We have identified a need that became more apparent once we were able to fill it – it opened up a new opportunity and demand that we didn't know existed."
Other than retail outlets and service centres, these machines lend themselves to applications in pharmaceutical centres, retail units, casinos, airports, exhibition centres and hospitals, "anywhere you need a clean machine in an environment where the public might have access to it – there is no chance of putting a grocery bag or arm in there."
With these benefits comes a higher initial price for the machine, around 20% to 30% above a conventional scissor of the same size. "Therefore, we had to test the market to see if the features warranted a higher rental rate. We tested it at a higher rate and we are getting the higher rate and we have demand for the machine," says Mr Haessler.
"It's all about rental rates. Everyone is trying to offer something that distinguishes them from the competition. If you have features that the customer demands then you have the chance to raise your rates."
Mr Haessler is now looking for a handful of qualified exclusive dealers in North America and worldwide - that's Europe and Asia specifically. "I'm looking for dealers who have the experience in supplying lifts to industries where they actually need the WolfLift features. If you are competing with a scissor lift and a scissor lift will do the job, you will have a problem renting it."
The capacity of Haessler's existing facility means it can produce around 100 machines a month. "Once we get them in the field and have the opportunity to prove the features, the market is considerably higher than that, but that's what we are looking at immediately."
Most of the immediate sales are anticipated to be in North America, with a few in Europe. "I think the features will be very much in demand in Europe. But we are introducing it carefully, we want to get some experience in the rental and sales market in the North American market first," explains Mr Haessler.
Looking ahead, there are of course expansion plans and new models using the WolfLift all-electric, rack and pinion concept, along with any other service and safety initiatives that will differentiate the product from other aerial work platforms on the market.