Work of art for Feldmann
By Laura Hatton23 May 2014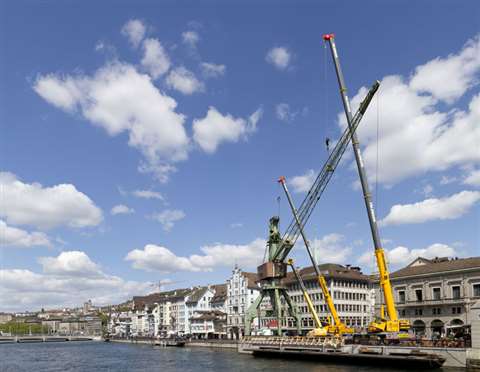 Heavy lift and transport company Feldmann, based in Switzerland, used two Liebherr mobile cranes to help install an old port crane on the River Limmat in Zürich, Switzerland.
The two cranes on site are a LTM 1130-5.1 and LTM 1070-4.2.
The installation of the port crane is part of an art competition organised by the Commission for Art in the public area of the city of Zürich. The 30 metre high port crane was the winning entry for the Zürich Transit Maritim project. It weighs 90 tonnes and was originally located in Rostock. It will be on display for nine months.
The main task for the installation of the crane was lifting the port crane's pillar, which weighs 27 tonnes. The lift was carried out by the LTM 1130-5.1. The LTM 1070-4.2 and the LTM 1130-5.1 carried out a tandem lift to erect the boom of the port crane, which is 35 m and weighs 8 tonnes.