Work progresses on Four Frankfurt project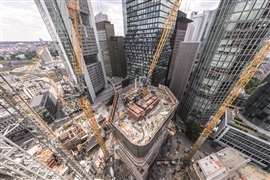 Progress is being made on a tower quartet in Frankfurt, Germany, that is said to being constructed with pioneering architecture and a sustainable urban development concept.
Falsework and formwork company Peri is playing an instrumental and role in Groß & Partner's 'FOUR Frankfurt' inner-city project with a wide range of systems for formwork and scaffolding applications and climbing technology that is subject to the most stringent safety regulations and a sophisticated logistics concept.
The estimated cost of the project is €1 billion (US$1.065 billion) and the current planned completion data is 2025.
The four towers will differ in terms of their height and purpose. T1, the highest tower in the quartet, will scrape the sky at a height of 233m and, on completion, will offer 56 floors of office space.
T2 and T3 are two high-rise residential towers, with heights of 178m and 128m respectively. Tower T2 will be one of the highest residential towers in Germany when completed. Tower T4 is the smallest tower in the ensemble, with 25 floors and a height of 104m.
A total of around 600 flats with recessed balconies are being built in addition to a hotel, serviced flats and office space.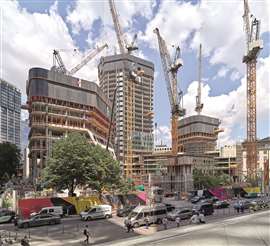 Cooperation between Peri and the contractor GP Con commenced at an early stage with the development of the construction concept in order to realise the demanding architecture and to enable efficient structural planning.
The comprehensive concept involves the use of diverse and innovative Peri system solutions, which are used on the construction site as part of a partnership-based cooperation and with the constant support of a Peri project manager.
In addition to climbing systems, this also includes numerous wall and slab formwork systems, solutions from the PERI UP Scaffolding Kit as well as a wide range of components.
All four towers are built on a multi-storey contiguous basement structure, which in turn supports a podium that forms the nucleus of the new district. The passageways with their retail and catering outlets provide direct links to Frankfurt's city centre and the surrounding neighbourhoods.