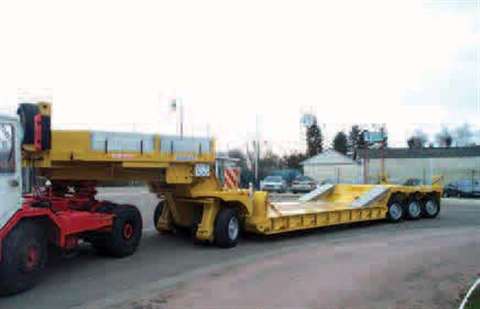 In a joint effort, Nicolas of France and Scheuerle of Germany, both members of the TII-Group (Transporters Industry International), have introduced the Eurocompact range of low-bed trailers. Both companies claim that their new compact, swan-neck, integrated dolly gives extra load length without compromising overall length.
As a result, operating a Eurocompact low-bed requires less permitting compared to currently available low-bed trailers, according to both Nicolas and Scheuerle. The basic design of the Eurocompact is based on compact dimensions to minimise the required permits. For example, a seven-axle combination, consisting of a four-axle tractor, a two-axle swan-neck dolly, a 5 m fully-retracted bed and a five-axle rear module, is only 22.2 m long. Standard width is 2.74 m.
The optimised turning radius of the combination allows for one driver. The seven-axle trailer has a capacity of 80.7 tonnes at 80 km/h and is, according to the manufacturers, the optimum combination of capacity and loading length that requires only a minimum of permits and, at the same time, is allowed to drive empty on a long term permit according to the German road regulations (StVZO). This, they claim, adds to the flexibility and efficiency of the Eurocompact.
The detachable low-bed is connected to the swan-neck dolly by a compact bayonet connection. It enables fast and safe uncoupling and coupling to load and discharge self-propelled equipment. Because of the compact design, the low-bed itself could be optimised in length and can be extended from 5 to 7.7 m, in 0.5 m steps.
Scheuerle and Nicolas say the rear end of the trailer has been redesigned, based on a rigid but lightweight frame. Pendulum axles fit to the frame but, due to the new steering kinematics in combination with the axle compensation between +470 and -210 mm, offer a maximum steering angle of 60 degrees. This results in a limited outer radius of the trailer of less than 1,100 mm according to measurements taken by TüV Technical Inspection
Authority Hesse, Germany. This also allows for one driver when driving empty. According to the German road regulations a 12 tonne axle load per line is allowed. The rear deck also offers an extra deep central go-through that enables excavator booms to be lowered almost fully. It keeps travel height down and increases stability.
The Big-Move Group, a joint venture of 12 highly specialized heavy transport companies in Germany and Austria, ordered eight new Eurocompacts, including the seven-axle combination.