Working towards a greener future
By Laura Hatton25 September 2014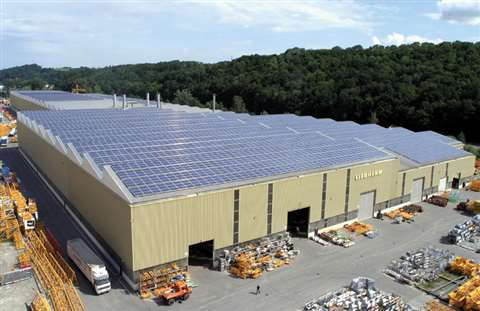 From the manufacturing process to making equipment more recyclable, manufacturers are reducing the impact their products have on the environment. Laura Hatton investigates
With increasing focus on reducing the environmental impact of manufacturing processes, manufacturers are putting in a lot of time, effort and resources to achieve it.
Crane manufacturer Hiab, for example, follows the ISO14001 management system during manufacturing procedures. "We establish programmes to control and reduce our impact on the environment," a spokesperson from Hiab explains. "In our new multi assembly unit in Stargard, Poland, for example, we have a neutral energy system. We also use solvent free paint, chrome-6 free surface treatment and recycled plastics."
To keep the environmental impact of manufacturing down, crane manufacturer Liebherr-Werk Biberach in Germany is a partner of the Blue Competence sustainability initiative, run by the Verein Deutscher Maschinen-und Anlagenbaus e.V. VDMA.
To protect the climate and environment Liebherr has material collection containers placed around the site and cardboard, paper, glass and plastic is sent for recycling and reused. The company is also converting its factory lamps to LEDs and it has a photovoltaic power plant measuring around 30,000 square metres on its factory roof. This system generates around 2.6 million kWh of green energy every year, a company spokesperson said. In addition, all machining equipment in the Biberach production plant is placed on foundations with double seals to prevent contamination of the soil and ground water.
"The foundations are coated and the construction trench is lined with sheet metal," Hans-Martin Frech, marketing at Liebherr-Werk Biberach adds. "Most of the cutting fluids used on the machining units are also recycled and to reduce water consumption even further, these fluids are checked daily and only changed when absolutely necessary."
The Liebherr-Werk Nenzing (LWN) factory in Austria is located in a water protection area, which adds even more pressure on the manufacturer. "In order to minimise the environmental impact in our production, LWN has fully automated the fabrication of crawler crane boom sections," a company spokesperson explains. "We also use water based paint, 700 watt lamps, natural gas and the steel used can be recycled."
Crane manufacturer Manitowoc has also been focusing on its environmental impact. The Manitowoc manufacturing plant in Niella Tanaro, Italy, is the benchmark for the company's lean manufacturing capabilities. At the facility in Manitowoc, Wisconsin, USA, the company has reduced the amount of time required for crane assembly.
"We've implemented numerous conservation measures at our manufacturing facilities," a Manitowoc spokesperson says. "For example, we reduce the run time of plant air compressors to conserve electricity and we've upgraded our lighting and improved heating equipment efficiency. Even employee travel is considered. We also make efforts to reduce raw materials scrap through the use of computer software to optimise the layout of shapes on sheet metal prior to cutting or pressing."
On every site, Palfinger has an environmental team to work on issues such as energy consumption, hazardous waste and waste cuttings. "In Western Europe, for example, the roof of our site in Guima, France was converted into a solar roof," a Palfinger spokesperson says. "In Niagara Falls, Canada, the efficiency of the lighting system was enhanced. At the site in Omaha, USA, a new heating system was installed. In Caxias do Sul, Brazil, the PAL green initiative was launched to raise staff members' awareness for the efficient handling of energy."
"In Tenevo, Bulgaria, we managed to optimise oil and dust filter consumption," Palfinger adds. "In Council Bluffs USA a reverse osmosis system was installed to lower the site's water consumption by approximately 30 % compared to the level recorded in 2009. The Palfinger sites in Europe use solvent-free paints. In Köstendorf, Austria, the share of solvent-based paints is approximately 20 %. At this site, components are painted with non water-soluble paints."
Team effort
The focus for reducing the environmental impact that cranes have once in operation is another area that manufacturers and end users are striving for. Tadano in Japan, for example, offers the Cargo Crane Zest Prime Eco series, which has an eco pump and eco winch that reduces engine speed by 60 %, fuel consumption by 45 %, and noise by 8 dB compared to the ZR series, the manufacturer said.
"The eco winch reduces the flow volume of hydraulic oil and controls the temperature increase of hydraulic oil by controlling the speed of the winch automatically, depending on lifting load," a spokesperson from Tadano explains. "During the light weight lifting, the winch keeps a current speed and reduces the speed to a safety level during heavy lifting."
To help reduce its carbon footprint, Hiab worked with Volvo on a solution for an electrically driven pump, offer grease free solutions for certain moving parts. "We also provide solutions for variable pumps to reduce the diesel consumption of the carrier during operations, introducing new sealing technology to minimise risk of oil leakage," a spokesperson adds.
To reduce carbon dioxide emissions, Liebherr offers a hybrid drive named Pactronic for some of its duty cycle cranes. "The Pactronic is an additional energy storage device (accumulator), which is charged by recuperation of reverse power and by the surplus power of the diesel engine. The energy, which is stored as a compressed gas, can be released upon demand and provides additional power for the drive system," a spokesperson adds. In addition, Liebherr also offers the Eco Control system.
Technology is also playing a part in helping manufacturers reduce the impact that its cranes are having on the environment when in operation. Palfinger cranes, for example, have a load sensing system to recognise how much lifting power is required. The system then adjusts the pumping and engine performance. "Up to 20 % of the fuel required can be saved during the loading process," a spokesperson adds.
Building new cranes that are more energy efficient, have fewer emissions, and are safer to use, are some ways that Manitowoc sys it helps reduce the impact its cranes have on the environment. Reducing transport times and space is another area of focus. Tower cranes from Liebherr-Werk Biberach, for example, are designed so fewer trucks or containers are required for transport. The tower cranes also have electric drives.
Power options
End users are also in the spotlight and many companies are continually looking at ways to reduce their environmental impact. Austrian crane rental and transport specialist Felbermayr, for example, made the decision several years ago to use a fleet management system. The system, which has an on-board computer displaying the kilometre status, travel and standing times and a fuel management system, helps save up to 168,000 litres of diesel a year, reducing carbon dioxide emissions by 452 tonnes each year, a company spokesperson says. The investment helped the company win the Award for Commitment to Climate Protection.
Responding to customer demand for greener lifting solutions, GGR stocks a range of zero emissions battery powered compact cranes and machines with alternative power options. "GGR's standard Unic mini cranes can be supplied with an electric or liquefied petroleum gas (LPG) power option," a company spokesperson says. "The cranes are also compact enough to be stored and re-charged on site when hired for more than one day."
GGR also offers customers filtration systems, which can be fitted to the crane's diesel engine exhaust. Three types of diesel particulate filters are available; the Portable Scrubber, Compact Scrubber and Crane Mounted Scrubber. These "scrubbers" offer up to 99 % reduction of particulate matter emissions and are approved by the VERT association, a non profit organisation that aims to establish the best available technology (BAT) for combustion engine exhaust emission control, a company spokesperson adds.