World Crane and Transport Summit 2015 success
By Laura Hatton09 November 2015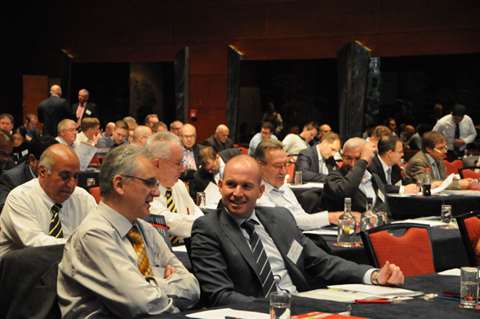 The fifth World Crane and Transport Summit was welcomed by more than 270 delegates as it opened its doors at the NH Grand Krasnapolsky Hotel in Amsterdam, Netherlands, last week.
The event was opened by Alex Dahm, editor of International Cranes and Specialized Transport magazine, followed by Joel Dandrea, Specialized Carriers and Rigging Association (SC&RA) executive vice president.
The conference was held over two days, with presentations from a range of speakers including keynote speaker Jan Kleijn, Mammoet CEO. Kleijn started the two-day event with a speech highlighting some of the potentially disruptive trends impacting on the industry. He mentioned disruptions to the energy industry, the refugee crisis in Europe, lower oil prices, political issues in Russia. He also took a look at the future of the industry and potential influence from web-based technology companies, 3D printing and sustainability.
Continuing with the theme of safety, Marco van Daal used his time on stage to take a look at why so many crane accidents happen in the wind energy industry, taking a look at pressures on the load, reasons beind crane collapses and how technology also changes the way the industry needs to look at job preparation. "Almost all crane accidents come down to human mistakes," van Daal said. "The use of the word accident implies that the 'accident' was not foreseeable and manageable, however, most crane accidents are avoidable."
One way to avoid accidents is with training, as Natasja Sesink, BeOne Development operational partner, showed. She gave her presentation on training and development programmes for heavy lifting and transportation. "We are living in interesting times," Sesink said. "There are many ways to facilitate and participate in training. Digital learning now includes simulators, apps, e-learning, Google Classroom and augmented reality. This involves the real world and the virtual world. Augmented reality on construction sites could be the learning for the future."
A focus on safety and developments in the crane and transport sector continued to be the theme of discussion during the second day of the Summit. A presentation from Jussi Yli-Niemi, Havator Group CEO, gave insight into areas that included environmental sustainability and strict operational requirements when operating in Scandinavia. Ton Klijn, Wagenborg Nedlift managing director and ESTA board director, gave an overview of where the proposals for a European Crane Operator Licence (ECOL) currently stands and ways in which the scheme could be implemented.
Major developments in rope technology and implications for transforming hoisting performance was also discussed, with an interesting presentation from Dr Oliver Fries, WireCo World Group vice president of global research and development, innovation and technology.
The afternoon's presentations included a round table discussion on industry recruitment, with feedback from members of the next generation of employees. Speakers included Marcus Chee, a crane specialist at Bok Seng Logistics, Thierry van Schaik, SSC Wind wind turbine installation engineer, and Koen Doorman, Mammoet junior engineer.
The event was concluded with reports on challenging specialized transport projects in Costa Rica and Guatemala and a video of the winning Moving Job of the Year, presented to Tradelossa by the SC&RA at the Job of the Year Awards 2015.
The World Crane and Transport Summit was organised by International Cranes and Specialized Transport magazine and KHL Group. It was supported by industry associations, including the SC&RA and ESTA. Gold sponsors were Terex and Zoomlion. Silver Sponsors were Kobelco, Liebherr, Manitowoc, Scheuerle/Nicolas/Kamag and Tadano. Supporting sponsors were A1A Software, Blok Cam, Faymonville, Goldhofer, Modulift, Trimble and WireCo WorldGroup.
A full review of the event will appear in the November issue of International Cranes and Specialized Transport magazine.