World Crane Guide 2017
By Christian Shelton21 November 2017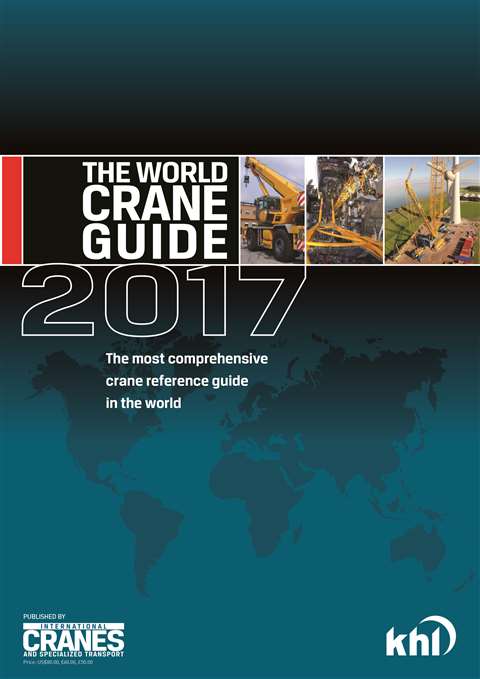 The World Crane Guide 2017 is available as a digital download or in printed paper format from its publisher KHL Group. Compiled by International Cranes and Specialized Transport magazine, it is the most comprehensive reference guide available, listing product information from more than 100 crane manufacturers around the world.
The equipment listing covers eight categories: wheeled mobile cranes; crawler cranes; tower cranes; loader cranes; dockside cranes; offshore cranes; industrial mobile cranes; and overhead cranes. In addition, there are full contact details for manufacturers and for components and services companies.
The data is arranged according to crane type, capacity and other parameters. This allows buyers of cranes to compare the specifications of competing models from different manufacturers to help them inform them in their buying decisions.
The comprehensive guide runs over 90 pages and the information is presented in a clear, easy-to-read format.
The World Crane Guide 2017 can be downloaded free of charge from:
https://www.khl.com/international-cranes-and-specialized-transport/world-crane-guide-2017-free-download/130310.article
Alternatively, a printed copy can be purchased from: www.khl-infostore.com/world-crane-guide-2017 for £50 (US$80.00 / €60.00)