World of Concrete opens
By Lindsey Anderson04 February 2020
Following a record-setting 2019 edition, World of Concrete 2020, Feb. 4-7, is aiming for continued success when it opens its gates at the Las Vegas Convention Center.
More than 60,000 industry professionals from around the world attend the annual trade show where 1,500 exhibiting companies cover 700,000 square feet of indoor and outdoor exhibit space. The event also features an educational program with more than 170 seminars, hands-on training and product demonstrations, workshops and certification.
Here's a look at what you can expect to see at the masonry-focused event.
Applied Machinery Sales (AMS) (C5745) will showcase Merlo and Venieri equipment including the P27.6 Plus, P50.18 Plus and Merlo Roto 50.35 S Plus telehandlers. The company will also showcase Venieri's VF8.63TL, an articulating wheel loader with a telescopic boom.
The P27.6 Plus offers a 6,000-pound maximum load capacity, a lift of 19 feet, 4inches and a reach of 10 feet, 9 inches. The unit has Tac-Lock capability allowing it to switch attachments easily. The P27.6 features 75 hp and can travel up to 25 mph, hydrostatic transmission, a low pivot boom for better sight lines and an enclosed cab with ergonomic seating and controls.
The P50.18 Plus features a maximum load capacity of 11,000 pounds and has a 58-foot, 5-inch lift height. Its reach of 44 feet can handle a load up to 1,600 pounds. The 102-hp machine, with 4WD and three steering modes, has independent front stabilizers, boom side shift and frame leveling for precision load placement. The enclosed cab offers heat/AC, ergonomic seating, control configuration, electromechanical joystick and an LCD screen that shows, in real time, all machine operating parameters.
Merlo's Roto 50.35 S Plus offers a 115-foot lift, 89-fot reach, 360-degree turret rotation, 170 hp, hydrostatic transmission, 20-degree tilt cab and a maximum capacity of 10,900 pounds. An Advanced Safety System displays all machine parameters in real time. Chassis design has increased structural strength and weight for better balance, the company says. All functional controls, such as stabilizer placement, machine suspension and an electronic joystick, are integrated into the multifunctional armrest.
Fraco Products Ltd. (C3431) says it aims to impress visitors at World of Concrete 2020. The Quebec manufacturer will present its latest FRSM-20K work platform model, which will be equipped for the occasion with the latest version of its portable lifting device, the FRH-4000.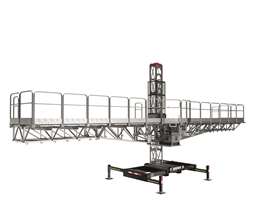 This year, the company intends to surprise visitors with its presentation of an exoskeleton for North American masonry workers. According to the company, "The Fraco Exoskeleton is a device attached to several areas of the human body to restore mobility or increase its capacity. For Fraco, this technology is the best way to reduce fatigue and the risk of injuries associated with handling concrete blocks."
Visitors to Fraco's booth will have the opportunity to attend demonstration sessions of the Exoskeleton and assess the benefits of this technology.
Hydro Mobile (C3008) will be displaying the M-Series and P-Series (at the Bricklayer 500) units. "Hydro Mobile offers the broadest range of mast climbing work platforms and has an extensive local distributor network providing unparalleled service," the company says.
Pettibone (C6581) has begun production of its Traverse T1246X telehandler, making it the third Traverse telehandler launched in the company's X-Series lineup. The unit will be showcased at WoC. The Traverse T1246X offers a maximum lift height of 46 feet, 6 inches and up to 12,000 pounds of lift capacity.
According to the company, the Pettibone Traverse remains the only new telehandler on the market with an extendable, traversing boom that moves loads by traveling horizontally. Up to 70 inches of horizontal boom transfer allows contractors to land loads at the specified lift height, and without having to coordinate multiple boom functions.
The Scaffold & Access Industry Association (SAIA) (C3247) is inviting attendees who produce, distribute, install and design scaffolding and access equipment to visit its stand and learn more about the association. SAIA is offering $100 off membership for anyone who joins on site.
"The SAIA is the only trade association representing this niche sector within the construction industry," the association says. "We also serve as Secretariat for the ANSI A92 and A11 standards. When you join the SAIA, you're not just reaping the benefits of discounted training, event registrations and online store purchases – you become part of a community that's passionate about making a difference in the industry."
The SAIA is also hosting a networking reception on Feb. 4. To register or learn more, e-mail the association at info@saiaonline.org with your contact information and they will register you free of charge.
Snorkel (O30099) will have a strong presence at World of Concrete at its 9,500-square-foot booth.
The company will be displaying a variety of models from its product range, including its full line of Snorkel rough terrain telehandlers.
Since debuting the telehandlers in 2018, Snorkel has added a total of four telehandlers to its range: SR5719, SR630, SR9244, and the SR1054. Geared toward the construction sector, each telehandler is built with a Deutz Tier 4 Final diesel engine and multiple driving modes that allow the units to be used for rental, agricultural or maintenance applications.
Snorkel will highlight the Snorkel S2755RT compact rough terrain scissor lift. Offering a maximum working height of 10.4m, the Snorkel S2755RT has a lift capacity of up to 661 pounds from a chassis that is 4.75-feet wide. The machine was introduced in response to customer demand for a narrower width machine that could be easily transported by contractors using a tandem trailer, according to the company.
Xtreme Manufacturing (O30099) will showcase a number of models from its product range, including the brand new Xtreme XR1347 and XR1547 telehandler models.
The Henderson-built Xtreme Cubes booth structure will be constructed entirely from Xtreme Cubes, highlighting the versatility of the modular building structures across a wide range of applications, including construction and industrial environments.
Surrounding the Xtreme Cubes booth structure, Xtreme will be showcasing popular models from its range including the XR1055, XR1147 and XR1255 high-pivot roller booms; the XR1570 and XR2045 high capacity roller booms; and the XR4030 ultra-high capacity boom. Each model from the Xtreme lineup will showcase various attachments including a truss boom and a pipe and pole grapple.
Other companies on display will include: Bobcat Company (C5377), Caterpillar (C5961) and Magni Telescopic Handlers (C6651), which will showcase fixed boom and rotating telehandlers with capacities ranging from 5,000 to more than 70,000 pounds.
There will also be a range of hoist, mast climbing work platform, scaffold and construction elevator companies at the show. Airo Industries (C3046), EZ Scaffold (C3455) Geda (C3034), Layher (C3315), Peri Formwork Systems (C3345) and StepUp Scaffolding (C3339) are just a few of the companies visitors can see on the floor.