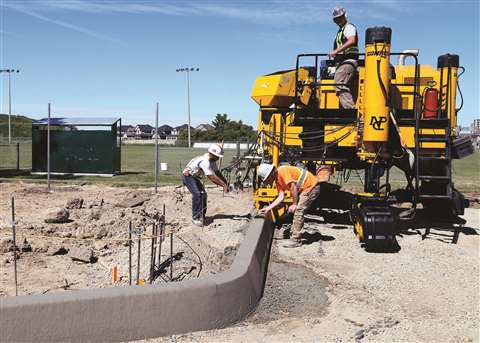 World of Concrete (WoC) attracts original equipment manufacturers from around the world, as well as exclusive US distributors of equipment, tools, products and services for the commercial construction, concrete and masonry industries.
This year, some 1,500 exhibitors will showcase equipment across more than 6,500 m2 of indoor and outdoor exhibition space.
Among the exhibitors will be Minnich Manufacturing, which will showcase its A-1 Series single-gang concrete dowel pin drills.
Minnich says all four of its A-1 Series models can be configured to drill four ways – horizontally, vertically, into a wall or six inches from a corner – eliminating the need to purchase additional equipment or conversion kits. All models in the line also feature adjustable drill height and depth.
The Minnich drill range includes on-grade, on-slab, machine-mounted and utility models with capacities ranging from single-drill to five-gang.
Minnich also offers a complete line of concrete vibrators and vibrator monitoring technology to aid in the process of properly paving concrete.
Breakers will also feature heavily at WoC and Brokk, a leading manufacturer of remote-controlled demolition machines, is introducing its new Brokk 280. The machine boasts increased demolition power over its predecessor, includes the new Brokk SmartPower™ electrical system, and incorporates additional hardened parts for extra durability in tough environments.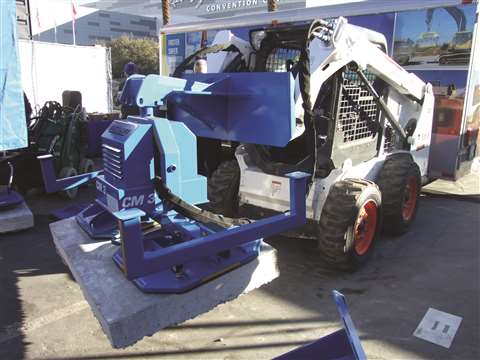 Brokk says its improvements increase the reliability and versatility for operators working on harsh jobsites in industries such as construction, metal processing, mining and nuclear.
The Brokk 280 features a 20-foot (6.2-metre) reach and weighs 6,945 pounds (3,150 kg). By generating as much as 25% more breaking performance – a combination of impact power and blow frequency – over its predecessor, the Brokk 280 delivers a significant boost in productivity.
Martin Krupicka, CEO of the Brokk Group, said, "With 40 years of experience, we are uniquely qualified to keep pushing the limits of innovation for demolition robots. Our objective is to always maximise productivity, versatility and safety for our customers. The new Brokk 280 delivers on all fronts."
Access all areas
Access machinery is becoming increasingly important across the construction industry, especially where health and safety regulations are demanding.
At Woc, ReechCraft's PowerLift will be on display, a portable and versatile lift designed for use in tight spaces. ReechCraft says the PowerLift was developed largely as a response to businesses seeking safer alternatives to ladders and greater convenience over conventional aerial work platforms.
The lightweight and portable PowerLift meets stringent safety standards and complies with A92.3 of the ANSI, CE, CSA and AS/NZ standards, as well as CD EN 280. The PowerLift's fully enclosed personnel basket also provides an extra layer of security compared with traditional ladders.
Jason Solhjem, Vice President of Engineering for ReechCraft, said, "Our dealers and rental customers have played a huge role in defining many of ReechCraft's products, especially the PowerLift. We continue to analyse the needs of our dealers and customers with the goal of having our products available in numerous configurations for a wide variety of work requirements. We've noticed that in many cases, accessing a certain height is the first obstacle that must be addressed and the second is getting the equipment to function efficiently in a particular setting."
Visitors to WoC can expect to see not only leading machines, but also innovative machine attachments, and the RoMar Frog™ certainly fits that bill. It's a custom engineered skid-steer loader attachment allowing machines to drive up to the truck and load cement.
The manufacturer says the RoMar Frog™, with concrete in tow, remains stable on the roughest terrain, and the job is undertaken safely, efficiently and quickly.
The RoMar Frog™ can be used for all kinds of applications including pouring footers for basements and crawl spaces and posts for fences, light poles and decks. Anywhere the concrete truck won't go, the RoMar Frog™ leads the pack while reducing labour costs and increasing safety and productivity.
Tech steps up at WoC
Construction technology will, of course, feature at WoC, and Netarus LLC will have the full-scale launch of its HoistCam™ Director enterprise fleet monitoring software.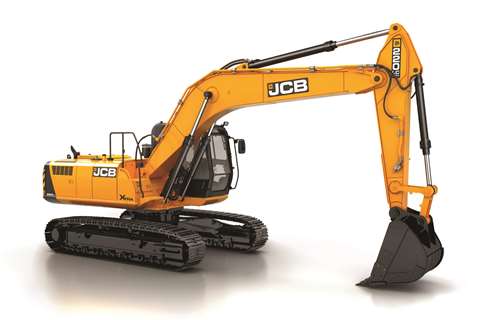 HoistCam Director enables construction owners and managers to remotely monitor an entire job site via HoistCam, SiteCam, and other cameras. By capturing data from integrated sensors, the software provides GPS recording, geofencing, and searchable archives of recordings.
Among the benefits for project managers is the ability to align written assignments with current real-time visual comparisons of the job progression. They can also collaboratively manage work flow and share information within the organisation or with various sub-contractors.
WoC is also the construction division launch into the American market for German construction technology firm Lissmac. Customers throughout the Americas can now buy the firm's construction machinery – all made in Germany – directly from its US subsidiary LISSMAC Corporation HQ in Albany, NY, as well as a regional facility in Southern California, which will provide sales, service, and support.
Featured products at World of Concrete will include multiple floor cutters of different sizes and styles, including electric, gas, and diesel operated models, various core drills, with and without core drill stands, and our SFA Waste Water Filtration systems. Lissmac says one of its highlights will be the new high horsepower UNICUT 600 (136 HP) floor cutter, with remote control capabilities.