World's first fully autonomous surface drill rig
By Andy Brown27 June 2019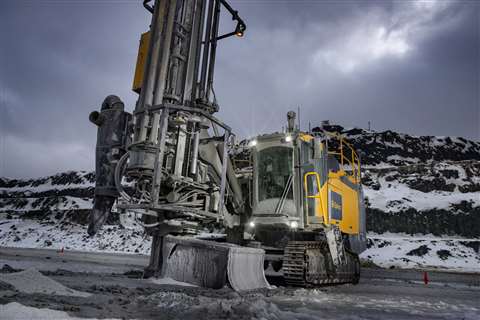 Epiroc has launched what is said to be the world's first fully autonomous surface drill rig, the SmartROC, which is now in production. The new drill rig makes it possible to complete entire drill patterns autonomously with the push of a button.
The new product will remove the operator from potentially hazardous benches in a mine or a quarry, as well as let the operator carry out other tasks while the rig is drilling. Epiroc also claims that the new product offers increased productivity and better hole quality.
The SmartROC is the result of a partnership between Epiroc and Newmont Goldcorp at the Hollinger open-pit mine in Timmins, Canada.
"The Hollinger project is a perfect example of collaboration between a mining company and Epiroc, which demonstrates what our industry is capable of achieving," said Brian Doffing, president of the surface and exploration drilling division at Epiroc.
Autonomous drilling uses already existing technologies, such as Rod Handling System (RHS), Hole Navigation System (HNS) and Auto Positioning. Another crucial factor is said to be the scalability of the Rig Control System (RCS).