WS-Skyworker takes Ruthmann trio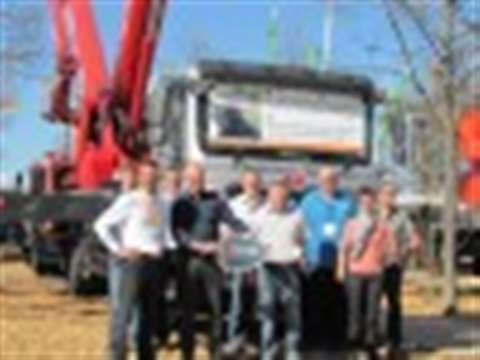 Swiss rental company WS-Skyworker has ordered three truck mounts from Ruthmann's Steiger Height Performance series.
The two 46 m working height T 460s and one T 540, with 46 and 54 m working heights, respectively, were ordered through HUBItec, the manufacturer's distributor in Switzerland.
"In Switzerland, there is an ever-growing demand for truck mounted work platforms in the 40 m – 70 m working height range. They are needed for a great variety of maintenance jobs," said Martin Vögtli, WS-Skyworker AG general manager. Mr Vögtli added that a particular advantage of the two truck mounts was their long upper booms.
WS-Skyworker AG is part of the Sky Group of companies, with more than 500 units in its fleet. Mr Vögtli took ownership of the first T 460 at bauma in April. The T 540 was officially handed over to Mr. Vögtli at the Suisse Public trade show in Bern, Switzerland in June.
The T 460 and T 540 are the first two models in Ruthmann's Height Performance series; a highlight being the boom system, consisting of a very long telescoping upper boom and long movable jib, said the company.
The manufacturer says 65 Height Performance models have been sold internationally since the series was launched in the second quarter of 2012. The manufacturer will be adding the T 380 and T 630 to the product line before the end of this year.