XCMG and Rolls-Royce Power systems team up
By Andy Brown14 June 2019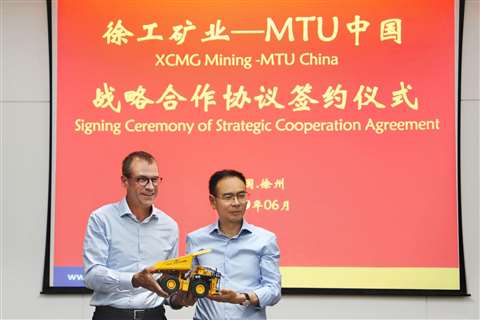 Rolls-Royce Power Systems and China-based original equipment manufacturer (OEM) XCMG have formed a strategic cooperation alliance to further develop the Chinese domestic and export mining equipment markets.
A strategic cooperation agreement was signed in Xuzhou, China, at the headquarters of XCMG by senior executives of both companies.
According to the agreement, Rolls-Royce and XCMG are committed to exploring opportunities to integrate Rolls-Royce's MTU power and propulsion systems, including MTU Series 2000 and 4000 engines, into XCMG equipment for Chinese and international mining projects.
XCMG were ranked sixth in the last Yellow Table – a ranking of the world's top 50 OEMs according to equipment sales figures by International Construction magazine.
Rolls-Royce Power Systems has been supplying MTU S2000 and S4000 diesel engines to power XCMG's mining trucks since 2012. Both parties are reported to see potential in further exploring the market with mining equipment built in China powered by high performing, reliable MTU diesel engines that meet Chinese and global emission standards.
Li Zong, XCMG mining machinery, general manager, said, "The win-win cooperation is aligned with our development strategy to continue to enhance technology and market leadership home and aboard. The combined force of MTU and XCMG will allow us to leverage synergies and create shared value."
The two companies also agreed to collaborate on the testing of new power and propulsion technologies, including gas engines and hybrid solutions and applications of digital technologies to drive low-carbon and sustainable development of the mining industry.