XCMG elevates reputation in Tibet
By Ian Vallely06 October 2016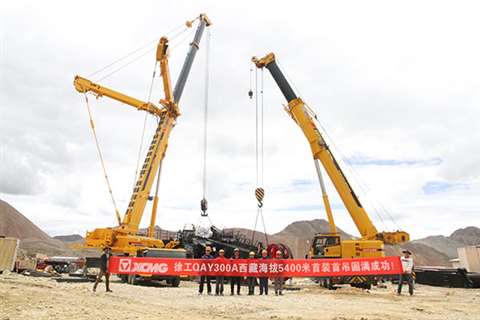 Chinese manufacturer XCMG's QAY300A all terrain cranes have been used in a project to lift and install a 100 tonne electric shovel on Tibet's 5,400 metre-high Mila Mountain.
The cranes departed from the factory in the city of Xuzhou, passed nine provinces and crossed several river bridges, travelling more than 3,700 kilometres in seven days to reach a mine in Maizhokunggar County on the Tibet Plateau.
The long haul and high altitude were a test for the large mobile cranes, placing harsh requirements on the chassis, braking, driving reliability, and up-hill and down-hill safety.
As altitude increases, air pressure decreases, air density reduces and the oxygen content of air falls. The oxygen content at 5,400 metres is roughly 56 percent of that at sea level. Extremely low temperature, an unforgiving environment and heavy crane load could easily cause failure, XCMG said.
The cranes withstood these severe tests, the manufacturer said. They have also been subjected to extremely high desert temperatures, corrosive coastal humidity and heat, heavy rain and shocks.