XCMG launches 17 G-series cranes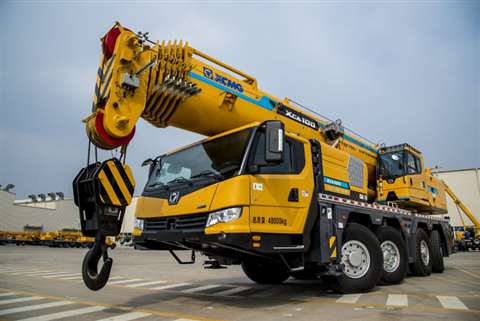 Chinese manufacturer XCMG has launched 17 all terrain and truck cranes in its high-specification G-series.
The G-series performance improvements "greatly improve operation efficiency, accuracy and safety," the manufacturer claimed, and that average fuel consumption is improved by 12 %.
A key model in the new G-series launch is the 100 tonne capacity XCA100E all terrain, shown at the Bauma exhibition in Germany in April. It has a new energy-saving hydraulic system, intelligent boom design and a smart travel control system, XCMG said.
Lu Chuan, XCMG Construction Machinery Co Ltd vice president, said, "The G-series has accomplished 15 technological breakthroughs at the highest level, six of which were introduced for the first time in the industry worldwide, through the hoisting machinery department's efforts, we wish to reach a new starting point that continues to challenge creativity and innovation."