Xtreme up-rates its largest RT telehandler
By Sarah McCay09 September 2014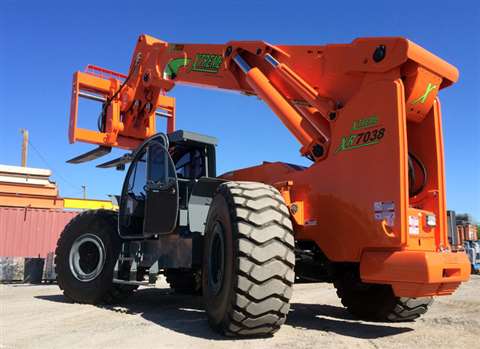 US-based Xtreme Manufacturing has up-rated its largest rough terrain telehander, the XR6538, to the XR7038.
Introduced at ConExpo 2014 as the Xtreme XR6538, the machine has since undergone full testing and has been up-rated to a lifting capacity of 70,000 lbs (31.7 tonnes). This is a 5,000 lbs (2.26 tonne) increase in lift capacity.
The XR7038 has been designed by Xtreme's in-house engineering team for mining, bridge construction and pipe handling applications, plus any jobsite where there is a need to lift and move heavy loads. Weighing in at 115,000 lbs (52 tonnes) unloaded with 38 ft (11.5 m) of lifting height, and featuring 6.5 ft (2 m) tall foam-filled tires and a 24 ft (7.3 m) turning radius, the XR7038 is an alternative to small crane applications.
The new XR7038 is powered by a Cummins 300hp Tier 4 Final engine, and has a large 150-gallon (568 liter) fuel capacity.
The XR7038 features a fork positioning carriage as standard and also comes equipped with a boom lift point, driver suspension seat, rear view camera, electronic engine monitor, and long-life boom rollers for smooth operation.
The XR7038 is available in three configurations: open cab, closed cab with heat, and closed cab with heat and air conditioning. Further customization is available on request.