Yanmar's new tracked carrier
By Andy Brown05 October 2020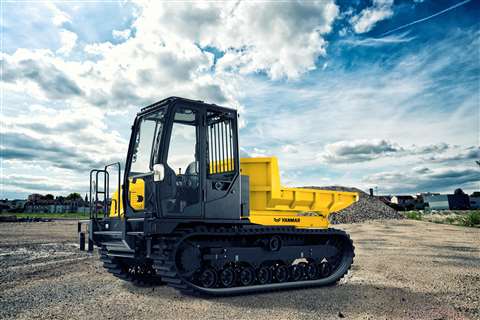 Yanmar Compact Equipment EMEA has unveiled a new addition to its tracked carrier portfolio, the next-generation C50R-5A.
The new model is said to combines compact dimensions with impressive power and durability and features Yanmar's Stage V-compliant 111hp (83.2kW) 4TNV94FHT direct-injection engine. The C50R-5A delivers 410Nm of torque at 1700rpm.
The carrier is fitted with a common rail system and full electronic engine control. It can achieve travel speeds of up to 9.5km/h, while its 121-litre fuel tank ensures fewer refuelling stops.
The engine utilises Exhaust Gas Recirculation (EGR) to reduce NOX, alongside a Diesel Particulate Filter (DPF) and Selective Catalytic Reduction (SCR) technology to ensure minimal environmental impact.
The carrier is available in two different configurations, a standard three-sided model (C50R-5A) and a turning vessel (C50R-5ATV). The standard model can open each side separately (left, right, rear), has 658mm ground clearance and dumps at a 65 degree angle.
On the C50R-5ATV, the entire vessel is mounted on a turning frame that can pivot 90 degrees to the left or right. This allows the carrier to precisely dump material while moving alongside a trench.
The C50R-5A can transport up to 3,800kg (standard) and 3,500kg (turning vessel). It has a width of 2.2m, length of 4.54m and the ability to turn 360 degrees on the spot in seven seconds.
The C50R-5A's undercarriage uses a hydraulic tensioning system that reduces downtime by eliminating the need to perform track tensioning, helping to reduce the total cost of ownership. Another highlight of the C50R-5A is said to be it reversible suspension seat console, meaning that the operator can always face the direction of travel to increase on-site safety.