Zeppelin Rentals helps with virus response
By KHL Staff03 April 2020
Zeppelin Rental has helped create temporary COVID-19 testing centres in Bavaria and Baden-Württemberg, supplying portable buildings and other equipment.
The rental company supplied equipment to municipalities, district offices and THW, the Federally-backed organisation that provides technical assistance throught a largely volunteer workforce.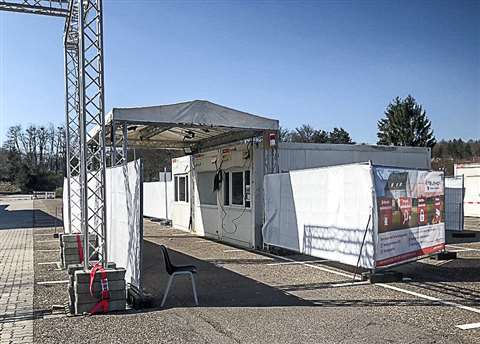 In Aalen, a drive-in test centre was set up within just six hours last week. In addition, it provided shower units and lighting, heating and security equipment for the extension of a hospital in the town.
Zeppelin is also providing equipment at the country's customs and border areas, including temporary accommodation.
"The Corona (COVID-19) pandemic is challenging for medical facilities, doctors, pharmacies, the public sector and many more", said the company, "It demands fast additional space and new uses for room and sanitary systems."