All RentalTracker Articles
Readers from Europe's rental industry are invited to complete the ERA/IRN RentalTracker survey - it takes just a couple of minutes
Conditions in European equipment rental market remain at high level in the third quarter of 2017, according to ERA/IRN RentalTracker
Available in six languages, the online survey takes less than five minutes to complete and all individual responses are treated anonymously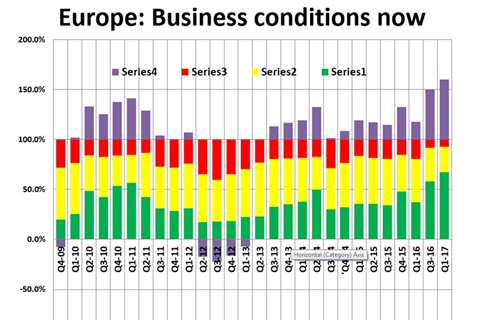 Employees of Europe-based rental companies believe market is improving, according to first quarter ERA/IRN RentalTracker
Overall confidence weakened in the third quarter ERA/IRN RentalTracker, but many respondents also pointed to stability. IRN breaks it down
It only takes a few minutes to complete the questionnaire, so please add your feedback
RentalTracker for Q2 2014 will take five minutes to complete and is available in six languages. Results published at www.khl.com and www.erarental.org
Rental companies in Europe have one more week in which to participate in the final RentalTracker survey of 2013.
Rental companies have until the end of this week to complete the ERA/IRN RentalTracker survey for the third quarter and the 2012 Rental Confidence Survey for companies in the rest of the world.
The ERA/IRN RentalTracker survey for the third quarter of the year has now been launched and rental companies in Europe are encouraged to complete the survey at the links below.
The quarterly ERA/IRN RentalTracker survey covering the first quarter of 2010 is now ready to complete.
The ERN/IRN RentalTracker survey for Europe, Q4 2009 shows the sector continues to stabilise although conditions remain difficult.
International Rental News (IRN) and the European Rental Association (ERA) are jointly launching a quarterly rental confidence tracker to monitor business sentiment in Europe's rental sector.