'First' Rockster R1000S in operation
By Leila Steed11 December 2019
The first Rockster R1000S impact crusher to be produced at the company's new headquarters in Mühlviertel, Austria, is now in operation with earthworks specialist Hopf Bagger.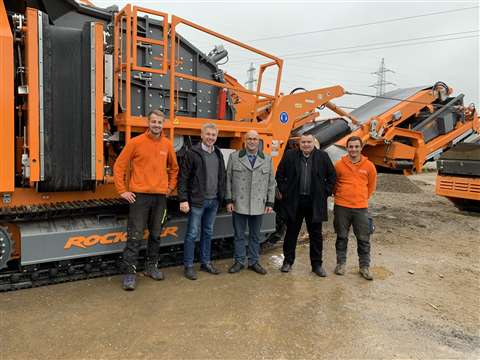 The machine, which can be used for natural stone and demolition waste processing, is being used on a 24,000 m2 (2.4 ha) site in the excavation of plots for a housing project.
Martin Hopf, CEO of Hopf Bagger, said, "Although we are crushing extremely rough gravel here, the cubic end material that we get with the crusher is perfect. We are still in the initial phase and will continue to test all setting parameters, but at the first day of operation, we were crushing 138 tonnes per hour to 0 / 32mm. This is an astounding performance."
The R1000S features a double-apron design and a 2-deck pre-screen system. The model is equipped with a height-adjustable magnetic separator that helps to remove iron and a mounted screen box that is quick to install. Hopf said this allowed it to meet a variety of customer requirements.
The company, which had previously been renting, said the compact size of the crusher gave the business more operational flexibility as the unit can be transported using Hopf's own trucks.
The R1000s is being used in combination with the company's RSS410 scalping screen. Hopf said the screen allowed it to process all its excavated material and repurpose it immediately, without the need to transport or dispose of the material – or add new raw materials.