Tandem lift of ship being scrapped
By Christian Shelton26 March 2021
Video from Ainscough Crane Hire showing a tandem lift of a ship being scrapped by Mitchell Demolition
UK demolition firm Mitchell Demolition commissioned UK lifting and haulage specialist Ainscough Crane Hire to lift a historic vessel at the Albert Edward Dock in North Shields, UK.
The steel-hulled ship, The Earl of Zetland, was built in 1939 as a passenger vessel. She was used during World War Two and then became a diving support vessel. After this she was then used as a restaurant ship on the River Thames in central London. In 1998, the ship was moored in her final home of Albert Edward Dock where she was again used as a floating restaurant.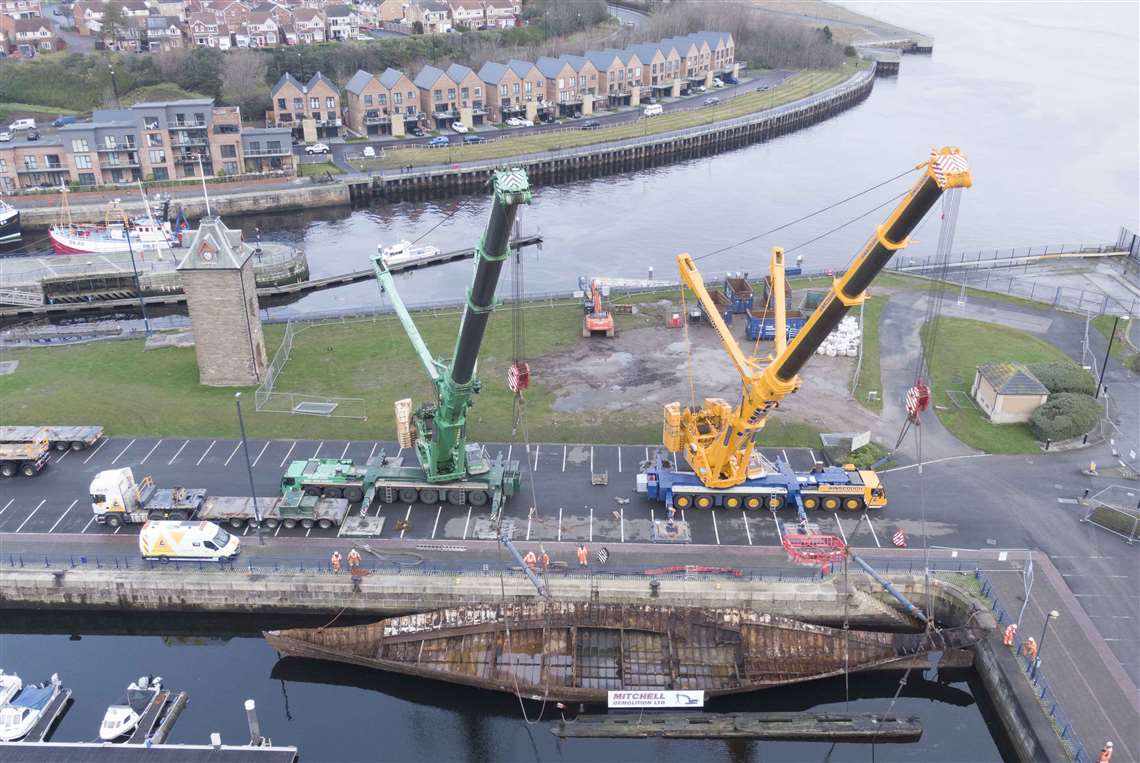 Over recent years, however, The Earl of Zetland became difficult to maintain so the decision to dismantle her was made.
In October 2020 an eight-week dismantling programme began. Mitchell Demolition was appointed by BoatFolk, owners of the Royal Quays Marina in which the vessel was located, to undertake the work.
According to Ainscough, such dismantling jobs usually involve the vessel being broken in a dry dock or slipway. This was not a possibile, however, as there were no appropriate facilities in the marina. A further challenge was that the vessel was trapped inside the confines of the marina having been boxed in when the lock gates were reduced some years ago.
In advance of the lift, Mitchell Demolition stripped the interior, asbestos and oils from the vessel then gas cut the steel frame into manageable pieces before lifting the pieces out one by one to slowly reduce the vessel to a hollow barge.
Ainscough Crane Hire then lifted the vessel, which had an overall length of 48 metres and a width of 9 metres, using two 500 tonne capacity cranes. This tandem lift was deemed the safest way to lift the boat out of the marina, between lampposts, and onto the dockside for further scrapping.
Scott Hawes, area sales manager, Ainscough Crane Hire said, "The Earl of Zetland was a vessel with a proud history, and after many years of service in a range of areas – from playing a role in World War Two to being a popular restaurant – we were happy to work with Mitchell Demolition to give her a dignified, and most importantly, safe, send off. It's for that reason we chose to go with the tandem use of two 500 tonne cranes, which was the safest possible way to complete this lift."
John Mitchell, managing director at Mitchell Demolition, said, "It was paramount to us that this operation was completed in an efficient, secure and most importantly safe manner that showed respect to such a historic vessel. We felt so much happier to use an experienced crane operator with the reputation of Ainscough - they didn't disappoint and the lift went as planned with no complications. We wouldn't hesitate in using them again."