Dingli reveals electric articulating booms
By Leila Steed16 March 2020
China-based manufacturer Dingli has launched its modular series of electric articulating boom lifts worldwide.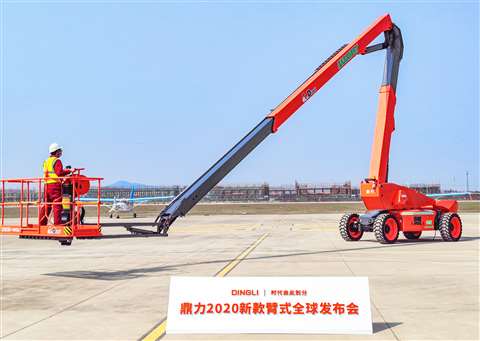 Dingli revealed one of the models, the 28m EAB28ERT, to a crowd of almost 1,500 clients, including 700 rental company representatives, at Zhejiang Deqing Mogan Mountain Airport.
The company's new electric line comprises seven models in total, matching the company's line of seven diesal-powered boom lift models.
The modular design of the platforms means that the electric models share 95% of the same components and 80% of the same structural parts as their combustion engine-powered counterparts, making it suitable for the rental market.
Dingli's low noise and zero-emission electric platforms feature a 80V lithium battery and both quick and slow recharge speeds.
While the smallest platform in the electric series has a working height of 24.3m, the largest in the platform range has a maximum working height of 30.3m and load capacity of 454kg.