First look: World's first electric drilling rig on site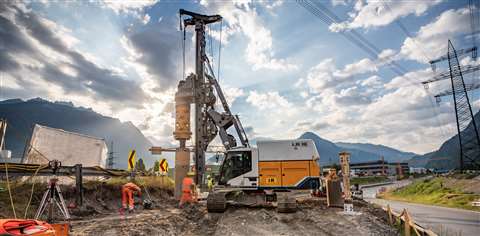 The world's first electric drilling rig, engineered and manufactured by German firm Liebherr, has completed its first ever job on a customer site.
The rig, designed to be 100% electric and produce zero emissions on site, has been operating on one of the largest roadwork sites in western Austria.
i+R, an Austrian contractor, has been conducting deep drilling foundations for the project using the LB 16.
The drilling rig has not been the only electric machine on the site, however; in some cases the concrete was delivered by a Liebherr concrete mixer ETM 905, which operates with an electric drum drive.
In normal operation the mixer's battery capacity is said to be sufficient for the entire working day. As a plug-in hybrid the battery can be charged during the journey or, for instance, at a concrete mixing plant.
i+R also had the use of an electric compact excavator and when all machines were present at once, for the first time ever, deep foundation work on a construction site was carried out using almost exclusively electrically driven machines.
To complete the project, i+R is installing 148 piles and drilling 1,742m into the ground and approximately 1,200m3 of concrete will be poured. The piles vary between 10m and 14m in depth and have a diameter of 900mm.
The machine achieved approximately two piles per day. As a result of restricted working height, casing pipes with a shorter length (2m) had to be used with the reinforcement cages inserted in sections.
On a job site such as this, it is estimated that, over one year, approximately 35,000 litres of diesel can be saved and more than 92 tonnes of CO2 emissions can be avoided.