Predict Summit 2020: Eliminate downtime
By Joe Sargent23 January 2020
Downtime in the construction industry is a major global problem that costs companies millions of dollars each day and can delay projects by months.
But what is downtime and how does the industry tackle such a large problem?
Trackunit and McKinsey Company partnered together to host the Predict Summit 2020 event. The event openly invited the wider industry to take control and eliminate what speakers called the 'mother of all problems' in construction – downtime.
As presented at the summit, downtime was portrayed as machine breakdowns, construction deviations, worker breaks, machine idling and a lack of informed planning, which causes knock on effects, to name just a few.
Speakers included representatives from McKinsey, Trackunit, Google, Renta (Finnish rental company), Imerso (Norwegian BIM and Digital Twin firm), an AI expert at Abzu and German software company Corrux.
A consensus was formed that the industry at large is behind the technology curve in comparison to other industries and that it is time for a change.
The technology is seemingly available to tackle the main issues presented by the speakers, and so the question of what issues are holding the industry back was discussed.
For Trackunit speaker, Søren Brogaard, company CCO, it seems that the implementation is the hard part, followed closely by security concerns.
In his opinion, it is through this event and a willingness to collaborate with other industry members that a democratisation process can help the industry speed up the process.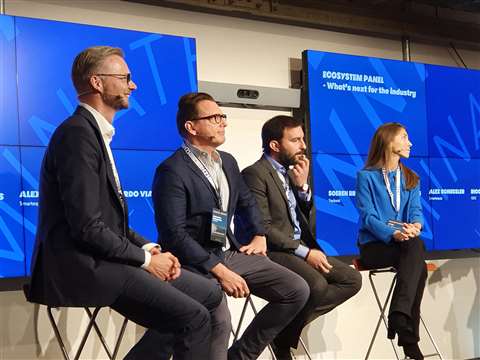 What seemed apparent at the event is that the ability to gather the data from many machines, and in high detail, is there. However, with data experts in such short supply, the question is how best to utilise the data.
A survey of delegates at the event indicates that, from their telematics data, 60% of respondents believed that they did not exploit the full potential of the data made available to them.
A figure of 87% indicates that this was because they believed that it was because they lacked the knowledge or skill to interpret all the data and apply it across the construction ecosystem.
A potential answer comes in the form of AI, but this requires the construction industry to connect with their technology partners to tease out the benefits that it can offer them.
While there is a long way to go, massive strides in technology have been made outside of the industry and it was generally accepted that collaboration among participants, such as technology companies, equipment manufacturers, rental firms and contractors, would help propel the industry into an era of minimised downtime.