Hydraulic gantries: gantry challenges
The lifting industry is very used to undertaking projects that require a custom-built solution. Even though they are a normal part of the job these methods and equipment choices are still interesting and impressive.
Impressive is a good word to describe a gantry project by Omega Morgan, the Oregon, USA-based transport and rigging business, who had to install the first of four hot isostatic presses in a manufacturing facility in Canby, Oregon.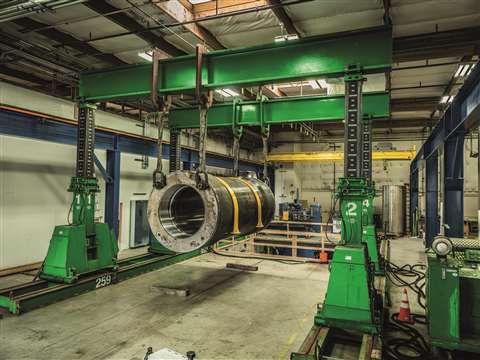 The working space in the facility was extremely tight and determining how to upright the 4.9 metre long press inside the building proved to be a unique challenge. The company says there was no option to create openings in the roof to lower the press in by crane, and the entrance doorways were too low to upright the press outside and move it indoors.
The only way would be to move the load on its side and then use the pit the press would sit in once installed. That would limit the gantries to under 2.4 metres of stroke to upright the press.
After determining the exact rigging lengths – critical when working in such a tight space – the move was executed using a 227 tonne capacity Lift-N-Lock gantry system and a lifting bracket custom-designed, fabricated and built by Omega Morgan.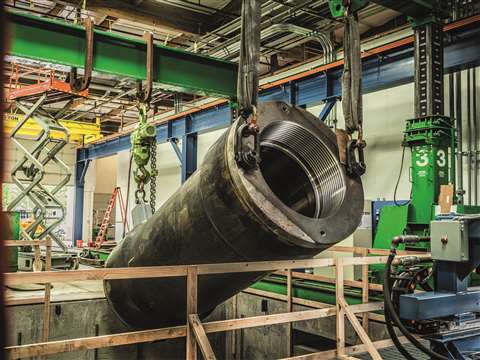 Since it would be impossible to upright the vessel while keeping the rigging system vertical, Omega Morgan's solution involved using a 45.3 tonne air hoist with a single connection to the gantry, and bolting the custom lifting bracket to the bottom of the vessel to maintain vertical rigging. This bracket also helped maintain the appropriate distance between the gantry posts. The pictures on this page tell the story.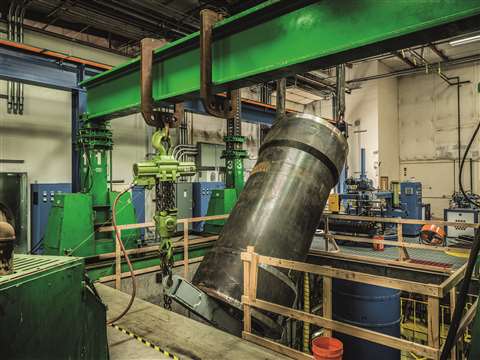 Omega Morgan's fleet of hydraulic gantry and lifting systems is composed of four J&R Engineering Lift-N-Lock hydraulic gantries; a selection of header beams in different lengths and capacities; and a turntable that is mounted on the gantry header beams for lifts that require the ability to rotate.
The fleet comprises a 500 tonne, 400 tonne and two 228 tonne capacity gantry systems. All are powered by engine-driven hydraulic power units running on liquified petroleum gas. The gantry systems have digital readouts that indicate the position of each post at the control unit, allowing the operator to monitor the extension and ensure everything is kept level during the lift.
Manufacturer innovation
Natural conditions, not just physical restrictions on site, also demand innovation. For example, when hydraulic gantry systems are used outdoors the wind can cause serious issues with stability.
To combat this, Italian hydraulic gantry system and heavy load handling equipment manufacturer CLP has announced a new product. It is an attachment for its T series of heavy rigging telescopic boom gantries in capacities from 400 to 1,000 tonnes. At its maximum height of 12.6 metres, the largest, 1,000 tonne T1021-1260 model can lift 600 tonnes. Wind could have a catastrophic effect on something that heavy at that height.
The newly designed X-Wide widening attachment increases side stability by approximately 50 per cent which is well beyond that required in standards, CLP says. X-Wide increases the base of the leg frame from 1,260 to 2,000 mm. It has a fully machined interface so the X-Wide attachment becomes a solid part of the gantry base frame, CLP says.
In addition to the T Series, CLP offers the LG series with open cylinders, from 60 to 200 tonnes capacity on four legs. Lifting heights of the five models are from 5.0 metres on the smallest to 6.7 metres on the range-topping LG202-0670. A feature of the LG series is that there is no loss of capacity when the cylinders are extended to their second stage.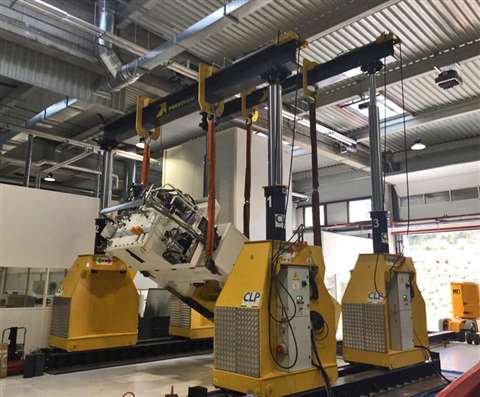 All CLP hydraulic gantries carry safety features that include automatic levelling lift, and overload dynamic control, which also works when using side shift anchors. On the radio remote control there is a display screen for height, actual load and other parameters and messages.
From design through fabrication and machining to final testing, CLP says it does it all in-house, to better control the quality. It uses Bosch Rexroth hydraulic components for all its gantries. The power packs are self-contained inside each tower and there is a separate oil tank in each tower frame. This makes for easy removal and repair. The lifting cylinders have their hydraulic feed and return lines inside so there are no flexible hoses hanging around the gantry tower.
Enerpac is another supplier adding options to its gantry range, with its new SL400N Super Lift, which is designed to achieve high capacity and lifting height with an efficient footprint.
"The SL400N is designed based on the significant growth seen in relevant markets and the need for greater lifting capacities in tighter spaces," said Pete Crisci, Enerpac product line director, heavy lifting technology.
New options
Capacity limits of existing narrow track gantries meant fewer options to lift and position heavy loads in applications where traditional cranes will not fit or are too expensive to mobilise. Moving to a wider track to increase capacity was not ideal. Working in tight spaces, inside facilities, equipment must be compact and efficient. Enerpac engineers increased capacity on this newest gantry without having to go up to a wider gauge track.
The SL400N can lift up to 400 tonnes (first stage) with a 7.7 metre lifting capacity on a standard 0.6 metre track. By being able to stick with this narrow track gauge, the unit can easily be moved around existing obstacles. Operators can spend less time navigating impediments or moving them and use less resource to mobilise and demobilise.
The new gantry has self-contained hydraulics. Each leg has a built-in hydraulic pump to eliminate trip hazards by removing the need to connect hoses and makes it easier to set up. It also includes self propelled rollers. Powered by the Enerpac Drive System, the roller drive allows synchronised travel, continuous movement, and requires less space and track. It is also safer as synchronised movement avoids having significant difference in leg position which can lead to load imbalance, damage to equipment, or accidents. The new gantry has standard wireless controls.
The Intellilift feature is a safe, easy and reliable way to operate the gantry, Crisci says. With no cables, there are no trip hazards or risk of incorrect connections. Wireless control saves time in set up as there are no cables to connect. It also allows unrestricted operator positioning, synchronised movement, and has built in safety alarms.
Gantries at work
Mi-Jack Products's AccuSteer Differential GPS navigation system was a key component on a project adding two lanes to the Caloosahatchee River Bridge in Central Florida, USA. The two-year bridge project was a joint venture of the deMoya Group of Miami and Leware Construction of Leesburg and part of the overall widening of I-75.
A small island under the bridge called The Caloosahatchee Wildlife Refuge, is government protected land and the contractors may not disturb it. In addition to this, the Florida DoT has limited how much vegetation the contractors can remove on the approaches to each bridge for the construction process.
The construction companies used a pair of Mi-Jack MJ70 Travelift cranes with a 25.4 metre inside clear width. The cranes would straddle the bridge, with one set of tyres on the East span, and the other on the West span. The contractors were concerned about how to keep a 92 foot (28 metre) wide machine inside its allocated runway while driving on two separate bridges in a continual arc and 3.5 percent grade.
Mi-Jack proposed installing its AccuSteer differential GPS navigation system, which collects information on crane position using two GPS receivers on each Travelift crane and receives position correction data from a base station. In this case, a solar-powered base station was placed at the peak of the bridge outside the lanes of traffic.
The AccuSteer navigation processor generates steering correction data for the electronic control system (ECS) which is translated into crane movements. It allows the cranes to travel along a GPS-generated pathway to within plus or minus 50 mm of the centre line of the tyre.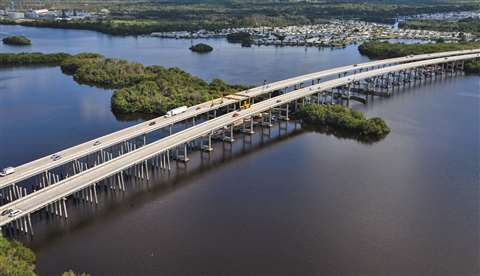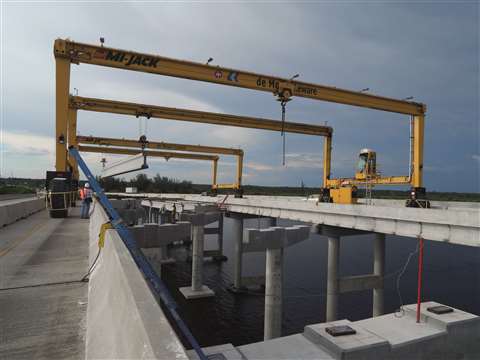 Mi-Jack extended the mapped tracking line another 61 metres beyond the bridge for one of the cranes to facilitate unloading material from trucks in the interstate highway's median, and allow the operator a smooth steering transition back onto the bridge. Without it, the job would be less efficient.
Electronic synchronisation of gantry operations has expanded in the market. J&R Engineering has added more user-friendly features to its Equalizer System. These include a warning to the operator in the case one or more of the lift housings become out of level, which housings are affected, and a notification to the operator if any one of the lift housings become overloaded during load shifting or lifting.
Lift Systems' CARL Control System has recently undergone some value-added upgrades. The 180 mm operator interface is a touchscreen, allowing the use of pictograms for easy operation.
Another new feature is CARL Connect. With the addition of a Bluetooth module, supplied as standard equipment with a CARL System, CARL Connect allows for remote diagnostics and programming to be accomplished wherever mobile phone data service is available through a free smartphone application.
Detection sensors
New sensor technology allows for a claimed industry-leading precision of less than 12 mm of hysteresis (the lag between cause and effect) between four gantry legs. This more precise sensor technology is available as an optional upgrade to the standard CARL System supply.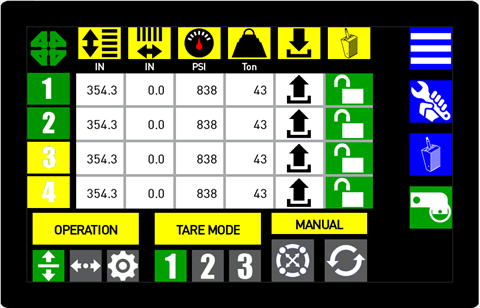 Lift Systems also used the ConExpo show to launch a new Power Tower model – the 34FBG4300WS. Key features are a 363 tonne lifting capacity in a compact package, the company says. Transportability was a design focus to allow four gantry legs to ship on a standard legal-weight step deck trailer to lower mobilisation costs, reducing cost of ownership and increasing bid competitiveness, according to Ben Forster, Lift Systems vice president.
"With a maximum lift height of 30 feet [9.1 metres] with 300 US tons [272 tonnes], this model fills an important transportability versus capacity gap in the market that was previously unfilled," says Forster.
New Sarens climbing jack
Sarens has added another climbing jack system to its heavy lifting fleet, the 350 tonne capacity CS350. It is the latest system in the fleet and joins the larger CS1000 and CS5000 versions of the bottom-feeding type jacking systems already in operation.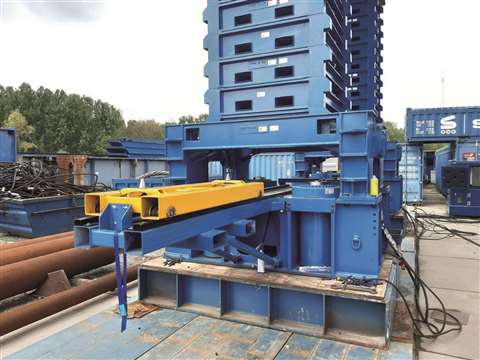 Applications will be across multiple sectors but Sarens says it expects infrastructure to be the most popular. Its fast jacking speed of 3.6 metres an hour, small footprint and a 6 metre maximum jacking height without bracing will be key features in helping to minimise 'possession' time, for example, on railway jobs.
Other features listed by Sarens include: a 7 per cent allowable side load; low starting height; 300 millimetre jacking element height; and a 370 kg element weight. Adding the jacking elements from a position at ground level offers health and safety advantages for the operators over top-feeding systems, Sarens says. The CS350 can be jacked above 6 metres height by adding bracing between the jack stacks or between a stack and the load.
Design was done in-house by the Sarens engineering team and the system was assembled, commissioned and tested at the company's global headquarters in Wolvertem, Belgium. It is now ready for its first job which is a bridge installation project in Eastern Europe.
The Sarens development team made the new system economical to transport. Its weight and dimensions allow two base units to be carried on one truck. Also part of it is a feed system and jacking element handling crane to assist with feeding in and removing elements during operation.
Mammoet used a J&R Engineering T1402-4-39 Lift-N-Lock hydraulic boom gantry to offload seven loads - including the pictured 234 tonne generator - at the HR Milner Generating Station near Grand Cashe, Alberta, Canada. Four J&R PowerLinks were used to shift the loads from railcars to SPMT, and the Lift-N-Lock was set up again to place the generator on its foundation.