Recycling to regenerate construction
By Leila Steed21 March 2022
As the European construction sector transitions to a regenerative, circular economy, Leila Steed takes a look at the latest crushing and screening equipment re-energizing the market.
With 2021 and the worst of Covid-19 (hopefully) now behind us, the promise of what this new year will bring is focused squarely on the environment.
For the construction sector, the global drive to reduce the harmful impact of human activities is now unstoppable.
Although much of this drive is centered around the lowering fuel consumption and carbon emissions of machine engines, the whole life cycle of buildings and infrastructure has brought the importance of crushing and screening as a primary method of recycling construction materials and demolition waste to fore.
Diesel-electric crushers
Thus for contractors, the use of the newest crushing and screening equipment will be key to achieving the recycling and environmental requirements and goals of both projects and clients in the year ahead.
Those contractors looking for high capacity crushing and screening equipment that can handle asphalt, will welcome the upcoming release of the new I4e tracked mobile reversible impact crusher from Keestrack.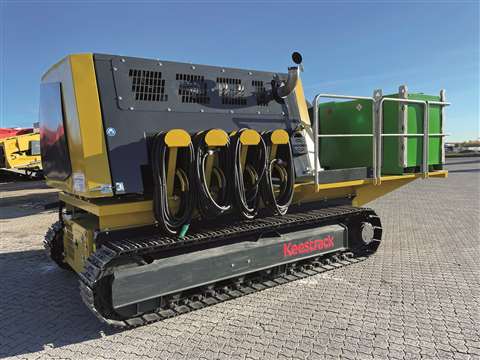 Described as a "real alternative" to mobile cone crushers and vertical impact crushers by its manufacturer, the I4e crusher offers production capacity of 100 to 250t/h and is said to combine secondary and tertiary crushing into a single "highly mobile" machine.
According to Keestrack, which has over 1,000 employees and more than 115 dealers and service partners in 100 countries, the model incorporates a completely new design and can be used for both rock and the recycling of building materials such as asphalt.
"The specific design of the reversible horizontal impact crusher with a large variable crushing chamber, powerful rotor (Ø 1100mm; 4 blow bars) and electronically monitored hydraulic gap adjustment (+80 to -220mm with new tools), allows feed sizes of up to 250mm and ensures consistently high-quality end products of up to 0/2mm in closed circuit," says the company.
Featuring a diesel-electric drive concept, the model weighs 41 tonnes and incorporates a single-deck afterscreen with return conveyor. Like the manufacturer's large H4e, H6e and H7e cone crushers and its B73 jaw crusher B7e), the drive unit of the I4e has been designed as a removable drop-off module.
It comprises a 447kW diesel engine and a 300kVa generator with 160kW electric drives for the crusher, feeders and conveyor belts.
Keestrack says, "Compared to conventional diesel-hydraulic units, diesel-electric driven plants directly save up to 40% of fuel. While working in production trains, the attributable fuel consumption may even decrease by 70% when the hybrid screeners are powered directly via the plug-out supply of an upstream or downstream diesel-electric crusher.
Additionally, Keestrack's tracked engine/generator units can also be used to power the brand's connected crushers, screeners and stackers with electricity, if there is no grid supply available on site.
"This way the economic advantages of the complete production train will rise to its full potential," says Keestrack. It adds, "when looking into the future Keestrack mobile crushers and screens can be sold even without an engine unit."
While Keestrack's new model is not due to hit the European market until later this year (no specific date has been revealed), the latest models from Metso Outotec came out in October of last year.
Crushers for aggregate production
An expansion of the Lokotrack product line, Metso's new LT200HPX and LT220GP mobile cone crushers are designed to work with construction aggregates and provide 30% more capacity than previous comparable models.
"With these new models of 300 t per hour capacity and 40 t transport weight, the customers have even more choice and flexibility to select from our cone crusher range," says Kimmo Anttila, vice president at Lokotrack Solution at Metso Outotec.
The 42-tonne LT200HPX and the 38.5-tonne LT200GP machines both have transport dimensions of 19m in length, 3m width and a height of 3.5m, enabling contractors to move the units between sites on trailers.
Described by Anttila as "a sustainable and future-proof choice for any type of aggregate production", both the LT200HPX and LT220GP crushers feature a Cat C9.3B power transmission and a two-deck pre-screen with a fine material bypass that can handle high levels of material.
Added to that, the models are also available with either H12-10 or H12-12 main conveyors, which offer an adjustable discharge height that allows contractors to use them with other machinery.
While the LT220GP is said to "fit well" with the "Lokotrack LT120/LT120E mobile jaw crushers and ST4.10 mobile screen for high-capacity aggregate production", the Lokotrack LT200HPX mobile cone crusher can be used with Metso's Lokotrack LT106 and LT116 jaw crushers - as well as the Lokotrack ST3.8 and ST4.8 mobile screens.
Asphalt recycling
With an abundance of infrastructure projects in the pipeline thanks to increased government spending, machines that can handle aggregates and roadbuilding materials will be in high demand in the next couple years.
For contractors carrying out roadbuilding and renewal projects, the Centauro L 120.56-APR and Centauro XL 150.56-APR mobile plants from Italian manufacturer CAMS can recycle 100 % of demolished road paving material and offer a zero-emissions operating mode.
Built on the design of CAMS' existing Centauro product line, the models are the first of the company's new Centauro APR (Asphalt Pavement Recycler) equipment range. They feature a Stage V-compliant diesel engine that can be by-passed for full electric operation with zero CO2 emissions.
Complete with 4G connectivity, the Centauro L 120.56-APR and XL 150.56-APR machines can complete all recycling operations in a single automated cycle.
"The pre-shredding pusher system manages to grabs the biggest asphalt chunks and reduces their size to help the primary FTR shredder to process all the input material (inlet plates up to 1000 mm)," says CAMS.
"The FTR itself acts as a feeder for the UVS screening system. The oversize material is redirected to the secondary CTR shredder which reintroduces the further treated material into the screening unit, through to a closed cycle system, ensuring the recycling of the entire product."
Mobile screens
Similarly, the new MOBISCREEN MSS 802(i) EVO from Wirtgen Group manufacturer Kleemann, has also been engineered to provide a high material flow in recycling applications.
Described as a "new generation of screening plants", the MSS 802(i) is powered by a diesel hydraulic drive but is also available with a Dual-Power drive option, which allows it to be connected to an external electric power supply for emission-free work and lower controlled running gear enables it to be transported via a low-loader to other locations.
To help contractors carry out a variety of operations, the model has a hopper rear wall that can be folded to three heights, enabling it to be used with crushers that have a lower discharge height.
The unit can also be quickly reconfigured from 3- to 2-way grit, enabling it to produce two or three final grain sizes, and offers an automatic start function to reduce operating errors and user learning times.
Kleemann says, "The technology behind the screening process must be easy and safe to use for all users "The new plant impresses not only with technological highlights in the process sequence, but also through its ergonomic design, optimised operation and the user friendly maintenance concept."
Indeed, the MSS 802(i) features a removable wired machine control system (as standard) that allows users to control all the machine's driving, movement and operational settings from a safe distance.
"An optimised material flow is a central aspect of all screening plants," says Kleemann. "Only if all components are tuned to one another can high productivity with minimised operating costs be achieved."
It is also available with an extended crusher discharge conveyor and telescopic side discharge conveyors for higher stockpiles, which Kleemann says ensures "ideal processes" on construction sites.
That said, every construction project will have different challenges that require their own processes.
The goods new for contractors is that both the latest - and upcoming - crushing and screening equipment available in Europe, is continuing to increase the amount and type of construction material that can be recycled and reused.
INTERVIEW: McCLOSKEY
The start of a new year invariably involves looking forward to the future a nod to what has gone before. For Ireland-based crushing and screening specialist McCloskey, which was acquired by Metso in 2019, adapting to change has become something of an art form.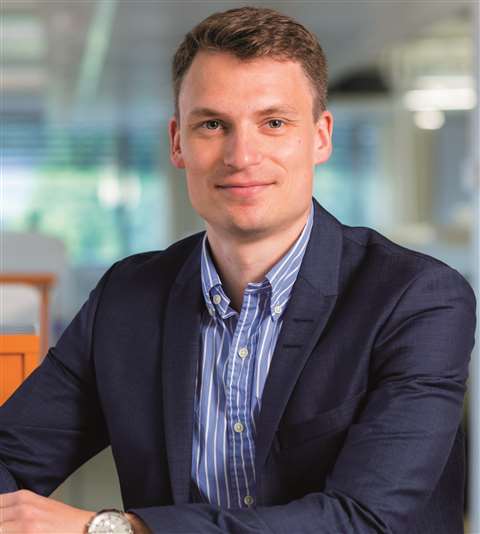 In an exclusive interview with Steve Ducker, editor of our sister magazine Demolition & Recycling International, Toni Laaksonen, senior vice president of McCloskey International, speaks how the company was impacted by the pandemic and what it's predicting for 2022.
"From the business point of view, the biggest impact was here in Northern Ireland because there was a couple of months when we had to introduce the furlough scheme and keep our factories closed due to government regulations," Toni recalls.
"Luckily, we could keep the business up and running because we still had finished good inventories. So we kept delivering to the customers until we were able to start manufacturing again."
Despite the challenges of the past two years, McCloskey has continued to expand its operations with the addition of new distributors and the launch of new products, such as the I4C impact crusher, which is specifically aimed at the construction and demolition recycling, asphalt recycling, and aggregates markets.
Indeed, Toni believes that 2022 has the potential to be a "record breaking" year for McCloskey.
"From the product portfolio point of view we have introduced the new cone crusher range in cooperation with Metso Outotec and there are technologies we have been sharing in the brands that enabled us to introduce a full range of really competitive mobile cones.
"Our research and development investment are increasing. Metso Outotec is more focused on the stationary business now, and our products are all mobile. It looks really positive.
He adds, "The biggest challenges are things like do we have enough containers? How are the logistics costs between Asia and Europe? How many components are available?
"But these are positive challenges. The more we can manufacture, the more we can sell. There will definitely be new products this year, especially in the first quarter."
NEW SANDVIK IMPACT CRUSHERS
Sandvik Mobile Crushers and Screens has launched its new 3-Series equipment line, starting with the release of the third generation QI353 impact crusher.
The third-generation Q1353 is a mid-sized tracked machine that has been designed for the recycling and contractor sectors.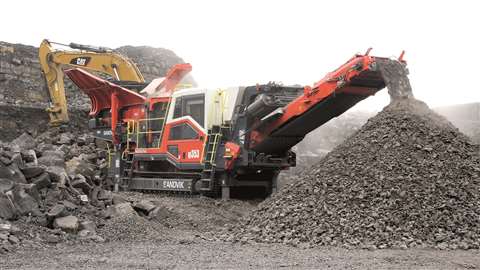 It can process up to 400 tonnes of material an hour and includes PRISEC crushing technology, which enables it to be used of both primary and secondary applications.
"Its feed arrangement includes a new feed hopper with curved heavy-duty sides for greater capacity and tapered feed arrangement to reduce blockages and ensure continuous crushing," says Sandvik.
"It also features a new pan feeder with geared drive and a larger pre-screen with improved access to replace media."
"At the core of the QI353 is a new mid-size Prisec impact crusher, which boasts the largest feed opening 1,170 x 730 mm (46 x 29 in) and largest rotor diameter 1,150 mm (45 in) within its class, for higher capacity & greater energy efficiency," said the manufacturer.
"Adjustable apron curtains and tip speed ensure a wide range of product gradations can be achieved. Also, all plant conveyors have larger discharge heights for increased stockpiling capacity."
According to Sandvik, the mobile machine is "particularly useful for contractors who change jobs frequently" and has been designed for easy operator use.
It features an automated control system that incorporates the manufacturer's new Optik interface. Optik comprises a colour display that integrates troubleshooting, diagnostic and support capabilities, as well as the My Fleet telematics system.
Unlike the manufacturer's second generation models, the 3-Series QI353 has been equipped with a new access platform located under the feeder and pre-screen, and a threesided 270-degree service and maintenance platform.
The 3-Series model is available with optional belt scales for tph (tonnes per hour) monitoring of fines and stockpile conveyors. Fitted to the machine's conveyor, the scales allow productivity data to be displayed on the main user interface.
The QI353 also comes factory ready to accept Sandvik's new HS323 hanging screen module, which enables operators to use the crusher in an open or closed circuit.
Sandvik says, "The HS323 enhancements include; prepared to accept belt scales for tph monitoring on fines and stockpile conveyor belts, subframe enhanced for improved screen media access and tensioning and an updated mid-size stockpile conveyor."
"The unique design enables set-up in less than 30 minutes and can be fitted without the use of additional lifting equipment.
It adds, "The patent pending hanging screen option delivers multi-functionality as a one, two or three-way split screener, as well as a highly productive and efficient impact crusher."