World Demolition Awards shortlists - part 2
The World Demolition Awards for 2020 take place as part of the World Demolition Summit next Thursday, 12 November. Our guide to the shortlisted entries concludes here:
· Category – Civils Demolition
Delta Group
Country Australia
Project Sydney Metro Martin Place North Station
Client Lendlease, Macquarie Bank and Transport for New South Wales
Delta Group was contracted to design and deliver a complex civils demolition works programme for the Martin Place North Station development in the heart of Sydney's central business district.
The project included bulk excavations to a depth of 30 m (98 ft) in a highly congested and densely populated location; underpinning a heritage listed structure directly adjacent to works, including strict vibration controls; and the demolition of redundant temporary service tunnels. Bulk Excavations were directly over and adjacent to existing and fully operational Sydney Metro Rail Tunnels, and adjacent and parallel to new Sydney Metro Tunnels under construction.
Delta also complied with strict safety measures to protect workers from silica dust exposure. With more than 154,000 t of high-risk Sydney sandstone excavated, it achieved zero safety incidents or environmental breaches where regulatory limits were exceeded.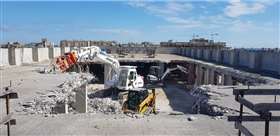 Despe
Country Italy
Project Mangivacca Bari
Client Debar Construzoni
The building to be demolished, in the town of Bari, Puglia, southern Italy, was 25 m (82 ft) high, built in the 2000s, in reinforced concrete, with clay/cement mix floors.
It was originally designated for the university, before a subsequent decision to demolish it and build civil housing instead.
Despe erected a full-height perimeter scaffolding and, with the use of a tower crane, the operating vehicles were positioned on the roofing slab. This was only possible after increasing the load capacities of the lower floors with industrial shoring systems.
Following the crushing of the roofing slab, the removal of all the crushed materials was achieved by using material-holder baskets lifted by the tower crane and then unloaded at ground level.
The descent of the operating vehicles between floors, from the roof to the sixth, fifth and fourth floors, was done by using special Despe design ramps for lowering machines.
A total of 70% of the material was used on site and 30% was taken to recycling plants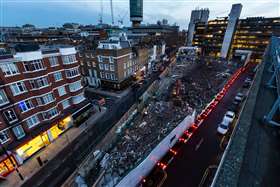 Erith Contractors
Country United Kingdom
Project Cleveland Street Substructure
Client Dukelease
Representing one of Erith's most unique casement construction projects to date is 101 Cleveland Street, situated in the heart of Fitzrovia, London.
Erith undertook the asbestos removal, soft strip and demolition works at the site (formerly 87-115 Cleveland Street).
This was to make way for a new exciting mixed use development.
This will comprise retail/commercial units at ground floor level with residential dwellings in two four-storey blocks and one nine-storey tower above.
Following the demolition it was awarded the works to form, a double basement for retail/commercial use.
The works included construction of columns; construction of podium slab; build core walls; repeat columns; repeat slabs; and installing stairs
One of the main challenges of this project was the protection, salvation and storage off site of the Banksy painting on the side of the building.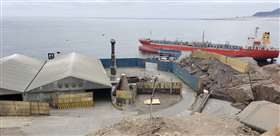 Flesan
Country Chile
Project Demolition of Concrete Trestles in Puerto Barquito
Client Sedgman Chile
The project consisted on the demolition and complete removal of two trestles made of strong concrete with a 10 mm (0.4 in) thick steel sheet reinforcement, with a diameter from 2 to 5 m (6 ft 6 in to 16 ft) and a height of 20 to 23 m (65 to 75 ft) each.
This project was in Puerto Barquitos in the Chañaral city in the north of Chile. The direct client was Sedgman Chile, which was hired by the final client; Codelco Chile El Salvador division to execute the new Puerto Barquitos.
To demolish and remove the trestles, the client's first thought was to use a hydraulic hammer excavator. However, this was not approved due to the high level of noise and airborne dust pollution that neighboring houses may have faced. Moreover, there was the risk of causing damage to the neighbouring warehouse.
For all these reasons, Flesan gave the idea of demolishing by cutting small pieces using a diamond wire saw and bringing it down with a crane.
With this method it reduced all noise and air pollution. Flesan said the project was a complete success, because no harm or damage was caused in any form to the community or staff, and it was executed in line with the budget and deadline previously established.
· Category – Innovation Tools and Attachments
BladeCore
Country USA
Product NiCore premium blade series
In early 2020, BladeCore launched its NiCore premium blade series. For two years, BladeCore trialled 50 sets of blades on Fortress shears and the company says the results were significant. The NiCore blades were averaging a 60 to 80% longer blade life. The life of the NiCore blades reduced the number of blade kits customers needed, and they were able to find additional savings with less down time.
After completing the trial on the Fortress shears, BladeCore had requests to create the NiCore series for Genesis and LaBounty shears as well. As a result, BladeCore now offers NiCore blades for the Genesis GXP and GXT models, as well as the LaBounty Saber series with continued success.
BladeCore believes its NiCore series will redefine the market in the USA and Canada in the years to come as nine out of 10 customers that have purchased this blade for their mobile shears have reordered. It continues to expand the NiCore product line for mobile shears and many stationary shear variations.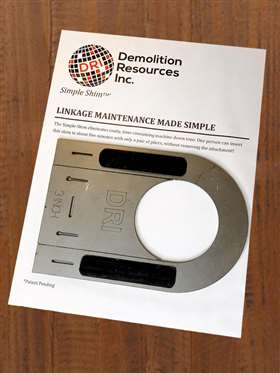 Demolition Resources
Country USA
Product Simple Shim
Equipment used in the demolition industry is often subjected to excessive force due to prying of concrete slabs and footings, folding steel components and the use of heavy attachments, above and beyond the usual use of machines in the construction industry. According to Demolition Resources Inc, the maintenance of this equipment that is often older or well-used is a dilemma, which requires a business owner to weigh downtime against the long-term impact on the equipment.
All equipment owners know that worn linkages are damaging the machines and continue to deteriorate the longer the condition exists.
The actual cost of not keeping linkages tight is not easy to calculate, but Demolition Resources Inc says that in its experience, the cost of a rebuild of an average bucket linkage could range anywhere from US$2,000 to $8,500 on a medium-sized machine.
It is this first-hand experience with this industry-wide issue that drove Demolition Resources Inc to create a solution for contractors seeking efficacy in their operations.
As a result it has introduced the Simple Shim to simplify a demolition contractor's ability to keep equipment running safely and cost-effectively.
Epiroc
Country Germany
Product Hatcon
According to Epiroc, Hatcon (Hydraulic Attachment Tools Connectivity) enables next level fleet management by monitoring operating hours, location and service intervals of hydraulic attachment tools. By logging in to My Epiroc, on either a computer or phone, customers will have access to all their data and get notifications when it is time for service. Hatcon is available factory mounted or as a retrofit kit for premium range breakers and drum cutters.
According to Epiroc, the data from Hatcon provides a new level of control, and optimising transport and increasing uptime with pre-planned service stops has never been easier. Epiroc says it is constantly striving towards giving customers the solutions they need today and the technology to lead tomorrow. By adding Hatcon to its offer it wants to strengthen the customers' business and help to protect their investment.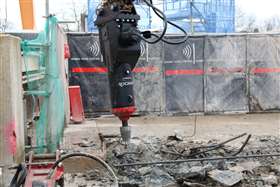 Webster Technologies
Country United Kingdom
Product Rockhit hydraulic breaker
The Rockhit is a breaker delivering a triple focus of innovation, performance and environmental benefits, with what is described as exceptional breaking power through high impact low frequency operation, patent protected design.
It has been designed for carriers between 13 and 18 t; Webster says that traditionally to deliver this amount of energy in a breaker, a carrier of at least 30 t would be required. In addition, it requires around half the fuel of a traditional breaker in operation, so the company estimate a reduction of 13 t of CO2 a year.
At 90 bpm, noise levels are more tolerable and exposure times significantly improved.
A shock absorption system is in place said to result in very low levels of shock loads measured on the equipment, excavator and operator.
· Category – Recycling and Environmental
Costello Dismantling
Country USA
Project Abatement and demolition of Maria Weston Chapman Middle School
Taking advantage of school closures during the Covid-19 crisis, Costello Dismantling crafted a value engineering proposal to divert thousands of tonnes of asbestos-coated concrete from being landfilled during their demolition of a 1960s vintage primary school.
A collaborative approach to equipment selection and containment design allowed the concrete to be locally processed and reused as structural sub-grade fill.
Costello Dismantling used a thoughtful approach to dust and traffic management that benefitted the community while facing on-site challenges to keep workers safe in the face of a global pandemic.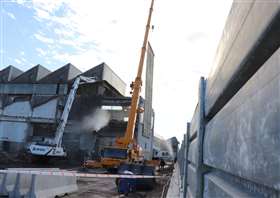 Despe
Country Italy
Project Chorus Life
Client Percassi
In the area formerly occupied by Ote, a factory where 251,000 cu m (8.86 million sq ft) transformers were built, a new "Chorus Life" city of the future will be built in Bergamo.
The contract involved reclamation and demolition excavation.
The contracted works, included the movement of about 85,000 cu m (three million cu ft) up to a depth of 11 m (36 ft) from the paving starting point, of soil with little bearing capacity, very wet soil with the characteristic of retaining a lot of rainwater, resulting in major problems involving the transit of road vehicles for the disposal of materials in landfills.
Previously, similar works had been carried out with excavators built to move excavated soil with standard booms, which meant reaching an effective working depth on site of about 4 m (13 ft), but Despe says this type of soil is extremely weak and prone to landslides, making it difficult for the vehicle to approach the excavation edge due to great instability and consequently preventing work from being carried out safely.
This type of work used to be carried out in layers with the "step system", starting with excavation by removing about 4 m of soil and loading the vehicles used for disposal at the landfills.
Once the first layer was finished, a ramp was built so that both the excavation and disposal vehicles could descend into the underlying layer for another 4 m and so on until the project height was reached.
To access these lower layers/steps, a slope was built with inert material to facilitate the transit of road vehicles, which meant the main issue was to solve the safety of the workers.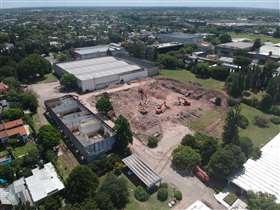 Grupo Mitre
Country Argentina
Project Demolition of former Osram plant
Client Grupo Tissone
As part of Mitre's eco-efficient work practices several specialist dismantling crews were formed and trained with a comprehensive training programme, achieving excellence and record time in the tasks performed.
Another key element was the structuring of its service under standards of excellence. An integral intervention plan was built under the supervision of a multidisciplinary team: management, technical area, health and safety, and sustainability area.
Regarding the recovery of materials, in the context of Mitre's circular business model, specific materials were reinserted in the productive cycle including 781.4 t of scrap, 32,000 t of crushed material, 197 kg (434 lb) of paper as well as plastic, cardboard, glass and other materials.
At the same time, to enhance the positive impact of the work, different types of recommended actions were carried out under the LEED (Leadership in Energy and Environmental Design) standards
Solar panels were installed as an integrated alternative energy management for Mitre's site office and the company used electric hammers and demolition robots, minimising its carbon footprint.
· Category – Urban Demolition US$10 million or over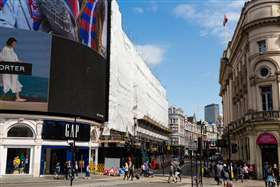 Erith Contractors
Country United Kingdom
Project One Sherwood Street (Piccadilly Lights)
Client Landsec
One Sherwood Street, otherwise known as Piccadilly Lights, represents what Erith has called its most iconic project to date. With more than 100 million people passing by every year, the structure houses the largest 24-hour single digital screen in Europe.
Erith began a full enabling package including asbestos removal, soft strip, heritage removal of all facades of historical interest, top down demolition to all structures during restricted access piling operations followed by full basement box construction all while maintaining the famous lights and significant ground floor tenants.
The company tackled this project during the height of the ongoing Covid-19 worldwide pandemic by rapidly implementing safety and social distancing measures to its working activities.
Working with in-house design engineers Swanton Consulting, Erith designed a temporary works arrangement, incorporating the permanent steel structure in the temporary condition to limit the amount of temporary steel work required and minimise the amount of steel required to be erected for the follow on permanent works.
Albeit an extremely complex project Erith said it took the challenges in its stride, workingdiligently and methodologically to eradicate any risks while staying both on time and within the project budget.
Kiewit Infrastructure West Co
Country USA
Project Alaskan Way Viaduct Demolition
Client Washington State Department of Transportation
The Alaskan Way Viaduct is a 65-year-old double-decked, reinforced concrete freeway in downtown Seattle, which was damaged by the 2001 Nisqually earthquake.
WSDOT (Washington State Department of Transportation) awarded the contract to demolish 2.25 km (1.4 miles) of this earthquake-vulnerable viaduct and 64 m (210 ft) of steel girder structures and decommission the Battery Street Tunnel to Kiewit Infrastructure West Co. Located along Seattle's congested waterfront close to historical buildings; multi-modal traffic; and Pike Place Market, a popular tourist destination; the project required meticulous planning and significant neighborhood relations management.
In places only centimetres from nearby buildings, the Kiewit team's use of high-reach excavators with specialised attachments made mechanical demolition within the confined space possible. Monitoring stations; rubble pads; water misters; and heavy, fabric-lined netting were installed to protect the community from demolition operations. By recycling viaduct rubble and capturing and re-using water from misters, Kiewit further reduced the project's environmental impacts.
Kiewit says it performed substantial relationship-building efforts to develop positive relations with the community. Months in advance, it engaged the community to plan access strategies during demolition activities. When faced with challenges, it worked with neighbourhood leaders to collectively navigate and overcome obstacles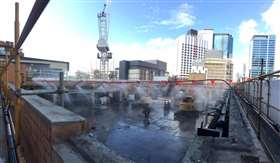 Mainland Civil Queensland
Country Australia
Project 80 Ann Street
Client Mirvac Office Development
This demolition of the Department of Primary Industries at 80 Ann Street in Brisbane, Queensland was originally scoped for minor bonded asbestos removal and the conventional demolition of the 12-level structure.
After commencing the demolition based on an asbestos audit supplied it was quickly established that it was not fully comprehensive of the entire structure and resulted in a drastic increase in the scope of works to safely demolish the building. The severity of the additional asbestos increased exponentially as it was now found in numerous elements and of friable nature and extended into the fundamental structure itself. Mainland Civil Queensland provided real-time solutions to the evolving issues that the friable asbestos created, providing solutions that were engineered and implemented while maintaining industry safety and minimising delays to the overall project.
Key accomplishments on the project included structurally demolishing the building while simultaneously completing soft strip and friable asbestos removal works in the floors beneath, safely managing a peak workforce of 169 workers over two shifts per day, completing a total of 120,000 worker hours of A-class asbestos removal and demolishing 2,275 sq m (24,488 sq ft) of floor plates in a seven-day average cycle under strict friable asbestos conditions. According to Mainland, successful completion was due to the strong communication between all involved.
· Category – Collaboration in Demolition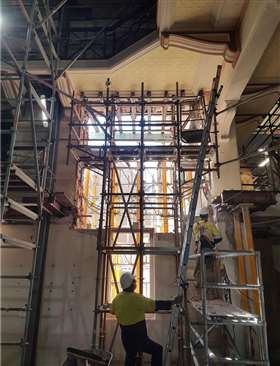 Delta Group, Multiplex, Cays Engineering, Perth Rigging, Wroxton, Vaseng Consulting
Country Australia
Project New Western Australian Museum
Client Multiplex
When construction giant Multiplex and the state government of Western Australia (WA) were in the final stages of planning a once in almost two century redevelopment project requiring intricate demolition, engineering ingenuity and a professional team to collaborate, plan, devise and bring this feat of demolition marvel to life, they chose Delta Group as lead contractor.
The New Western Australian Museum redevelopment project included four heritage buildings with its oldest, the Old Gaol, dating back to the mid-1800s.
The redevelopment has combined heritage with an innovative new build that connects all four heritage buildings for the first time in the museum's history.
The project team faced numerous challenges in the delivery of the New WA Museum, from working in and amongst heritage buildings, to delivering an ambitious engineering design and innovative structural support systems.
This was while collaborating with multitiered stakeholders and ensuring the longevity of heritage elements to bring together the heritage and new buildings to allow visitors to experience the museum in a number of ways.
Through a one team approach the demolition led the build of this redevelopment, which was delivered on time, on budget, without incident and to the exceptional standard expected for a building of such civic significance.
Grupo Mitre, Municipal Government of General Puerreydon, Civil Defence of General Puerreydon, PBA's Fire Department
Country Argentina
Project Demolition of burned down building "Torres and Liva"
Client Municipal Government of General Pueyrredon
After a major fire broke out in one of the largest wholesale distributors of cleaning, household and beauty products in the province of Buenos Aires, Argentina and the collapse of most of the residential building above it, Grupo Mitre was commissioned with the task of demolishing the remaining structure.
With the collaboration of different public entities, such as the fire police department, civil defence unit, Special Risks and Rescue Department and Red Cross, it was able to finish the task with no fatalities or accidents, in what became the most tragic event in the history of the city of Mar del Plata.
To achieve this, the company had to use heavy machinery, such as a high reach excavator and a demolition robot, that allowed it to stay at a safe distance of the collapsing structure of 21.3 m (70 ft) high, while keeping a good pace of demolition. The tasks performed included two different physical delimitations, one with a box-rib aluminum fence and shaded cloth, and a parallel one, on the Municipal Line, of wooden boards to protect the facades of surrounding houses.
From the debris, it was able to recover over 1,000 personal items and return them to the owners, also achieve the recycling of 95% of the material. In less than 45 days, Grupo Mitre, the fire police department, civil defence unit and all involved, working as a team, managed to complete the enormous mission of demolishing the whole structure, without any accidents.
The machinery used was a Doosan 340 High Reach Demolition excavator, which reaches 21.25 m (70 ft) high. The equipment has demolition accessories that guarantee the best performance for this type of work. It performed a controlled demolition through the use of its hydraulic clamp, which breaks the concrete without generating large pieces, avoiding the impact of pieces when hitting the ground.
Moreover, a Brokk 200 Demolition Robot was used. Mitre said it is the only demolition robot in Argentina.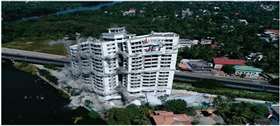 Jet Demolition, Edifice Engineering
Country South Africa/India
Project Fast-Track Implosion of Three High-Rise Buildings in Kochi, India
Client Maradu Municipality
Devastating floods during 2018 in the state of Kerala, India caused the death of over 400 people primarily due to overdevelopment in floodplains by way of violations of building regulations. Late in 2019, the Supreme Court of India took the first steps to eradicate illegal coastal structures by ordering urgent demolition of five high rise buildings in the city of Kochi, one of the epicentres of urban growth in the country. The three largest and most difficult structures to demolish were awarded to Edifice Engineering of Mumbai, who collaborated with Jet Demolition to carry out this fast-track project for controlled implosion of the buildings.
Only 10 weeks were allowed for preparation and implosion of the 16-, 18- and 20-storey buildings comprising over 50 000 sq m (538,000 sq ft).
Implosion was the only viable demolition method that could meet this exceedingly short completion time. Edifice Engineering and Jet Demolition first met on a tender site inspection during 2017 in India. The relationship progressed to discussions at the 2018 World Demolition Summit in Dublin – where both companies had been shortlisted for awards – which culminated in an agreement to jointly tackle future technically demanding implosion work in India. Being the first implosions of high-rise urban buildings in India, this project had many obstacles to surmount. The technical committee appointed by the state government was circumspect in granting permissions, fully aware of the negative blowback should there be a failed outcome. Having no local precedent, the community had many doubts and worries over property damage and personal injuries. The extended process of assuaging the technical committee's fears and gaining community support ran parallel with building preparations and continued up to the implosions.
Being hemmed in by sensitive neighbouring structures and inviolable rivers within a few metres meant precision control over implosion collapse and debris spread was essential.
The implosion results and the companies' collaboration were a success.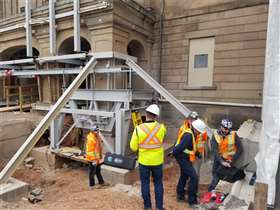 Priestly Demolition and others
Country Canada
Project PWGSC Province House Conservation – CM Services
Client PGL Constructors Canada
In 2019 Priestly Demolition was responsible for completing the masonry jacking and underpinning portion of the Province House Conservation Project.
The project consisted of supporting the historic structure for the purpose of removing the original sandstone block foundations for the north and south porticos to install new cast in place concrete footings.
To replace the original sandstone block foundations with new cast in place concrete footings. The load of the building was transferred from the existing foundation to temporary supports by simultaneously applying equal load using four hydraulic rams per column. Once the load had been transferred Priestly would commence removals of the portico's one at a time by first excavating on interior and exterior of portico foundations. The main reason for the success of this project was the collaborative nature of the relationship between all members of the team from the general contractor to the specialised trades.
This collaboration and fluid communication provided the information and confidence required to support the building, remove and replace the footings of a 170-year-old building while maintaining total vertical displacement within 1 mm.
Category - World Demolition Award
The World Demolition Award will be announced at the end of the awards ceremony to the company or companies who in the opinion of the judges submitted the best overall entry across all 12 categories of the awards