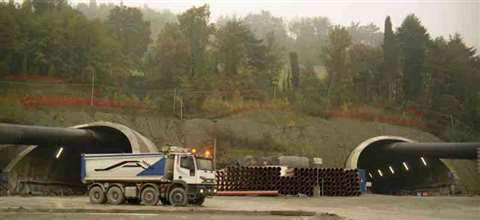 Autostrade per l'italia spa (italian highway authority) first conceived of an alternative route to the tight curves, steep slopes and narrow two lanes of the original 1959 road through Italy's Apennine Mountains in the 1970s. However, it was not until 1992 that an environmental impact study was completed.
A working plan was approved in 1996 and in 1999 two tunnels, each 8,6 km long, where constructed with the purpose of learning more about the geological profile of the region. Finally, on 23 February 2001 the Italian Government committed itself to expansion of the road and construction eventually started in September.
Part of the road, the 58 km long 'Variante di Valico', will run through two town districts and includes 45 major structures, of which 23 are viaducts and 22 are tunnels. It will also contain six entry/exit junctions: Sasso Marconi; Rioveggio; Pian del Voglio, Roncobilaccio; Barberino; and Calenzano—Sesto Fiorentino.
Divided into four sections — Sasso Marconi to La Quercia (€381,2 million), La Quercia to Badia Nuova (€324,8 million), Badia Nuova to Aglio (€631.9 million) and Aglio to Barberino (€132,1 million) — the 'Variante di Valico'runs through some of the regions most geologically difficult territory, with huge massifs separated by deep, narrow fluvial valleys.
Travelers on the original route, which could no longer cope with the 50000+ vehicles per day using it, suffered long delays caused by accidents, difficult driving conditions and huge bottlenecks. The high altitude (726 m) and often—adverse weather conditions also caused problems: the accident rate along this stretch of road was twice the national average; while maintenance costs were triple the national average.
The new road is designed to remove those bottlenecks, shorten journey times (Bologna to Florence in 40 minutes), be cheaper to maintain and make traveling safer.
Monte Mario Tunnel
Part of the project is the 2,25 km long Monte Mario Tunnel in the 4,8 km long Sasso Marconi to La Quercia Section. The tunnel is actually two, one in either direction, with three lanes in each. When CE visited the site in December 2004 main contractor ATI (Associazione Temporansa Imprese), a joint venture between CMC (Cooperativa Muratori Cementisti), Grassetto and CCC (Cantieri Costruzioni Cemento), had completed almost 2,1 km.
Situated between the Reno and Setta River valleys the tunnel runs through the Monte Mario sedimentary relief. Due to the enormous variability of the rock and soil conditions a variety of excavation techniques have been used during its construction; drill and blast, TBMs and excavators fitted with hammers.
According to ATI's site manager Mario Trimoldi, the tunnel passes through loose clays and sands, shales and sandstones. Many geological faults and folds are present affecting the mechanical properties of the tunnel walls and water ingress problems are common on the site.
When construction started in early 2001 ATI used drill and blast techniques on both the Florence and Bologna sides, followed by some TBM work on the Florence side. However, this was stopped when the TBM proved unsuitable for the rock it was encountering.
"The type of material found in the area — plastogenic sand and over consolidated material, lends itself to working with breakers, so we stopped blasting and working with the TBM. We think ourselves very lucky with the material we have encountered so far as working with an excavator and hammer is quicker, less expensive and not as technically demanding,"said Mr Trimoldi.
Excavation
ATI is using three 7 tonne HP 7000 hammers supplied by Italian manufacturer Indeco, which Mr Trimoldi describes as "Indeco's workhorse". When in use at the tunnel face the hammer is attached to a 45 tonne Fiat—Hitachi EX 455 excavator, which is fitted with a standard boom. The hammers have 4000 to 5000 hours of working and are currently excavating approximately 90 m3 a day.
The excavator, which is second hand and three and a half years old, was bought specifically for this job. It has been reinforced against rock falls and the engine is isolated against any gas that may be encountered during operation.
"We test for gas every 50 m and all the machines have an anti—deflagration system fitted to avoid sparking the gas and causing an explosion. We thought we would have encountered more gas than we have done, but this has proved to be very minimal with just small quantities of methane found. However, as with any site safety is the most important factor," said Mr Trimoldi.
ATI is currently averaging 6 m a day with the breakers on the 140 m2 cross sectional tunnel. The 'construction cycle' is in three parts; excavation, ribbing and spitz baton (grout with metal fibres). Consolidation takes place at the end of the week and covers approximately 70 m.
A Fiat—Hitachi W270 wheel loader, fitted with a 3,5 m3 bucket, removes the excavated material and loads it onto trucks, with about 60 truck movements a day. An S8 concrete pump, from Italian manufacturer Cifa, then provides immediate concrete reinforcing.
Steel Ribbing
There are three eight—hour shifts a day with six people per team and three teams per side. Besides this, said Mr Trimoldi, there are six people per Spitz Baton team with ribbing taking place every 700 mm. Including engineers and electricians there are 65 people working on the Bologna side of the tunnel. Maintenance for the breakers comes from Indeco's Milan offices with engineers on site when needed.
With so much steel ribbing needed on the job (17,5 tonnes per five day working week) the recent rise in prices, which have seen it hit the €1000/tonne mark, have been a cause for concern.
"At the moment we've had to absorb the price rise but we're looking to renegotiate the contract, but it's very rare to find a client who is responsive to this. If it's a geological problem then that's a different matter; that's one unpredictable element that is considered by all sides in the contract negotiations,"said Mr Trimoldi.
Work is 800 m ahead of where Mr Trimoldi thought it would be at the time of CE's visit, and the two sides should meet in May 2005. However it has not all been plain sailing.
"The most difficult part of the job was the change in the rock formation from over consolidated limestone, where we were using explosives, to over consolidated material, where we started to use the hammer. At this point we encountered water, five litres per metre, which didn't present too many problems in itself, the problem was what to do with it!"
Despite these difficulties Mr Trimoldi is pleased with ATI's schedule busting progress.
"Each job has its problems and you learn something on each job but what has been the most satisfying thing about this project is that before we started there was nothing here, when we leave there will be a tunnel and all the associated infrastructure that goes with it — access roads, lay—bys, service stations etc," said Mr Trimoldi.