APEX 2023 Show Guide: Access machines at Maastricht
AI rounds up further product launches and provides a full list of exhibitors in the APEX 2023 show guide.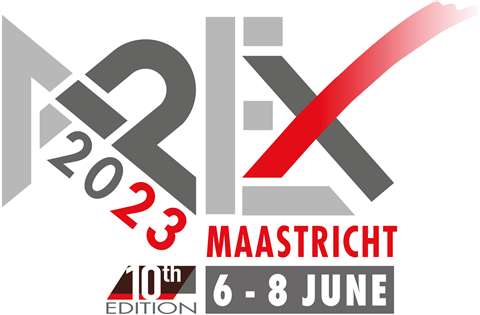 What is it? APEX is the largest exhibition dedicated to access equipment anywhere in the world.
Where is it? The Maastricht Exhibition & Conference Centre (MECC) in Maastricht, The Netherlands.
When is it? 6 to 8 June, 2023.
Electrification and low emissions will be a key theme at APEX, which is drawing nearer by the day.
Visitors to the access equipment event, which will take place in Maastricht, The Netherlands, on 6 to 8 June, will be able to get up close and personal with a plethora of working at height machines from over 125 of the world's top manufacturers.
For example, Genie's access equipment display will include both hybrid and electric boom and scissor lift models, including the GS-1932 E-Drive Lithium-Ion and GS-3246 scissor lifts, the electric S-60 DC telescopic boom lift and the hybrid Z-45 FE articulating boom lift.
For example, Genie's access equipment display will include both hybrid and electric boom and scissor lift models, including the GS-1932 E-Drive Lithium-Ion and GS-3246 scissor lifts, the electric S-60 DC telescopic boom lift and the hybrid Z-45 FE articulating boom lift.
The models aim to meet the rising "demand for more environmentally friendly equipment for work at height," says the company, while also providing a low total cost of ownership.
Will Westley, Genie VP of sales & support for the EMEAI region, added, "Across Europe and globally, demand is strong for equipment that can deliver a lower environmental footprint without sacrificing performance or quality.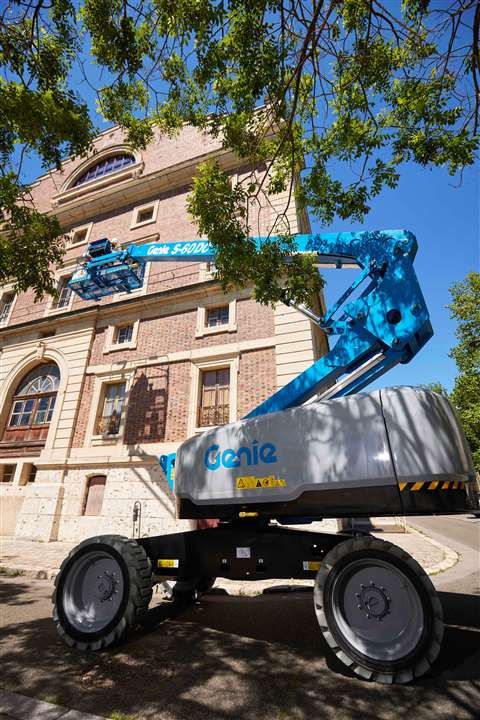 "At the same time that demand has increased, the technology that enables electrification has evolved and costs to implement it have come down."
Thus, Genie's GS-1932 E-Drive scissors lift features a specially designed zero-maintenance battery that, in addition to providing a full working day's use of the machine, has a 10-year lifespan and comes with a five-year warranty.
The battery can be charged in just four hours, which Genie claims is 33% faster than lead acid batteries, and can tolerate temperatures as high as 49° Celsius and as low as -29° Celsius.
The manufacturer's equipment line-up will also include its electric S-60 DC boom lift - the industry's first lightweight, four-wheel drive electrified telescopic boom lift in the 18m height class.
The S-60 DC is equipped with four AC electric drive motors and weighs just 7,983kg, which is "about one-third less than comparable booms".
Genie will also showcase a boom lift equipped with its TraX feature.
Magni and Dingli partnership
Magni will showcase the latest range of articulated and telescopic boom lifts built through its partnership with Dingli.
They include articulating models with heights from 16m to 28m and capacities ranging from 250kg to 300kg, alongside new telescopic boom lifts that provide heights from 16m to 44m with capacities of between 250 to 454kg.
"In order to adapt to market needs every model is available in three different versions: diesel, electric and the new hybrid technology," said Magni, adding that its hybrid models offer "the same performance as combustion and electric" counterparts.
They feature a range extender motor that enables the machine to generate electricity and therefore recharge the batteries autonomously."
Magni will also show four new scissor lift models, extending the reach of its existing off-road product line.
The new models comprise the 28m electric ES2825RT and diesel powered DS2825RT scissor lifts, and the 32m electric ES3225RT and diesel DS3225RT models.
Alongside these will be two new vertical lift mast models. The MJP07OF and MJP08OF offer working heights of 6.7m and 7.6m respectively, with capacities of 200kg and 227kg respectively. "
Meanwhile, Shandong Qiyun Group, which is based and was formed in 2014 in Jiyang, Shandong – the birthplace of China's hydraulic material lifting platform market, has in the past concentrated on elevators and loading platforms.
More recently it launched a range of scissor and booms lifts, that bring its access machine offering up to more than 100 models.
The company will show examples of its slab scissors which offer an integrated design, with an automatic drive system.
An articulating boom lift will also be on show and is designed to be compact for difficult to access spaces, such as bridge maintenance, as well as indoor and outdoor construction, along with a range of the usual applications like steel structures.
                         How to get to APEX
There are numerous ways of traveling to APEX and the co-located ERA Show.
Whether it be air, car, train or bus, information for travelling to the Maastricht Exhibition & Conference Centre (MECC) is laid out on the APEX and MECC websites.
By air: The show has put on free shuttle buses from nearby city airports Dusseldorf and Brussels Zaventem (not Charleroi).
The buses start early on Monday 5 June - the day before the show - and run until the morning of 9 June, the day after the show. Visit the show website for the full bus timetables, and other travel-related information.
Visitors can also fly to Amsterdam Schiphol airport and then take a train to Maastricht or hire a car. The train journey takes 2.5 hours.
By car: If you are going by car from Amsterdam-Eindhoven then take exit 55 (Randwyck-MECC), or if you are driving from Paris-Liège, take exit 56 (Gronsveld-MECC).
By train: Maastricht-Randwyck station is located just 250m from the MECC, and is part of the national and international railway network. There are frequent trains to Maastricht Central Station, which is also linked to the national and international railway network.
By bus: A bus departs from Maastricht centre or Maastricht Central to MECC Maastricht every five minutes.
There is ample parking at the MECC Maastricht, which is all within a 10 minute walk. For parking information visit the MECC website.
Where to stay: If are you still looking for a hotel room in Maastricht, book your room through MECC Hotel Services. 
The electric drive machine has a multi-directional positioning functions, while the boom is designed to be flexible, making it convenient for complex and narrow work spaces.
Another scissor set to be on show is designed to offer high capacity and larger working heights and is suitable for more extreme working conditions.
MEWPs with a low cost of ownership
Liugong will be focusing on total cost of ownership with the release of three new electric boom lifts at the show, the LT20JE, LA20JE and LT26JE, with a range of features, including standard dual channel sensor and an electric emergency power system.
Performance comes from an electronic differential, combined with suspended axle technology for easier manoeuvring.
There is 360 ° continuous rotation with a narrow tailswing, which is suitable for narrow spaces. There is AC electric drive to all four wheels, and gradeability up to 45%.
The high-power charger and large capacity battery can easily charged for eight hours and work for more than three days.
There is also an optimised electric control algorithm for the load sensitive hydraulic system to achieve accurate power output.
Among a range of other features are the platform strobe lamps, load sensing system, electro-hydraulic proportional control and automatic brake system, as well as a range of telematics and safety-related systems like manual and electric emergency descent.
Vertical masts at APEX
The AMWP4.8-6200 vertical mast lift from Rees with 6.8m working height and 230kg capacity, will be on show on the company's exhibition stand.
The model uses electric actuators for raising, lowering and steering instead of hydraulic oil cylinders. Key features are a long duty cycle - the transmission efficiency of the direct motor drive saves more than 30% energy compared to traditional hydraulic systems.
Easy maintenance is another feature, with a maintenance-free permanent magnet synchronous motor, AC drive motors and AGM battery. Environmental friendliness is another advantage, with no hydraulic oil, all-electric and zero-emission operation.
There will also be the 8m working height AMWP6-1100 vertical lift on the stand, with 150kg capacity. Its compact size, light duty and option of a small platform, makes it ideal for indoor working at height.
Shandong Chufeng Heavy Industry Machinery will have seven machines on its stand, including three slab scissors, and four crawler-mounted scissors. The manufacturers says it has long experience in the tracked platform sector.
Self-levelling crawler scissor lifts
On the subject of crawler mounts, Goman has developed its own self-levelling crawler mounted scissor lifts, the S05C and S08C. They both offer dual power sources: lithium battery and AC, with the latter as a back-up power source in case the battery runs out.
The S05C has 8.20m work height, while the S08C has a 10.5m work height. They both offer dual axle level adjustment (automatic leveling), and thus can be used on uneven terrain. With the 0.9m extended platform, they have limited but helpful outreach.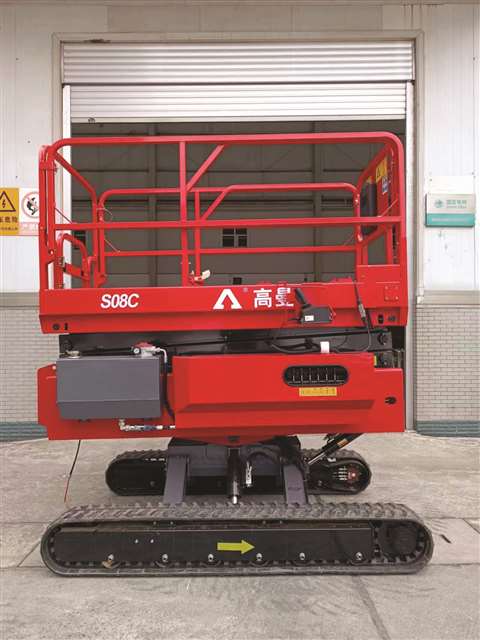 Apart from those Goman will show the X21, X18 spider lift models and the S08C crawler scissor-lift. The X21 and X18 have three power sources - combustion engine (gas for X18 and Yanmar diesel for X21), lithium battery and AC motor.
Goman has already delivered one X18 to London, UK's Peak Access Rental and another in Germany. Goman is now looking for dealers across Europe, including the UK.
Eco-friendly spider lifts
Palazzani is to put the spotlight on some of its most eco-friendly access equipment.
Its stand will focus on green energy with ECO versions of the XTJ 52, TZX 250 and XTJ 35.1 Ragno spider lift models taking centre stage.
Although based on and as a replacement for Palazzani's previous TSJ 35 model, the new Ragno TSJ 35.1 includes the manufacturer's "latest generation technology for easier maintenance" and performance.
The TSJ 35.1 spider is available in both a full green ECO power version that includes an AC electric motor and a lithium-ion battery, and as hybrid model with an electric motor and diesel engine.
While the TSJ 35.1 offers an outreach of 15m and a working height of 35m, the 52m Ragno XTJ 52+ is described as "the colossus of the Palazzani range".
The XTJ 52+ spider is a bi-energy unit that is equipped with a diesel engine and an electric motor.
It features the company's Area Manager system, which automatically adjusts the machine's 19.5m maximum outreach according to its stabilisation and load.
Easy electrics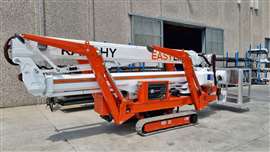 Easy Lift will be living up to the environmentally-friendly ambitions of the industry with its hybrid RA31HY, on show alondside the electric, battery-operated R180BA. The two spiders - R180 and RA31 are among Easy Lift's best-sellers and it is these electric and hybrid versions of these two that willl be on show. 
The small R180BA has a latest generation 48V-100Ah lithium battery, which can be charged up to 80% in one hour and the remaining 20% is charged in a further one hour.
The large RA31HY hybrid is also equiped with the latets lihtium battery, this time offering 48V-200Ah, combined with an 18.5kW diesel engine. In this case, 80% if this battery is charged in two hours, with the remaining 20% again charging in one hour.
All the lithium batteries on Easy Lift's models, from the R130 to RA53, have a life span of 4000 cycles (around 10 years) and  are maintenance free. The eletric BA and HY versions are becoming more popular, says Easy Lift, because operators can use them outside and inside buildings, while the machine's performance is always granted.
MEWP components
Delta-Q Technologies will be co-exhibiting under the banner of its parent company, Zapi Group and will showcase an integrated range of electric drive-train products including battery chargers, inverters, motors, controllers, and autonomous navigation software.
New from Delta-Q will be the launch of a charging system that provides MEWPs and OEMs with an attractive package for simplifying the path to electrification of their machines.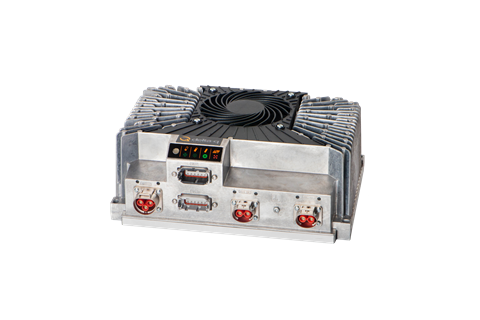 The 3-in-1, 3.3 kW charging system called the XV3300 has an integrated charging system with a 3.3 kW battery charger, a 500 W DC-DC converter to power the vehicles' auxiliary loads, and an EV charging station interface. It is encased in a ruggedized IP67 design.
The XV3300 charging solution is available in 58.8-, 65-, and 120-volt DC models and is scalable, allowing OEMs to stack up to three chargers for power levels up to 10 kW.
The 3.3 kW charger uses complex algorithms to deliver a precise charge to batteries of various chemistries and voltages, maximizing battery life and optimizing charge time.
Interpump Hydraulics will be at the show with its co-exhibitor Panni.
As part of the Interpump Group, the Italian company distribution of power take-offs (PTOs) and is a leader in the world of hydraulic pumps, cylinders and other hydraulic components.
MEWP electronic controller specialist North Valley Research will exhibit a variety of MEWP system solutions, covering vehicle controller, TBOX, drive, universal controller, display and instrument panel, rental management system, among others.
Telehandlers
Other highlights on Magni's APEX 2023 stand are to include its RTH rotating telehandler range, which was introduced at Bauma 2022 in Germany.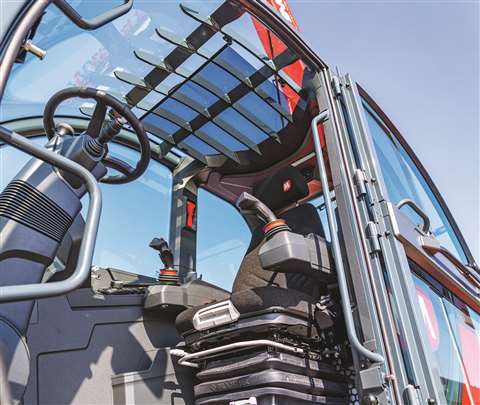 The RTH product line of 14 models comprises eight restyled versions of previous machines and six newly introduced models. It offers capacities ranging from 5 to 13 tonnes, lifting heights of 18 to 51 metres and reaches from 14 to 34.5m.
According to Magni, the models offer better performance, technology, operator comfort and are safer than the previous models on which they were based.
Faresin Industries has revealed that it is to present an updated version of its 6.26 Full Electric telehandler model, with the machine set to be the manufacturer's standout exhibit at this season's major equipment trade shows.
The new 6.26 Full Electric MY 2023 model is a redesigned version of the original 6.26 Full Electric model introduced in 2018 with full production starting in 2020.
As its name suggests, it has a maximum reach of 5.9m and a load capacity 2.6 tonnes.
It produces zero CO2 emissions and offers reduced noise levels, and is fitted with a new 80-Volt high-performance battery pack that benefits from an increased life and offers reduced charging times.
Equipment buyers can choose from the standard 24kW/h battery or the 32 and 43kW/h options, which provide working times of 6, 8 and 11 hours, respectively.
To find out more about APEX, visit the click here to visit the show's website.
Supporting documents
Click links below to download and view individual files.