CE Barometer and finance: October 2019
By Joe Sargent12 November 2019
Larger companies maintain a position of growth this month while those that fall in share value tend to be smaller businesses. Joe Sargent reports
CE Barometer: An industry treading water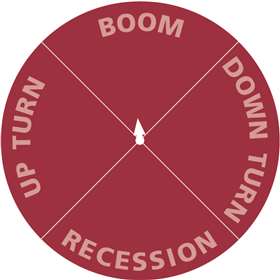 After a fall in confidence over the last three months and respondents sharing pessimistic opinions on the health of the industry, the CE Barometer indicates that the industry still has hope this month, despite an undoubted decline in activity.
A balance figure of 5.5% for month-on-month comparison suggests that activity was actually better in October than the previous month. Despite this improvement, however, there was a great feeling of negativity from respondents with comments describing an overall slowdown throughout the period.
The balance figure is the percentage of positive responses minus the percentage of negative responses.
Comparing the present climate with activity a year ago – last month, a balance figure of -8% represented a solid slowdown. This month's balance figure of -9.6% only emphasises the downturn in activity. Some respondents even predicted that business will continue to slow into December.
Looking beyond the coming months to next year, positive opinion fell yet again. The previous survey showed that a balance figure of 8% believed that activity would be better this time next year. This month a balance figure of just 6.8% anticipated higher activity.
Respondents shared the view that investments in both new equipment and infrastructure within Europe has fallen and, although there was comment of seasonal demand, it was suggested that the drop in activity was higher than usual.
In this issue, the four-week period from week 38 to 42 in 2019 is assessed. Key indexes for all three sectors; equipment manufacturers, material producers and contractors this month, represented growth. Despite this positive reflection, however, 36 companies saw their share prices fall for the period. 28 companies during the four weeks saw an increase in share value.
Equipment Manufacturers
After Last month's growth for the CEE Index figure of 11.06%, this month the equipment sector indicator grew by just 0.72%.
The best performing original equipment manufacturer (OEM) this month was Sandvik which received an 8.83% uplift in share value. The company published its interim financial report for
the third quarter on 18 October. With an order intake of SEK 24,992 million (€2,326.5 million), Sandvik saw an adjusted operating profit of SEK 4617 million (€438.6 million) for the period.
One of Sandvik's latest technology advances has also been unveiled, the DT1132i jumbo drilling rig. This machine, Sandvik says, boasts a reduction in exhaust particle emissions of approximately 40%, while its penetration rate is 20%.
The second-highest mover in the group was US-based John Deere. The third largest OEM by revenue size, the company saw its share value increase by 5.77%. In its third quarter analysis, it stated that overall sales declined by 4% to US$8.97 billion (€8.09 billion). The fall, however, was predominantly the result of falling confidence in the agriculture market.
Deere reported that its construction and forestry divisions posted 'sharply' higher profits. Revenue for these divisions were higher for the quarter, primarily due to the firm's strategy of price realisation (selling as close to the target price as possible), but were partially offset by the unfavourable effects of currency conversion.
The greatest fall in share price across all sectors was felt by France-based Haulotte group. Haulotte fell by 20.37% in value over the four-week period.
Despite this drop in value, Haulotte announced consolidated sales of €135.3 million in the third quarter of 2019, up 4% compared with the same period in 2018. The company said the revenue rise came despite the market being, "more adverse to commitment than expected," and has, "accumulated indications of slowing down since our last financial release."
Material Producers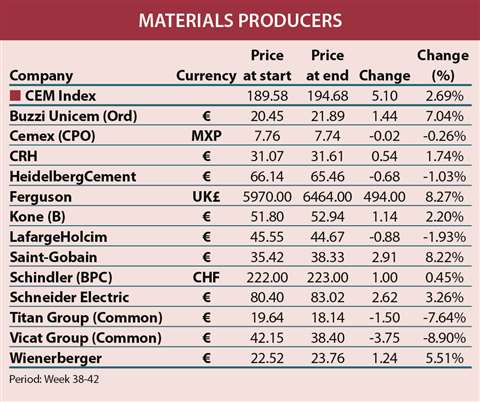 The material producers were the best performing sector this month, as determined by the listed companies. As many as eight material companies saw an increase in share price, while five experienced declines. This month the CEM Index figure grew by 2.69%.
The best performing material producer this month was UK-based Ferguson. The company's share price rose
by 8.27% in the four weeks. Ferguson posted its financial results on 18 October, reporting a revenue for the 2019 year of US$22,010 million (€19,830 million). This reportedly translated to an operating profit of US$1,402 million (€1,262.96 million), €37.9 million more than in 2018.
The second-best performer was French company Saint-Gobain. On October 1, the firm announced that it had completed the sale of its K par K woodwork business in France. In 2018, it turned over €130 million and currently employs over 1,000 people.
The next-best performer in the group was Italian cement company Buzzi Unicem. The company's stock value rose by 7.04% over the four-week period. Over the last five years it has risen by 102%.
The worst performing companies in this segment for the period were France-based Vicat Group (-8.9%), Greek cement firm Titan Group (-7.64) and Swiss company Lafarge Holcim (-1.93%).
Contractors
Throughout the examined four-week period, the CEC Index figure grew by just 0.14%. The group of contractors represented a mixed perspective for the industry. As many as 14 contractors increased in share value, while 16 decreased in value.
The best performing contractor this month was Spain headquartered company Porr. The company share value rose by 11.08%, building on last month's growth of 3.85%.
Porr is currently working on a major rail project in Austria and has also started construction work on the largest rail project in Poland.
France-based Bouygues was the next best performer with a share value increase of 9.23%. The company is currently working towards trials for French 5G mobile technology and beginning to develop an employee share ownership plan.
The plan involves a capital increase of a maximum of €150 million (inclusive of share premium) reserved for employees of French companies belonging to the group, to be effected via a dedicated mutual fund.
Read the full copy of the CE finance pages in the November edition of Construction Europe