CE Barometer and finance September 2019
By Joe Sargent10 October 2019
Stock prices inflated through investment banking make the difference this month as attempts to stave off recession increase values. Joe Sargent reports
For those that follow stocks and shares it's been easy to see that that, before this month, the markets have been rocking about with ups and downs. Undeniably a pattern has been forming in terms of the construction industry's GDP (gross domestic product) contributions across European countries.
The economy is cyclical, and at this point in 2019 it appears to have reached the peak of the cycle. The European Central bank has cut its main deposit rate by ten basis points to a record low of -0.5% — a move that essentially charges lenders for holding on to idle cash. In response, banks have been ploughing investment into shares to help keep the economy healthy.
In this edition of Construction Europe, the focus has been put on the stocks and share prices of the listed companies during the 5-week period between weeks 33 and 38.
Equipment Manufacturers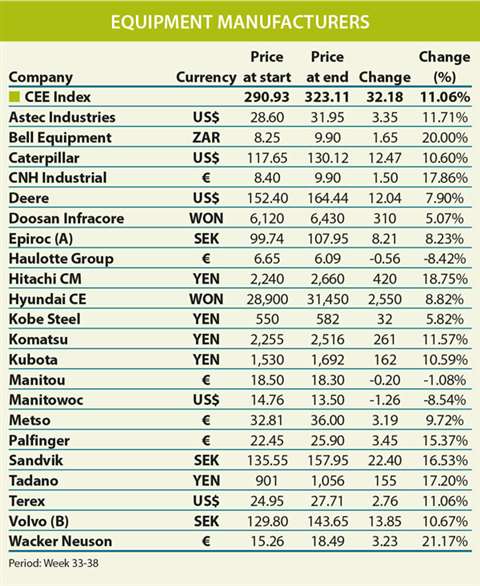 The listed equipment manufacturers in this examined period have done a complete u-turn. The CEE index figure shows growth of 11.06%, whereas in the last examined period the CEE index figure fell by 11.07%.
The best performing original equipment manufacturer (OEM) during the five-weeks, in terms of share price, is German-based Wacker Neuson – growing by 21.17%. The company reported a 15.2% rise in revenue for the first half of 2019, totalling some €950.7 million. The main factor in this growth is said to be new independent dealer networks across the US.
In terms of the company's European activities, revenue rose to €692.3 million – bolstered by a strong demand for construction equipment. The group said that revenue from Weidemann – and Kramer – branded wheeled loaders and telescopic handlers was up 31.8% to €152 million.
The next best performer was Bell Equipment. The South African company reported an 8% rise in revenue for the year. The company attributed its success to its diversified trading in other regions, reporting the South African economy to be sluggish.
Hitachi Construction Machinery and CNH Industrial were the next biggest movers, moving up in share value by 18.75% and 17.86%, respectively.
Only three OEMs saw a fall in share price this month, the largest of which was US-based Manitowoc, dropping by 8.54% in value.
The US-based crane manufacturer has recently opened a new warehouse and workshop in Molino, Philippines.
Michael Macatangay, Manitowoc's Phillippines sales director, said, "We want to provide the highest levels of support for our Grove mobile cranes and Potain tower cranes. The opening of this new warehouse is the latest example of our commitment to customers in the Philippines."
The two remaining falls were felt by French firm Haulotte group (-8.42%) and Manitou (-1.08%) a fellow French company. Manitou also took the largest hit in terms of its share price in the last examined period, falling by some 31.23%.
Material Producers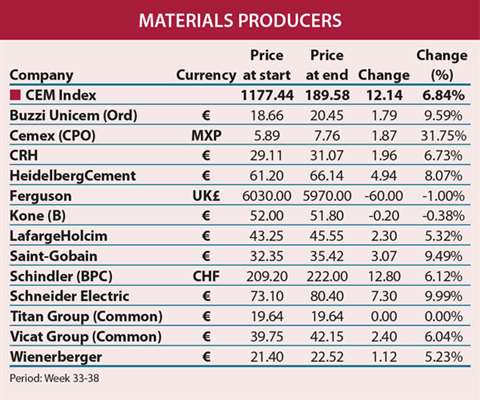 In the material producers category, the situation is also looking positive. The CEM index figure for the examined period was up by 6.84%. The best performer this month might come as a bit of a surprise as Mexican company Cemex takes the top spot – its share price growing by 31.75%.
Cemex has been plagued by a declining share price for some time. In the last issue, Cemex fell by 26.83%. After a dramatic fall in share price during August, the company began a share buyback scheme which allowed the company to purchase around US$500 million (€454.3 million) of its own shares.
Other notable companies that saw growth were German Schneider Electric (+9.99%), Italian Buzzi Unicem (+9.59%) and Saint Gobain (+9.49%).
Only two companies in this category saw declines this month; UK based Ferguson (-1.0%) and Finnish firm Kone (-0.38%).
Contractors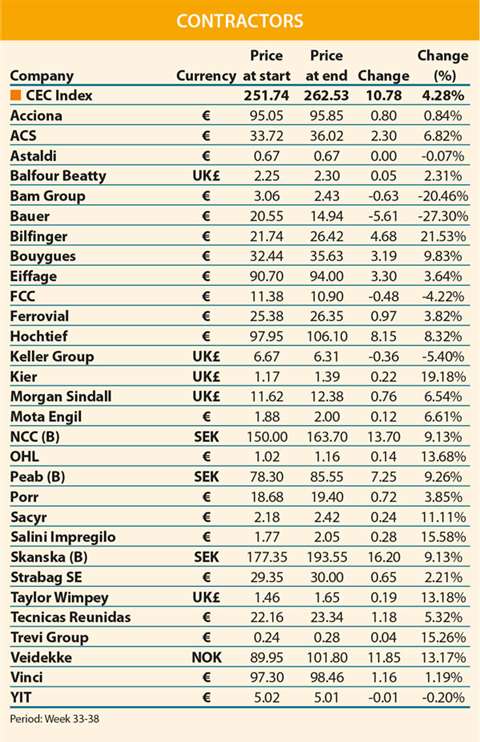 In the last period, the contractor segment was the only category to see a positive change in its index figure. In this five-week period, the CEC Index figure grew again by 4.28%. There were some major positive movers in this category this month, but there were two large negative movers that cannot be omitted.
German firm Bauer saw its share price fall by as much as 27.30%. The company announced that it needed to adjust its forecast for the financial year 2019, due to lowered expectations against its targets. The firm predicted revenue of €1.7 billion with an EBIT (earnings before interest and taxes) of €95 million. While the total revenue figure remains unchanged, the company's predicted EBIT has been reduced to €70 million.
After last period's drop of 21.22% Dutch group Bam suffered a further fall in share price. This month the firm sees a decline in share value of 20.46%.
Read the full copy of the CE finance pages in the October edition of Construction Europe
Testing times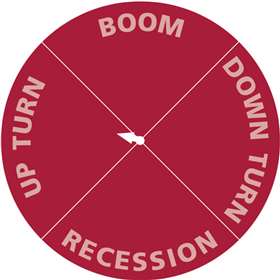 The CE Barometer survey has seen its third consecutive drop in confidence on a month-on-month basis, presenting sure fire signs of a fall in confidence in the European economy.
A balance figure of -5.3% for month-on-month comparison suggests that activity was worse in September than the previous month. In August, a balance figure of just -12.3% thought activity had improved against the previous month, a significant indicator of a slowdown.
The balance figure is the percentage of positive responses minus the percentage of negative responses.
When comparing the present climate to how activity was a year ago – last month, a balance figure of -5.3% suggested that most respondents were feeling the pinch. This month's response rate of -8% does nothing to indicate the coming months will be record breaking for traders.
Looking towards the future, respondents were not quite as optimistic as they were a month earlier. The previous survey showed a balance figure of 21.1% predicting that activity would be better this time next year. This month a balance figure of just 8% thought that activity will be higher in a year's time.
It's unavoidable; Brexit is happening and respondents are sharing their frustration at the slow progress being made. Nobody can be certain what will happen in the short term, but the industry at large is clinging to the hope that it can weather the storm within a year.
Read the full copy of the CE finance pages in the October edition of Construction Europe