CE Barometer April 2008: Weakening outlook
By Chris Sleight14 May 2008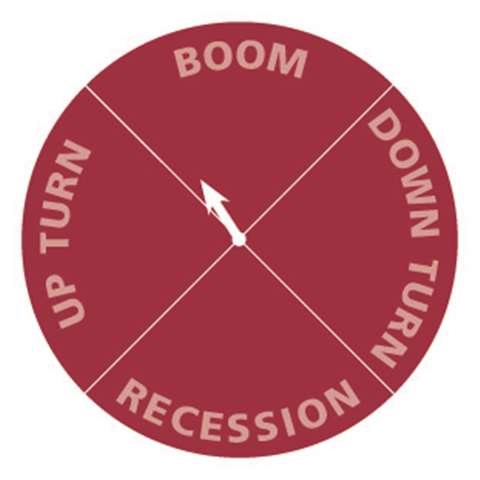 Despite signs of a rebound in March, April saw business confidence in the European construction sector slip back. Chris Sleight reports.
After improvements in February and March, business confidence in the European construction industry slipped back in April. According to the results of the latest CE Barometer survey, a balance of just +4,5% of respondents said activity rose in April compared to the previous month. The balance figure is the percentage of respondents giving positive responses, minus the number giving negative answers.
Asked how they expected their activity levels to be in 12 months time, a balance of +21,9% of respondents said they through things would be better in April 2008. Although still firmly in positive territory, this was the lowest this figure has been since the CE Barometer was launched in December 2006.
As far as our 'clock' is concerned, these results kept the arrow in the 'Boom' segment, because both current sentiment and future expectations point to rising activity. However, the strength of that sentiment, represented by the length of the arrow is quite weak, as has been the case four the last six months.
Over confident?
Another important point about April's results is that they again illustrated the industry's tendency to be over optimistic. A year ago a balance of a massive +53,4% of respondents said they expected activity to be higher in a year's time. However, when asked last month how activity levels had compared to those a year ago, just +1,1% said they were higher!

Although all the results to the various questions about activity levels current, past and future saw positive results returned, it is clear that confidence in the industry is softening. CE's general measure - the 'Climate', which is an amalgamation of all these results - stood at +9,2% in April, the lowest it has ever been, and down sharply from the figure of +19,5% for March's survey.
Reading the clock
The angle of the arrow gives an indication of the point in the cycle the European construction industry is currently at. In April activity rose compared to the previous month and sentiment about the future was still strong, indicating a prolonged boom. The length of the arrow indicates the strength of the sentiment.
Take part
CE would like to thank all those that took part in the March survey. It was completed by more than 300 construction professionals in 29 countries around the region.
The survey, which takes just a one minute to complete - is open to all construction professionals working in Europe. Those that take part in the survey will be given access to each month's results on the Internet prior to their publication in CE.
The CE Barometer survey is open from the 1st to the 15th of each month on our website. Full information can be found at www.cebarometer.eu .