CE Finance 2020: Weeks one to six
By Joe Sargent19 February 2020
For construction, 2019 was a relatively prosperous year, though the final quarter saw reduced activity. Joe Sargent looks at share prices for early 2020
At the time of writing, we are now just over a month into the year 2020. Activity may have been tailing off for many of CE's listed companies, with their respective share prices following suit, but there are many positives to take away from this mixed period of weeks one to six.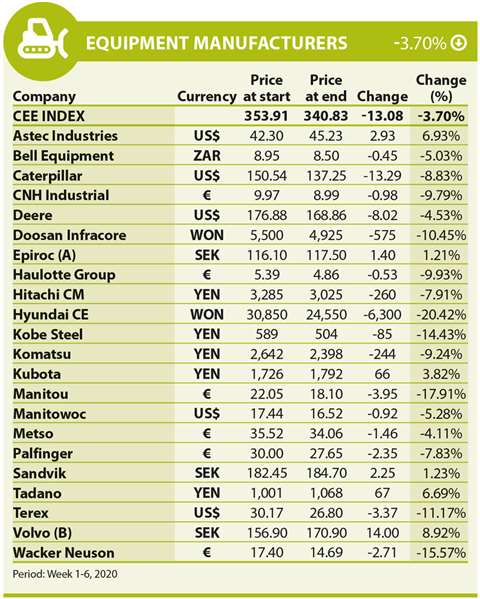 The equipment manufacturers (OEMs) have this month performed the worst of all three sectors. The CE Equipment Index (CEE figure) fell by 3.7% in this period as 16 of the listed OEMs dropped in share value and only six increased.
The best performing company for the OEMs this month was Volvo Construction Equipment (Volvo CE). The Swedish company saw an uptake in value of 8.92%. The company posted its annual results in January and reported a 5% year-on-year increase in sales.
Volvo did see a 4% decline in sales during the fourth quarter, but that is by no means cause for concern. Sales for the fourth quarter were said to be SEK 19.7 billion (€1.87 billion) giving the company an operating margin of 9.8% for that period alone. Volvo said that, although sales were down, demand in Europe was strong, influenced by growth in Germany, Italy, France and Russia.
The next-best-performing OEMs were US-based Astec Industries (+6.93%), which specialises in road building equipment, and Japanese crane manufacturer Tadano (+6.69%).
The worst-performing manufacturer – and worst performing of all listed companies during the period, in terms of share price – was South Korea-based Hyundai Construction Equipment. The company fell in value by 20.42% during the six week period.
On the upside, the company recently received recognition from Italian show SaMoTer with the award for innovation for its new wheeled loader line-up. It also received positive coverage for the appointment of its Europe division's new managing director, Sungwoo Lee.
As is often an influence on share value, however, the company was forced to report its earnings per share. Over 2019, this figure was reported to be down by 25%. With the current trend for most OEMs looking negative, speculators would likely assume this number is set to fall further.
The next-worst-performing stocks were those of France-based access equipment manufacturer Manitou (-17.91%) and German compact equipment firm Wacker Neuson (-15.57%)
Contractors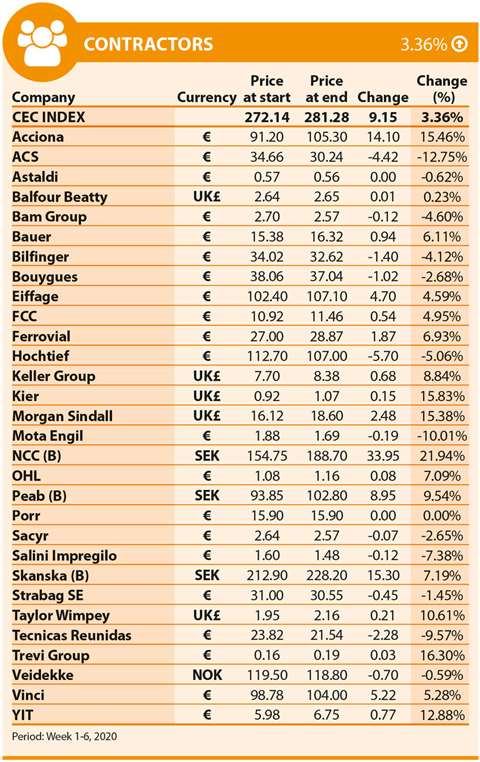 Contractors have performed, on the whole, better than their equipment suppliers. This could spell good news for the OEMs in the future, if these levels of positivity continue.
The CE Contractor Index (CEC figure) grew by 3.36% throughout the six-week period, with 17 listed contractors increasing in share value and 12 decreasing. One (Porr) held at the same value.
The best-performing contractor was Swedish NCC, increasing by 21.94% over the period. The company's full-year results were shared in January and, although orders received did decline, net sales rose.
Operating profit for the company during 2019 increased to SEK 1,296 million (€122.96 million) though at the time of the results being released, the company had a net debt of SEK 4,489 million (€426 million). Tomas Carlsson, President and CEO of NCC, said the company concluded 2019 with "improved earnings and a strong cash flow".
The next-best performers for the sector were Italy-based Trevi Group (+16.30%) and recently troubled UK firm Kier, regaining some of its fallen value (+15.83%).
The worst performers for the sector included Spanish firm ACS, falling by 12.75%, Portuguese Mota-Engil dropping just over 10% and Italy's largest contractor, Salini Impregilo (-7.38%).
Material Producers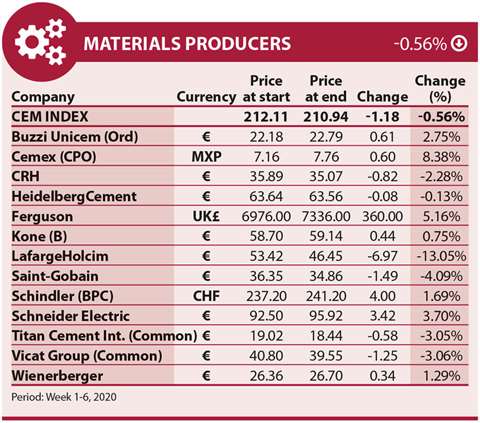 In terms of the material producers, it was a mixed affair during the first six weeks of the year. The period saw seven companies experience rising share prices while six fell in value. The CE Material Index (CEM figure) dropped by 0.56%, which is not a large amount, but was heavily influenced by LafargeHolcim's negative movement.
The Swiss aggregate firm's value fell by 13.05% in just six weeks and stands in contrast to its yearly performance for 2019 when it increased by 49.72%. The company has not yet released its full financial results for the year and is scheduled to announce them towards the end of February.
Also dropping in value for the material segment was France-headquartered Saint-Gobain (-4.09%) and fellow French cement company Vicat Group (-3.06%).
The best-performing stock for this market may come as a surprise. Mexico-based cement company Cemex has increased in share value by 8.83% over the six-week period. This will surprise some as the firm has struggled with its floated stock for some time. Over the course of 2019, the firm dropped in value by 24.53%.
The company sold off some of its European assets during 2019, including 13 aggregate quarries and ready-mix facilities in Germany and its White Cement business to Turkish firm Çimsa Çimento Sanayi Ve Ticaret. The company appears to be more confident this year in its remaining facilities as it recently placed an order with Doosan for 100 new wheeled loader Units, to be based in Europe.
CE Barometer: Januray survey results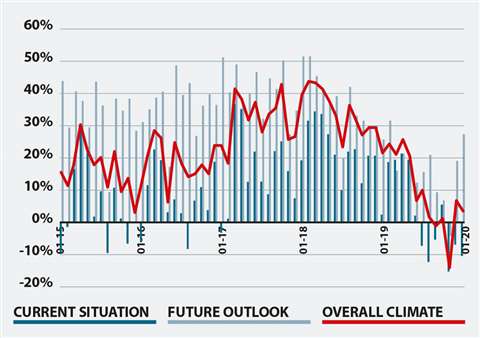 Activity is yet again reported to be down in the short term, according to respondents of the CE Barometer.
During January, activity was again worse for respondents. A balance figure of -10.1% follows on from December's slowing activity woes.
The balance figure is the percentage of positive responses minus the percentage of negative responses.
January is the third month in a row that activity has fallen; were it not for a positive blip in October, it would be the seventh month on the bounce of falling activity.
January 2020 was said by respondents to be worse than January 2019, and this was represented by a balance figure of -7.2% for month-on-month analysis. During the first month of 2019, there was also a slump in value for nearly all listed companies, leaving the current period looking particularly bad for CE Barometer respondents.
Looking ahead to January 2021, however, many respondents are confident that activity will be better than it currently is. This is a positive shift as in November 2019, for the first time since September 2012, more people predicted that activity would be worse in a year's time.
During December, a balance figure of 19.2% found a renewed optimism, believing activity would improve in a year's time. This positivity has not waned, with a balance figure for January of 27.5% of respondents feeling confident about 2021.
To view the full finance and barometer pages, download your copy of the March issue of Construction Europe magazine for free.