CE Finance July 2020: Long road ahead
By Joe Sargent24 August 2020
After May reflected a potential return to normality, the 'second wave' speculation is strong as shares fell again during July, albeit at a less severe rate.
Following the general increase in share value over the May period, during which the economy began to respond to the return of a more familiar society, that the feeling of optimism has been put in reverse through the month of July.
It is surely a delicate balancing act for many governmental institutions; protecting as many lives as possible and at the same time protecting the economy which props up the lifestyle most of us have grown accustomed to. Without a vaccine it seems that humanity is between a rock and a hard place in which reopening all facets of society as we knew them would lead to an accelerated second wave, as experienced during the 20th century outbreak of Spanish Flu.
Investors will likely be aware that much of the current large-scale infrastructure work being undertaken consists of projects already on the order books of contractors, with many saying that little has been offered in the way of new contracts during these unprecedented times.   
This issue covers the period between weeks 23 and 31. 
Manufacturers
A big challenge for OEMs has been a reduction of new contracting work for their customers; less work, less demand. A positive for some manufacturers was the European Commission's legal proposal to extend Stage V transition deadlines as a result of the coronavirus pandemic. This is something of a double-edged sword, however, as, although equipment manufacturers who have been struggling with their supply chains will get the chance to catch up, equally contractors won't be as under pressure to buy new more efficient equipment to win tenders.
During the eight-week period, the CEE Index figure for manufacturers fell by 3.79% with 15 listed OEMs dropping in share value. The biggest drop in value by an OEM was that of Finnish firm Metso, which manufactures equipment mostly for the mining and aggregate industries.
Metso fell in value by 60.45% during the period, dropping from €29.65 per share to €8.91 overnight on 1 July. This reactionary drop followed the partial demerger of Metso, in  which the company's minerals division combined with Finnish technology firm Outotec to become Metso Outotec. Since combining, the divisions have increased in value from €4.95 per share to €6.1 up to the first week of August.
Also seeing a drop in share value is Japanese company Kobe Steel (-21.71%) and French Haulotte Group (-16.33%).
The best performing OEM in terms of share price was German company Wacker Neuson (+8.3%) followed closely by South Korean manufacturer Doosan Infracore (+7.34%). Swedish drill manufacturer Epiroc was the firm with the third highest rise in share price, growing by 6.58%.
Contractors
During the two-month period following the 15.2% rise in the CEC Index figure seen in May, investor confidence in contractors has been shaken as governing bodies take differing approaches to protect against a second outbreak of Covid-19.
Between weeks 23 and 31 the CEC Index figure fell by as much as it grew in May, dropping by 16.59%. Only a single listed contractor grew in share value between 5 June and 31 July. Naturally this is worrying news, but it had been suggested by many financial experts that things would worsen before they improve - see the financial analysis in the CE-100 Report for more details.
The only contractor to see a rise in share value was Norwegian company Veidekke, which grew by 13.47%. The company recently published its financial results for Q2 announcing a pre-tax profit of NOK 501 million (€47.5 million) and a turnover of NOK 10.2 billion (€968 million)
Veidekke's CEO, Jimmy Bengtsson, said, "This was an eventful quarter for Veidekke. Production was maintained at close-to-normal levels despite the restrictions imposed to prevent the spread of COVID-19, we achieved higher revenues and profits than last year, and we won new assignments which we look forward to starting on in the months ahead."
The three worst performing contractors for the period were Spanish Tecnicas Reunidas (-36.69%) and Dutch BAM Group (-27.47%).
Materials Producers
The CEM Index figure for the period would apparently indicate that the materials industry is the only listed segment, on balance, to remain positive throughout the current period. The CEM figure for the month is a modest 0.18% but in reality, reflects rather mixed results for this group of companies.
Of the listed producers, eight dropped in share value while the remaining five increased. Finnish Kone was the highest performing outfit in terms of share price (+8.94%). Mexican company Cemex, was the next best performer, which is a tremendous rally from the firm following the company's 45% drop in value during March 2020.  
For the full finance article please see the August/ September issue of Construction Europe magazine.
CE Barometer July 2020
Following a four-month hiatus, the CE Barometer returns to indicate the current health of the construction sector as answered by CE survey respondents.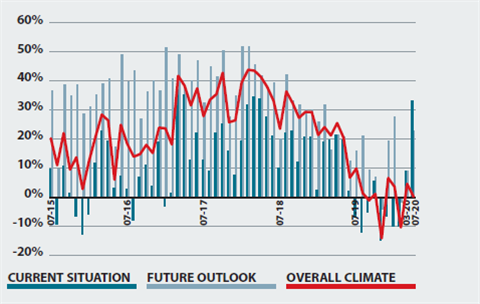 During July, activity was said to be improving for respondents on a month-on-month basis. A balance figure of 33.3% for July indicates that business activity is at least beginning to become stimulated again.
The balance figure is the percentage of positive responses minus the percentage of negative responses.
In comparison with the same month last year, July 2020 was  undisputedly worse in terms of business activity for the majority of respondents. This was represented by a balance figure of -56.1%. When compared with the expectations of respondents in July 2019 the current climate is 35% worse for business activity.    
Looking ahead to July 2021, however, over half of respondents are certain that activity will be better than it currently is. A balance figure of 22.7% suggests that, although many have trepidations concerning the future of the construction industry, there is still a good deal of optimism surrounding next year.
Some respondents have suggested that they expect Covid-19 to have a negative impact on businesses for up to as much as 18 months before business returns to pre-crisis levels. Others stated that there are simply too few contracts on offer from investors, leaving very little room for optimism.
In summary, construction industry activity has seeen some resurgence on a month-on-month basis during July, but there is still some way to go  before returning to normaility.