ConExpo review: Aerial platforms & telehandlers
By Euan Youdale21 April 2020
ConExpo was a show to remember, partly a result of Covid-19 and partly thanks to the vast array of cutting-edge aerial platform products on display. AI was there.
Before we move on, it is worth pointing out, there were some notable telehandler launches at this show, which are not covered here but will be featured in future issues of AI. You can also watch AI's ConExpo Telehandler round-up video, featured here, at the top of this page.
The biggest news at ConExpo, unfortunately, was Covid-19, which brought the show to an early end on Friday, 13 March, with the Saturday being cancelled.
Before the effects of the coronavirus, the 2020 edition of ConExpo was building up to be an edition to remember, for all the right reasons. Registrations were up 1.5% from 2017 at more than 130,000 and a record-breaking 75,622 tickets for education sessions were purchased, a 46% increase on 2017.
Despite the virus outbreak, many of the exhibitors overcame the challenges and said they had a good show with a reasonable amount of traffic through their stands. The quality of products on display were certainly of the highest level, with many great innovations.
The show got off to a shaky start, with many global manufacturers and rental companies introducing travel bans ahead of the exhibition, which started 10 March, meaning only North American employees were on their stands.
Some of the major domestic rental companies imposed travel bans too, among them, the largest of all, United Rentals. And, towards the end of the week, the US Government had put a travel ban in place from most European countries, following that up by declaring a National Emergency, freeing up federal funds to help where required. By the middle of the following week, all 209 commercial casinos in the state of Nevada had been closed.
None of this will come as a surprise to many people in the world, who are experiencing similar situations in their own countries, but it does illustrate the extraordinary conditions under which this long-established construction show found itself.
However, COVID-19 didn't change the fact that manufacturers had chosen the show to make major announcements. Everyone likes a fantastic new product, and there were a few of these on display. None less so than Snorkel's launch of the world's largest boom lift, the 210 feet (64m) platform height 2100SJ 'mega boom'. See all the details about this new lift in the self propelled boom feature in the April-May issue of AI.
The first order for the boom was placed at the show by Quebec, Canada-based Mortier en Trémie ABL. Established in 2002, the rental company supplies equipment for contractors covering the province of Quebec, the Maritimes and part of Ontario in Eastern Canada.
Ruthmann acquires ReachMaster

Another major announcement during the show came from Germany-based Ruthmann, which acquired its longstanding partner ReachMaster. ReachMaster has been a distributor of compact aerial equipment and material handling equipment from European-based manufacturers in North America for the last 20 years and has marketed Ruthmann Bluelift products for more than 10 years.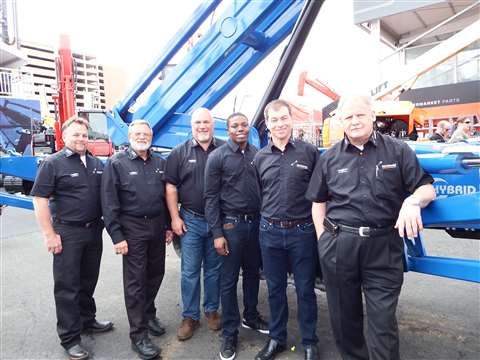 Ebbe Christensen, who was previously president of ReachMaster, will head up the new company as its president and CEO. Rolf Kulawik, managing director of Ruthmann, will assume the position as chairman of the board.
Scissor lift launches
JLG presented a number of innovations at the show, including its 670SJ self levelling boom lift, the 600 series hi-capacity HC3 boom, a battery management system, AccessReady Fusion XR Virtual Reality Training, new rough terrain scissor lifts, and construction robotics. Again, see more about the Boom lifts in the separate feature in the April-May issue.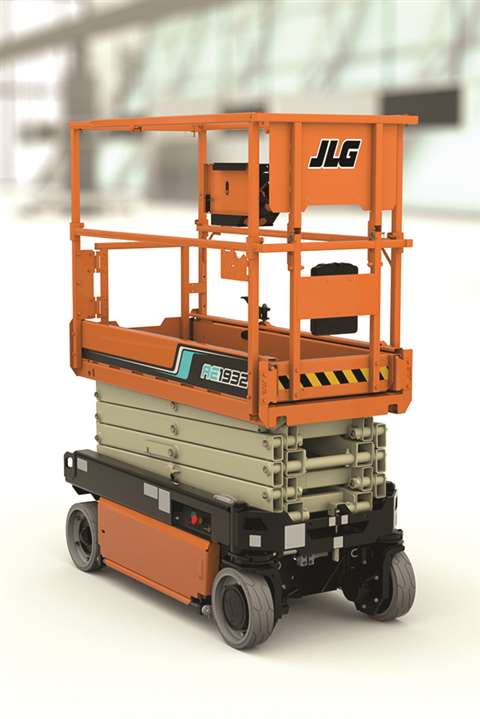 In addition, JLG also launched the first in its all-electric DaVinci scissor lift series, the AE1932, which it announced as a game changer. The series features components that allow it to be powered with a single lithium-ion battery and no compromise to performance. The 19 ft platform height, 32 inch wide AE1932 scissor provides a capacity of 600 pounds both indoors and outdoors, a 20% improvement from typical scissors. The machine travels two times faster than a standard scissor lift and charges 3.5 times more quickly. Each wheel is controlled independently for reduced tyre wear and limits damage to sensitive flooring. Its lithium-ion battery lasts 120-plus months and the unit recovers energy while it is being lowered, which contributes to a 70% decrease in power consumption.
MEC was also presenting scissor solutions, with its Micro13-XD and Micro19-XD (Xtra Deck) micro scissors. The patent pending design on these 6m (19ft) and 7.6m (24.4m) working height machines literally offers a 22 inch (56cm) wide extra deck that can be raised to 20 inches (51cm) above the platform, which allows access through ceiling panels. Guardrails on three sides also slide up to meet regulation height with a fourth side swinging gate rail, allowing both hands to complete the task. It can be used with a rollout deck that is extended or retracted. See information about the company's new boom launch in the Booms feature, in the April-May issue.
The company also announced that it has a new spare parts division, Aerial Parts and Technologies. It will support MEC products as well as parts for products from all other manufacturers. To accommodate this, it has built a new warehouse in Fresno, California. The new division replaces the parts business it sold to TVH some years ago. The offering will start in North America but there is a plan to expand it worldwide in the near future.
Skyjack took un upward leap in its scissor range by unveiling its highest model to date, the SJ9263 RT. The unit features a 69ft working height and is rated for four people. "Similar to the approach we took with our DC scissor lifts, we looked at what changes were mandated by standards, both ANSI in North America and Stage V in Europe, and dug a bit deeper to see how we could develop a whole new class for our customers," said Corey Connolly, product manager at Skyjack. "Bringing a machine to the market with a working height of nearly 70 feet expands rental opportunities for our customers without them having to jump to a specialised class."
The new scissor lift has a 23ft, 4 inch platform when equipped with the optional dual extension deck. The unit shares common features of Skyjack's full-sized scissor range to make maintenance and service easy. Updates have been made to the hydraulic and axle-based drive systems.
"Right now, market standards for full-sized rough terrain scissors are the 30ft -50ft models we've offered for years," says Barry Greenaway, senior product manager at Skyjack. "If a rental company is looking to take a step up from there the next best option in North America is a boom, and in Europe is the specialized 90ft to 120 ft classes. We found a way to offer something that's a step between the two options."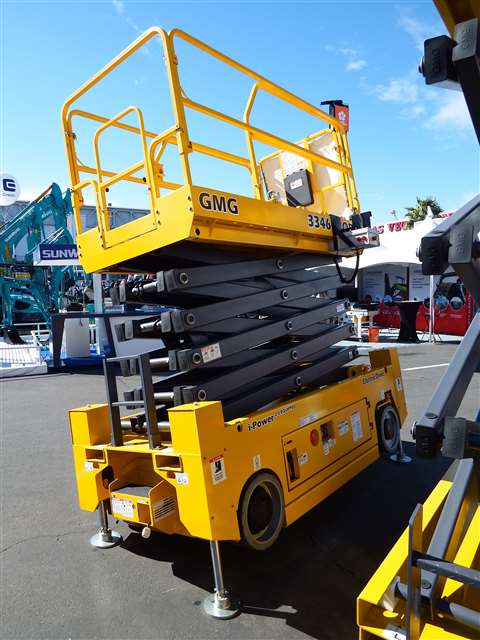 GMG introduced a range of new products at the show, including the 3346 ED scissor, with outriggers. The company said it had discovered people need levelling from a mid-range RT scissor. The plan was to bring an RT and slab scissor together, which offers 10 degree levelling side-to-side and 5 degrees back and front. The point being its half the price of an RT and it can be used inside as a regular slab scissor or outside, or on even or uneven ground. Jim Tolle, CEO at GMG said, "It means customers can buy the machine for less but get the same sale which they used to lose money on."
In the electric slab scissor lift arena, Snorkel is expanding its range and lifting height with the introduction of the new S4740E. This becomes the largest electric slab scissor lift offered by the manufacturer, with a maximum working height of 45ft 5 inches (14m), measuring just 47 inches (1.19m) wide. It is the company's first lift to be offered with a choice of either hydraulic or electric drive. The company was also previewing a lithium-ion electric compact rough terrain scissor.
Staying on the subject of scissors, Snorkel continued its stream of innovations with a new 'mega scissor' to accompany its 'mega boom'. The S9070RT-HC is the first in a family of four new ultra-high capacity large deck construction scissor lifts, which will be introduced through the remainder of 2020, with lifting capacities up to 4,000 pounds (1,814kg). With a maximum working height of 76ft (23.3m) and a lift capacity of up to 2,000 pounds (907kg), the S9070RT-HC comes equipped with dual powered extension decks and a spacious platform area of 18.76 square metres.
Alongside this Snorkel was launching a line of three large deck construction scissors. With working heights ranging from 39ft (11.8m) to 59ft (17.9m), the mid-size S9043RT with a working height of 49ft (15.1m) and a lift capacity of 1,500 pounds (680kg) were on display.
Boom lift announcements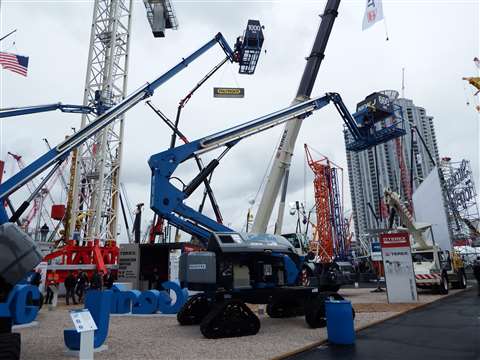 Genie launched the second boom lift in its new J range at ConExpo. The J range is lighter and simpler than the XC range for operators who want the height rather than the extra capacity and further outreach. It effectively means Genie now offers three boom ranges: the XC, J and its FE hybrid range.
The S-80 J follows on from the S-60 J, introduced earlier this year. It has an unrestricted platform capacity of 660 pounds (300kg) for two occupants, plus tools, and a 6ft (1.8m) jib. With a platform height of 80ft (24.4m) and horizontal reach of 55ft (16.8m), the new boom is designed to provide maximum working capabilities at the top of the envelope.
The model is also lightweight enough at 23,000 pounds (10,433 kg) to be equipped with Genie's 4-point TraX patented track and axle system — the first boom in the 80-ft category to offer a tracked option, which was on show at ConExpo. The TraX is designed to offer extreme terrainability and lower contact pressure for reduced damage when operating in sensitive ground surfaces, as well as on harder, uneven gravel or rock surfaces.
It is equipped with a 49 hp (37 kw) Kubota D1803 turbo diesel engine, available in Tir 4f or Stage V.
Competition is already strong for those manufacturers established in North America, but for those trying to make themselves known, there is an additional layer of complexity. As Karin Nars, from longstanding Finnish manufacturer Dinolift, says, "Getting known in the US is a marathon, not a sprint."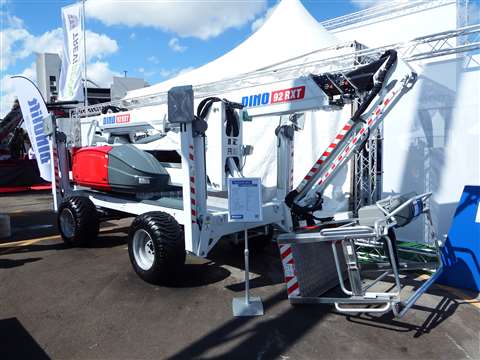 Its main aim at the show was to find additional distributors. One of its latest is RBG, based in New Hampshire and covering the surrounding States.A Dinolift product that is finding major interest in North America is its 92RXT articulating boom with stabilisers, which means it has self levelling capabilites. So far, the company has sold several units in the US, mainly in the tree care segment.
Before we move on, it is worth pointing out, there were some notable telehandler launches at this show, wich are not covered here but will be featured in future issues of the AI. You can also watch the ConExpo Telehandler round-up video - the link is at the beginning of this feature.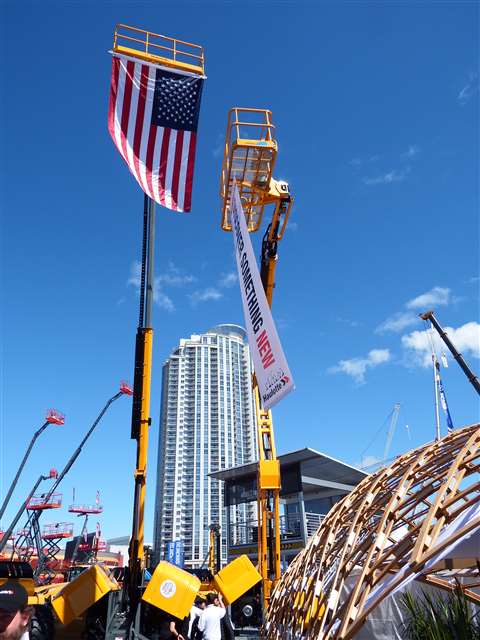 Haulotte is looking to increase its presence in North America with new facilities in Canada and Texas, US. The two new depots would add to its Ohio headquarters and two other bases in Virginia Beach, Virginia, and Long Beach, California. There is no confirmed date for the two new depots to open but they will complement a 20% increase in employees, a 70% increase in parts and a 50% increase in equipment stock. Haulotte announced its plans at ConExpo and said the market for MEWPs in Canada is 9,000 to 10,000 units a year. It hopes to increase its relatively small market share in the US, closer to that in Europe were it is a major brand. It had a new boom too at the show – see the Booms feature.
Fellow France-based manufacturer Manitou has also been very active in increasing its market share in North America. Its range of MEWPs dedicated to the market was expanded too at the show, bringing the total to four platforms ranging from 60 ft to 85 ft. Two of these models, the TJ 85 boom and the all new VJR 26 electric vertical mast were on display at Conexpo.
Manufactured in Candé, France, the TJ 85 has a platform height of 85 ft (26 m) for a lifting capacity of 770 pounds (350 kg) or three people with equipment. It also has a remote control, which provides the ability to fold the jib under the telescopic arm to reduce the length of the machine when loading onto a truck. The working height of 85 ft (28 m) and horizontal outreach of over 70 ft (21 m) meets the requirements of port, industrial maintenance and construction work
The TJ line offers unrestricted or restricted platform capacities. The tallest of the group, the TJ 85, has an 84 ft, 6-inch platform capacity with 770 pounds of restricted capacity and 530 pounds of unrestricted capacity. It achieves 70 ft, 4 inches of horizontal outreach and also features a 12 ft, 5-inch telescopic jib.
German tracked platform specialist Teupen launched its latest model in the LeoGTplus family. The LEO34GTplus features a maximum working height of 34m, maximum horizontal outreach of 20m, platform capacity of 400kg and 450 degrees of rotation. Some of the unit's key features are its negative reach of up to 9.2m and its rotating platform.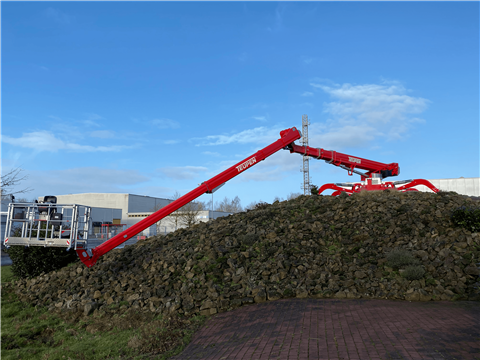 A second launch was the 28m working height Leo 86SiC, the first insulated boom from the manufacturer, offering up to 46,000 kV. Horizontal outreach is 23m with a maximum 200kg in the basket, and 14.7m with an 80kg load. Martin Borruta, CEO of Teupen, who is currently based in the US, said the machine was designed purely for the US market. He said 35% of the company's business is now in the US, despite the tracked platform being a largely unknown product in the market. Borruta is set to change that by taking one of the company's lifts, a Leo 105AJ Plus, on a tour of the East Coast, from Canada, all the way down to Florida, to grow awareness of the product type.
Headquartered in Charlotte, Teupen has already made notable inroads in the country and is a preferred supplier to United Rentals. Indeed, its main customer base is in rental and it has a partner in the mid-West of the US, specifically for the tree care sector. And now Teupen is looking to expand further into the insulated arena.
Seeking expansion
Chinese manufacturers were making their MEWP products known to the US market at the show, in some cases for the first time. Dingli, LGMG, Sinoboom, Sunward, Sinoboom, XCMG and Zoomlion all had stands.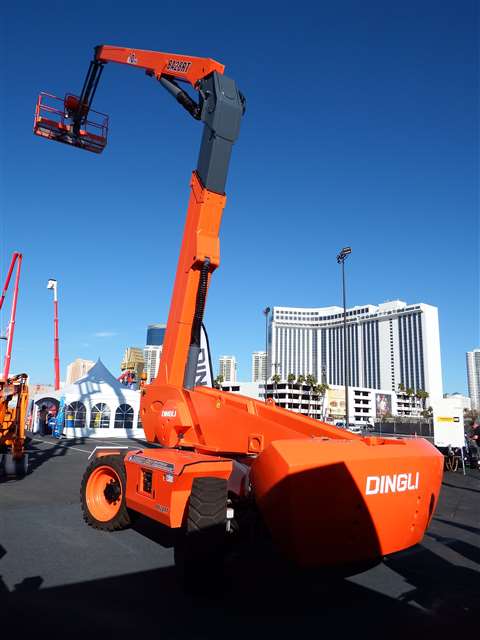 Dingli is already quite established in North America thanks to its partnership with US-based MEC - the Chinese manufacturer acquired a 20% stake in MEC, which has been selling Dingli scissors in the market.
However, Dingli was showing its products on its own stand at the show. It was the first time its new boom products had been actively exhibited in the US. The new design sees all major components brought into the chassis, giving it a lower centre of gravity. The company has also recently launched a 28m lithium boom, (see the Booms feature in this issue).
Others are less established in the market, thus far. Sinoboom is making a move into North America and is in search of a partner based in the US. Charlie Li, regional manager in North America at Sinoboom, said the company has major ambitions and in five years' time would like to be one of the largest OEM's in the continent.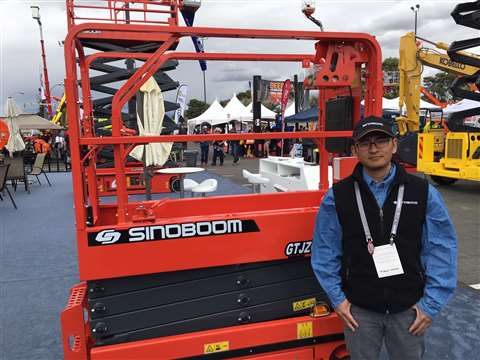 The North American division is based in Katy, Texas, which acts as an equipment depot and provider of spare parts. Li said as the company aims to establish more branches in the north, west and east of the US and in two or three years would add assembly capabilities. In addition, Sinoboom is searching for distributors around the country.
The aim to partner with an existing OEM in the country could take a number of forms, including partial acquisition and Li explained that Sinoboom was now in talks with potential partners. "It will be a good way of developing the market quickly," he said.
Sinoboom is in a similar situation to a number of other China-based MEWP manufacturers that have serious ambitions for growth in North America but have only just entered the market. Similarly, Sinoboom already has some products that meet US ANSI standards, particularly slab scissors and two or three boom lifts. However, the range for North America will grow quickly, says Li, to include more boom lifts and rough terrain scissors.
LGMG was represented by one of its newest employees at the show, Phil Graysmark, who joined the company in December last year as its sales director for Europe and the Middle East. The company, with Graysmark's help, is looking to achieve the same level of growth in Europe as it is hoping for in North America. His first task is to sign formal agreements with new dealers across Europe. The first to be signed up was Norwit in the Czech Republic and Vanginkel in the Netherlands. A second dealer in the Netherlands will follow. In addition, LGMG is about to sign a distributor in the UK. The next step in Europe will be Scandinavia. They will complement the existing agreement with OEM's PB and CTE in Germany and Italy, respectively.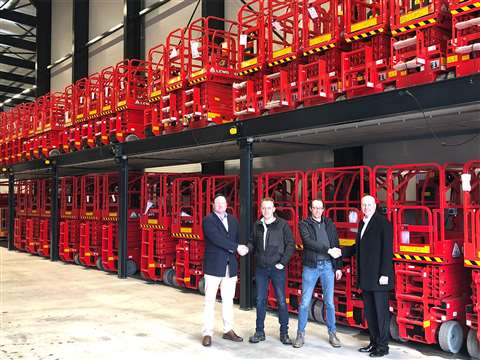 In the US, the company has former JLG president and COO of Ahern family of companies Craig Paylor at the helm and is based in Chambersburg, Pennsylvania. The subsidiary, opened in June last year, offers sales, service and parts. The company told AI that it is now planning on expanding into Canada and is discussing a move into Australia as well as working on product certification for that country. US ANSI and European CE certification has already been achieved for some of its products, mostly slab scissors, although Europe also offers 14m electric and diesel articulated booms and 65ft and 85ft telescopic booms. The strategy in Europe, says Graysmark, is to move to fully electric drive.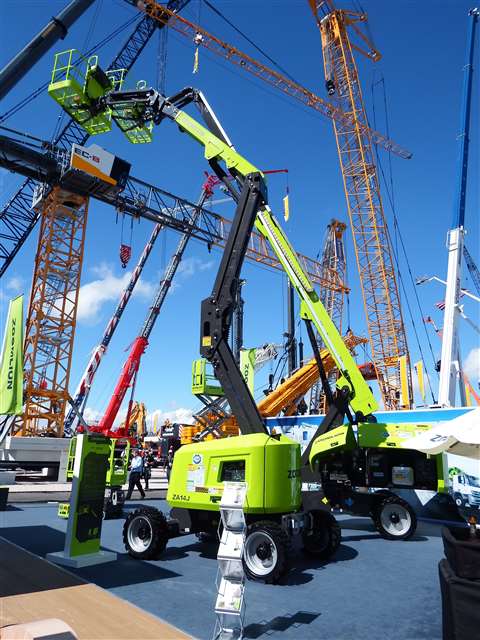 Zoomlion was showing access products at a US-based show for the first time at ConExpo. The company already has a full line of scissor lifts and the manufacturer's research and design centre, based in Wisconsin, in US, is working on a 42m telescopic boom, which it has just handed over to the China-based factory for testing and to produce a prototype of it. The aim is to release it for full production by the beginning of 2021.
The aim is to have articulated booms up to 53ft and telescopic booms up to 75ft. Across both ranges factory production will take place in China but there will be design help in the US from Zoomlion's expanding team. On display was Zoomlion's ZA14J articulating boom and its ZT20J telescopic boom. R&D into telehandlers has also just got started in the US.
The company is now beginning its search for distributors for its AWP products. "The key thing is to differentiate us from other products in the market."
Hoists
Spanish hoist and mast climber manufacturer Alba-Macrel presented newly certified hoists for North America, where it was exhibiting for the first time, with the aim of expanding recognition of its products in the continent.
Visitors to Alba-Macrel's booth at the show earlier this month were introduced to several models, some of which were developed specifically for the US market's ANSI and OSHA regulations. This includes adaptations to electrical features and resistances, among others. The products included the EDC 2000 double cabin and PT 1800 - both hoists for material and passengers, and the MC 250 materials hoist for tubular scaffolding, along with the PEC 130 mast climber and an AE500 electric unit for hanging scaffolding.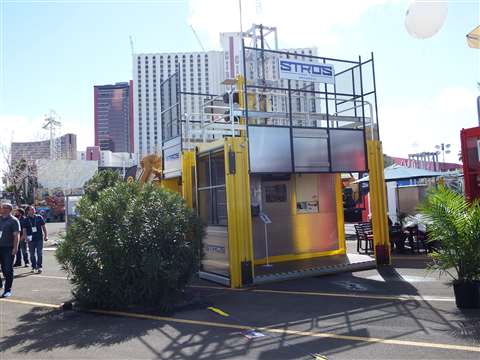 Stros, based in the Czech Republic, was also introducing products that would be suitable to the US at ConExpo. On stand was the 3646UPF9. The 8,000 pound capacity, 300ft per minute unit is one of the largest non-counterweight, dual hoists on the market. The machine has an 18ft car length. One of the reasons Stros is concentrating in this area is because existing ANSI standards that restrict load capacity in hoists are now being more rigorously enforced, said the company.
VR training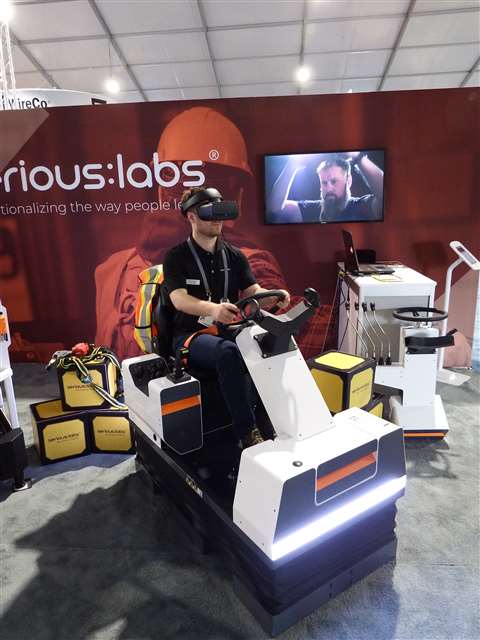 Serious Labs has unveiled its Universal Motion Base (UMB) to be used with seated heavy equipment VR simulators, at ConExpo.
The UMB is the foundation for a range of equipment VR simulators, such as telehandlers, skid steers, dozers, excavators, backhoes, as well as for vehicles such as buses and trucks. It complements its UMB for MEWPs, which is based around the operator standing up.
The UMB comes standard with an operator's seat, a custom-tuned D-Box actuator system for motion-feedback, and a slide-lock attachment system which is focused on operator comfort during equipment training. The UMB's design offers logical options for equipment controls, including a steering column or control handles, multiple pedal options and attachment points on either side of the operator to accommodate all future equipment types.
"Virtual reality has changed the training landscape in the construction equipment world. Operators can now train in a risk-free environment which helps to save lives, reduce accidents and eliminate damaged equipment by untrained operators," said Colvin. "Disruption is becoming the new normal."