Driving change: engines and components
By Christian Shelton14 October 2019
Engine exhaust mission regulations in various parts of the world have helped boost the use of electric and hybrid engines and increasing public and political support for such measures suggests that emissions legislation is going to continue becoming stricter and more widespread. Yet the challenge remains that, for large, heavy, power-hungry mobile cranes and specialized transport applications, there is not one clear winning alternative solution or system to using diesel. As a result, we see different engine manufacturers focusing on different aspects of engine technology, with some companies exploring competing technologies at the same time.
For example, powertrain manufacturer FPT Industrial is concurrently developing diesel emissions after-treatment solutions, natural gas engines, and electric solutions in its stated quest for "technological leadership". FPT says that it believes that there is not a single solution available for all markets, which is why it is developing a range of solutions.
In the traditional diesel engine sector its established N45 engine, part of the company's NEF family of engines, has been updated to meet Stage V emissions regulations. The 4.5-litre engine has a four-cylinder configuration and delivers maximum power of 204 hp, an increase of 15% compared to the previous version. It uses HI-eSCR2 (High Efficiency Selective Catalytic Reduction system), the second generation of the company's after-treatment system with integrated particulate filtration system. The dimensions and layout of the N45 Stage V are the same as the Stage IV version and so it has the same packaging and cooling requirements as the previous model. Advances in filters and the clogging sensor have led to a doubling of the service interval to 1,200 hours, FPT says.
FPT Industrial is also promoting its range of natural gas (NG) engines. FPT's Cursor 13 provides the power for the Iveco Stralis NP truck – a gas-powered vehicle designed for long-haul applications.
According to FPT, the engine is the most powerful 100% Natural Gas engine on the market for industrial vehicles, delivering maximum power of 460 hp, 2,000 Nm of torque and, compared to a diesel engine with the same power, emits 98% less Particulate Matter and almost no CO2 emissions (if fuelled with biomethane).
In the Stralis NP truck the 12.9-litre engine has a range autonomy of up to 1,600 km. A 'silent mode 71 dB(A)' function reduces noise emissions, making it suitable for urban operation and night-time deliveries. Oil change intervals are every 90,000 km.
With regards to electric solutions, FPT is participating in Vision-xEV, a project which contributes to the advancement of all kinds of future electrified powertrain systems. With the support of 14 partners and a total budget of € 3.9 million, Vision-xEV is funded by the European Commission as part of the European Green Vehicles Initiative, under the Horizon 2020 programme.
FPT says it has seven research and development centres and the Vision-xEV project aligns with its work at its research and development centre in Arbon, Switzerland, where its common rail technology and the HI-eSCR were developed.
Big power, little engine
With regards to traditional diesel engines, there has been a trend towards maximising power whilst reducing weight using a variety of techniques. For example, MAN Engines has focused on providing a high power-to-weight ratio from a light diesel engine with its 9-litre-displacement D1556. "With the D1556, our engineers have succeeded in developing an engine with a high power-to-weight ratio and compactness that is perfectly suited to the requirements of off-road applications," explains Hubert Gossner, head of off-road sales at MAN Engines. "In addition, as the first 9-litre engine from MAN Engines, it completes our engine portfolio for construction machinery and closes the gap in our range between the well-established MAN D0836 range with 6.9-litre displacement and the D2676 with 12.4-litre displacement."
The company has also launched a 16.2-litre engine, the D4276, which it says provides high torque at low speeds and a high power-to-weight ratio. It has a 42 mm bore and 170 mm stroke and has been developed for applications that demand high power with full power operation at up to 70 percent of the duty cycle. It delivers its maximum torque of 3,280 Nm at speeds of 1,100 rpm and maintains a constant torque up to 1,500 rpm. The straight-six engine has a dry weight of 1,280 kg, which MAN Engines says makes it one of the lightest engines in its displacement class. It delivers an output between 450 and 515 kW (604 and 690 hp) de-pending on its power stage.
The engine's designers have maximised the power output of the engine with a number of measures. Fuel flow has been improved due to the use of a new high-pressure pump. MAN Engines says an additional increase in the flow rate through the injectors, coupled with injection pressures of up to 2,500 bar, means better combustion – resulting in lower fuel consumption over a wide map range, coupled with a reduction in particulate emissions. A VTG (variable turbine geometry) turbocharger helps maintain maximum power and torque over a wide engine speed range, MAN adds.
For exhaust gas aftertreatment, the D4276 uses an exhaust gas recirculation (AGR) system with water cooling. This comprises two DOC/DPF modules (diesel oxidation catalytic converter/diesel particulate filter), coupled with an SCR (selective catalytic reduction) system to meets EU Stage V and US Tier 4 emission standards.
Hybrid solution
Wisconsin, USA-headquartered engine manufacturer Kohler states that it is "an alternative player, going against the flow with respect to traditional engines". This approach is manifest in its K-HEM (Kohler Hybrid Energy Module) product – a hybrid electrical and mechanical combined power generation unit.
It is a parallel hybrid system which Kohler explains means it can deliver mechanical energy, coming from an engine, as well as electrical energy from a battery pack. K-HEM units can be fitted to hydraulic systems and can help facilitate the switch towards full electrification, if required, says Kohler.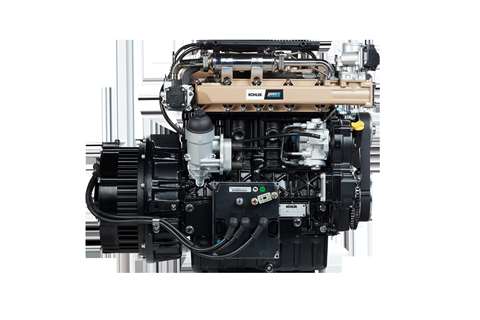 The latest iteration of the system is the K-HEM 2504. It comprises a Kohler KDI 2504TCR 55.4 kW diesel engine that complies with Stage V legislation and a 48 Volt electric motor that provides 19.5 kW peak power and 9 kW continued power. In practice, the diesel engine provides the power base while power peaks are accommodated by the electric system.
Kohler says the K-HEM 2504 hybrid unit also offers efficient diesel particulate filter management and it is also possible to use heat generated by the engine to recharge the battery pack.
Engine maker Cummins has also developed a suite of plug-in hybrid electric powertrain solutions spanning light, medium and heavy-duty applications, called PowerDrive. It is designed to replaces conventional transmissions and it provides both parallel and series capabilities. The system switches in real time between two hybrid and two pure electric modes, optimising the powertrain for what Cummins describes as "the best fuel economics in any driving situation".
The flexible hybrid architecture shifts between pure electric for environmentally sensitive areas with a 50-mile (80 km) range and hybrid for jobs requiring more than 300 miles (480 km).
When in series configuration the engine is better suited to low road speeds such as urban driving (stop/start conditions), while parallel is ideal for higher road speeds on the highway, says Cummins. In a series hybrid, the electric motor is the only means of providing power to the wheels. The motor receives electric power from either the battery pack or from the engine-generator. In a parallel hybrid, the engine and electric motor combine to provide the power that drives the wheels. The third mode of electric plus comes online when higher energy is required when the system senses gradient climbing or acceleration for overtaking.
A US Class 6 truck powered by the PowerDrive with a 50-mile (80 km) electric range, realises reduced emissions by up to 80 percent compared to conventional vehicles, claims Cummins, and fuel costs are reduced by between 40 to 80 percent depending on the drive cycle.
Engine-maker Volvo Penta announced that by 2021 it plans to offer electrified solutions for both its land and sea-based business segments. "Volvo Penta is embracing the electric transformation and will be at the forefront in delivering compelling business cases to customers using this new technology," says Björn Ingemanson, president of Volvo Penta. The company has already teamed up with Rosenbauer E-Technology Development, a subsidiary of firefighting and disaster protection specialist Rosenbauer Group, to develop an electric fire engine.
"We will take a full systems supplier approach helping our customers in the transition to the new technology," Ingemanson continues. "This will happen application-by-application, on the basis that the business case for switching to electric will differ across our many customer segments. This is the start of a long-term transition. Diesel and gasoline-powered primary drive systems will remain the most appropriate power source for many applications for years to come."
Steve Nendick, marketing communications director from engines manufacturer Cummins, echoes this sentiment, "Although we cannot see into the future, if we look ahead as far as 2119 it is not difficult to imagine a world where non-fossil fuel power is the norm, rather than the exception given the advances we have made already this century.
"However, right now and for the foreseeable future, the high-power density and machine capability required from heavy-duty construction equipment means ultra-clean diesel power is the most viable and proven power solution, particularly as Stage V regulations comply with even the strictest low emission zones."
"Cummins' strategy will always be to develop the most efficient powertrain solution for our customers and this is reflected by annual R&D investment of almost $1billion [€892 million] to ensure we can deliver the right power choice at the right time."
ZF clutch for Liebherr cranes
German automotive and commercial vehicle parts maker ZF Friedrichshafen (ZF) has developed a new multidisc clutch module, called DynamicPerform, which will be installed in crane manufacturer Liebherr's three- to five-axle mobile cranes, with volume production starting in 2020.
The wet starting clutch pairs with ZF's TraXon modular transmission and can handle engine torques of up to 3,000 Nm. ZF said the clutch provides durable starts and very little wear while manoeuvring.
The clutch disks are cooled by circulating oil, which ZF said protects the clutch from overheating. The cooling system uses dedicated temperature model software ZF developed specifically for heavy duty specialized vehicle applications.
The system comes with ZF's DynaDamp damping system that it said is configured for the vibration behaviour in newer engines in the Class V emissions class (offroad), Euro 6 (onroad) class and higher.
The TraXon DynamicPerform transmission system can be combined with ZF's intarder – a hydrodynamic hydraulic brake that the company said relieves demand on the service brakes by up to 90 percent, thus extending the life of the service brakes and reducing maintenance costs and brake dust emissions.
According to ZF, the TraXon has a high transmission ratio spread, an energy conservation efficiency rating of 99.7 percent, and a good power-to-weight ratio; when fitted with DynamicPerform, the TraXon weighs 397 kg (449 kg including the intarder).
The modular nature of the TraXon means it can be combined with other ZF systems so that users can build their own transmissions to suit specific applications.
Commenting on Liebherr's decision to install the TraXon DynamicPerform system in its three to five-axle mobile cranes Martin Dony of Liebherr mobile cranes's driveline development and construction department said, "We supported ZF during the development process of the DynamicPerform and helped guide its integration into the mobile crane driveline. Prototypes of several crane models have been undergoing testing for months in order to ensure volume production at the beginning of 2020."
Hatz silent pack
German engine builder Hatz has launched a modular new silent pack for its H-series of three- and four-cylinder engines. It is designed to reduce noise emissions and provide protection against contact, rain, dirt or vandalism.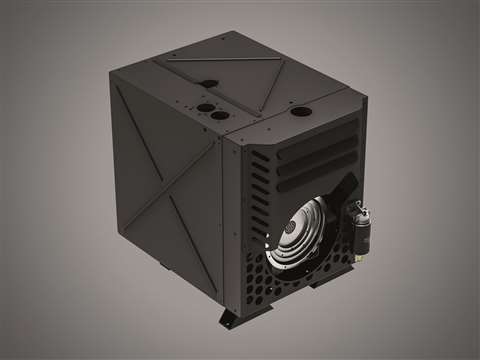 According to Hatz, the plug and play New Silent Pack provides more than 60 percent sound insulation. Specifically, it is for the Hatz H-series engines 3H50TI, 3H50TIC, 3H50TICD, 4H50TI, 4H50TIC, 4H50TICD. Hatz says its design the New Silent Pack is compact in size and easy to integrate or retro fit with machinery. It weighs less than 100 kg and is designed to be easy to maintain.