Evolution at work
By Lindsay Gale15 April 2009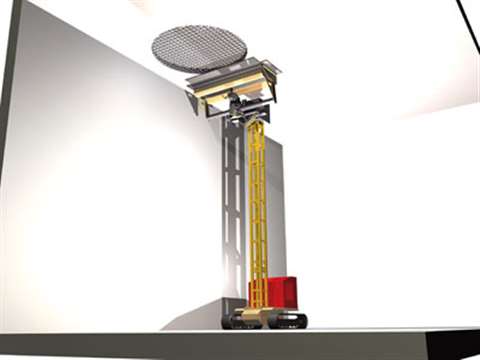 Customer feedback was the name of the game for Aquajet during its product development programme and the result is a number of new products that offer significant energy savings, greater productivity and improved performance, says the company. President Jan-Ake Pettersen: "We want our customer to have the best equipment availble."
The first of these new development is a what Aquajet calls its hybrid robot. This machine offers the opportunity to make use of either diesel power or electric drive that eliminates exhaust emissions, Power is provided by either the 15 kW diesel engine or an electric motor developing the same amount of power. Twenty percent larger than a standard robot, the hybrid features larger adjustable tracks that provide a footprint of between 1.5 m and 2 m (5-6.6 ft) in width for optimum stability. The machine can operate vertically, horizontally and overhead, with a mast height of up to 9 m (29.5 ft). An automated control system optimises settings and applies the minimum force required that allows the machine to operate selectively.
The new machine sports further results of Aquajet's R&D effort in the shape of an Intelligent Sensing Control system. All sensors and cables have been removed from the front of machine, away from debris, water and concrete slurry, reducing downtime and troubleshooting to a minimum - further increasing efficiency, says Aquajet.
Another new mchine has joined the company's line-up - the Evolution Robot. Named for its new Evolution controller, the machine combines the new controller and an Equal Distance System that features improved geometry on the high pressure lance control with more precise hydraulic actuators for more accurate and rapid concrete removal. The Evolution also features the new ISC system and a Thin Film Technology colour graphic display, along with a redesigned software suite. It also is equipped with the Smart Lance control that calculates the best way to achieve maximum performance and best results from the operator's settings. It allows the machine to make geometric cuts in a wide variety of shapes - triangles, circles etc - to allow pachwork operations to a level previously considered not possible, claims Aquajet.
For urban operations, Aquajet has developed a much quieter powerpack, called Ecosilence, that reduces noise impact to less than half that conventional units. This means that complaints concerning noise from nearby businesses and residences should be substantially reduced during work operations. Aquajet has also addressed fuel consumption issues with the new unit to minimise running costs as well as achieving lower emission levels.
Meeting customer needs is Aquajet's stated goal for this development programme and reliability is another key criteria of the programme As a result, to ensure that the new systems are rugged and reliable, all the new features and equipment have undergone a rigourous test proceedure prior to release to the market. Aquajet says that it is confident that the new equipent and features will offer hydrodemolition contractors the next level of performance.
There are further fruits tocome from the R&D effort, and Mr Pettersen said that these are likely to be unveiled at the 2010 bauma trade fair in Munich, Germany.