Giant tank hoisted into chemical plant
By Leila Steed12 August 2019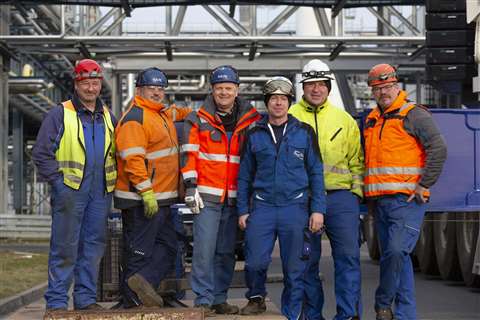 Logistics contractor Maxikraft hoisted a 108 tonne cylindrical storage tank, measuring 33 metres long, over two obstacles during its transport to Schkopau Power Station in Saxony-Anhalt, Germany.
The storage tank, which began its journey at a factory assembly area, had to be hoisted over a pipe bridge measuring 12 metres high that was blocking its route out of the factory.
Maxikraft used its Liebherr LTM 1500-8.1 and an LTM 1750-9.1 mobile crane, positioned on opposite sides of the pipe bridge, to lift the storage tank.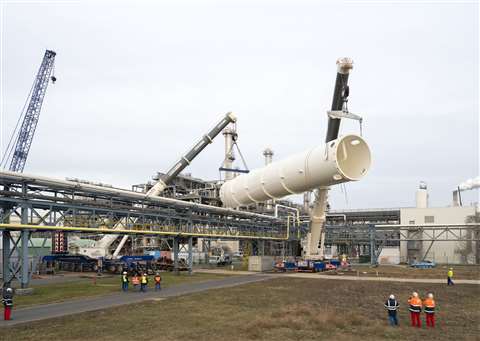 Upon clearing the obstacle the team transported the storage tank less than 1 kilometre to the power station where a Liebherr LG 1750 lattice boom mobile crane was in place to lift the tank over a concrete wall into the power station.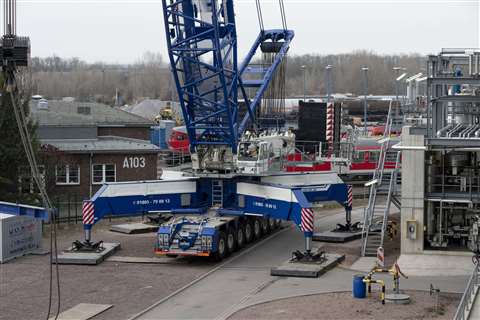 Due to limited space, the LG 1750 was set up with a support base measuring 12 x 12 metres. The manoeuvre required a slewing platform extension to ensure the 115 tonne gross load could be managed. This increased the ballast radius by 2.5 metres and raised the crane's lifting capacity.
The Maxikraft team used both the LTM 1500-8.1 and the LG 1750, fitted with a 70 metre main boom, to lift the storage tank into a vertical position. The LG 1750 then hoisted it over the 16 metre high wall.
Having cleared the concrete wall, the storage tank was lowered into its installation location in the power station.