Goscor takes delivery of first African Genie
By Sarah McCay03 September 2014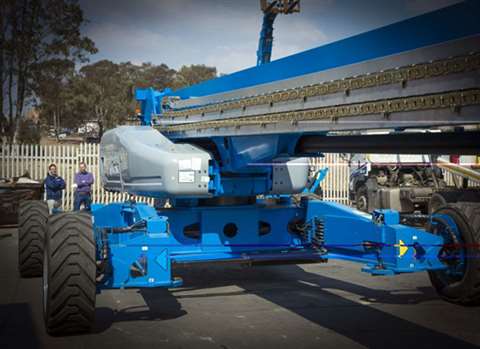 Goscor Access Rental has taken delivery of the first Genie SX-180 to arrive in Africa. The machine was ordered during Bauma Africa 2013 and has now arrived at the company's premises at Chloorkop in Kempton Park, South Africa.
The South African access rental company's directors George Landsberg and Dean Jones were on hand to help with the off-loading of the self-propelled boom at their premises.
Genie provided a two-week intensive training course to the Goscor Access Rental sales team and its field service technicians. The machine, which features an X-shaped chassis and offers a vertical reach of 180 ft (54.9 m) and horizontal reach of 80 ft (24.4 m), will now be unveiled to Goscor customers at an open day at the company's premises.