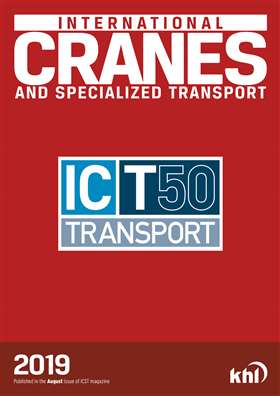 After the upset of a couple of years ago where we had change at the top of the table, this year Mammoet retains the top spot it regained last year. As the latest industry news (page 6) will tell you, the Dutch giant's acquisition of second place company ALE will put paid to another challenge from there. If Mammoet combines the two fleets, rather than continuing to run two separate businesses, on this year's figures, it will give a T50 Index fleet total of 450,713.
That will be a comfortable three times bigger than the current nearest rival, Sarens, this year in third place. For several years Sarens and ALE have both been steadily catching up with Mammoet in terms of equipment fleet capability. With ALE it is to the point where last year's 4.89 % gap from Mammoet is reduced to 3.62 % this year. A drop this year for Sarens, however, sees the gap widen from 42 % to 61 %. Other than Sarens and ATS, all the companies in the top 10 have increased their capacity since last year.
Looking at the rest of the top ten, the first six companies are in the same order as last year. A change for Daseke in 7th place sees it enter the top ten from 12th place, increasing its fleet by 43 %. That has displaced ATS, down one place to 8th while Bennett, with 24 % more capacity than last year, maintains 9th. Barnhart, despite adding more than 10 % to its fleet, presumably at least partly as a result of its recent acquisition of Burkhalter Rigging, is down two places but just stays in the top 10. It occupies last year's Bigge position, (now down to 12th in spite of a 5 % increase in capability) where Daseke was.
Supporting documents
Click links below to download and view individual files.