Jan De Nul and Deme to construct world's first Energy Island
By Mike Hayes01 March 2023
Jan De Nul and Deme have signed an agreement with Belgian operator Elia to deliver the world's first energy island in the North Sea.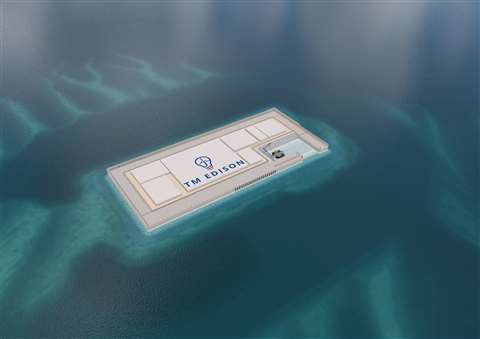 Princess Elisabeth Island will act as an extension of the electricity grid, connecting North Sea wind farms to the mainland, but also building new connections with the UK and with Denmark.
The proposal calls for the artificial island to be situated some 45km from the Belgian coast, where it is ultimately expected to distribute 3.5GW of electricity from the Princess Elisabeth wind zone, via the under construction Ventilus and Boucle du Hainaut grid reinforcement projects and the proposed Nautilus and TritonLink interconnectors.
Jan De Nul and Deme formed the consortium TM Edison to bid for the engineering, procurement, construction and installation (EPCI) contract, which Elia put out to tender in January 2022.
Construction timeline
According to Jan De Nul, construction of the island's foundations will start early in 2024, with the work scheduled to last 2.5 years. When the island is completed, construction of the high-voltage infrastructure will begin.
The 'island' itself will be constructed from concrete caissons filled with sand and will have an area of approximately 6 hectares.
For the island itself, the scope of work includes the construction of a small harbour and helicopter platform, allowing maintenance crews to access the site.
Elia aims to ensure all wind farms are fully connected to the mainland by 2030.
Supporting sustainability
Thomas Dermine, Belgium's secretary of state for Recovery, said, "With vision, ambition and good interactions between government and business, Belgium has established itself over the past 20 years as one of the world leaders in the development of offshore wind energy.
"The multifunctional energy island – which is being subsidised by €100 million under the Recovery and Resilience Plan – will be the first of its kind.
"The expertise acquired by DEME Group and Jan de Nul Group during its construction can be shared around the world to contribute to a lower carbon, more sustainable and more resilient economy as we combat climate change."