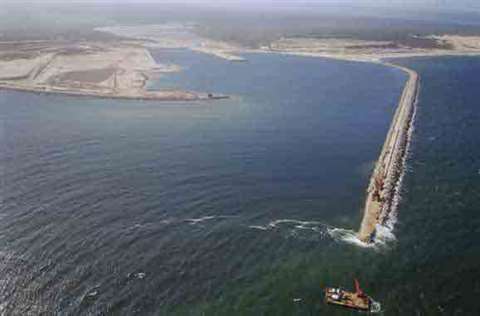 The last 18 months have been some of the most significant in South African construction's history. In May last year the country was named host for the 2010 football World Cup — a milestone for the sport, and a huge vote of confidence in South Africa as a modern economy. The construction industry will of course benefit from the huge amount of work that comes in the run—up to such a major event, with the construction of new stadiums, the upgrade of old ones and a host of associated infrastructure projects.
The original bid outlined a plan for the tournament to take place at 13 stadiums throughout the country. Nine existing grounds would be brought up to World Cup standard through refurbishment, with four new venues being built in Kimberly, Pretoria, Polokwane and Port Elizabeth. More recently though, discussions have taken place between South Africa's Organising Committee and the Fédération Internationale de Football Association (FIFA), with a view to reducing the number of stadiums used to 10.
The flagship venue will be Soccer City in Johannesburg, which will host the opening game and the final.
Originally built in 1987, a ZAR 364 million (US$ 56 million) overhaul will see Soccer City's seating capacity increased to accommodate 94700 spectators, with a roof containing integral flood lights added to cover the top tier of 30910 seats. Other improvements will include the constructionof new changing rooms for players and match officials.
Going by initial estimates, the refurbishment of be the most expensive of the stadiumschemes. Even the four new stadiums, with their capacities of about 40000 to 50000 spectators, are expected to be cheaper, at just under ZAR 200 million (US$ 31 million) each.
More significant in construction terms though is the proposed Gautrain project, an 80 km dual track high speed railway linking the Gauteng Province cities of Johannesburg and Tshwane (a municipality that includes the city of Pretoria), with a spur line to Johannesburg International Airport. With 10 stations — several of which will be underground — 12 km of bridges and 20 km of the urban railway sections in tunnels, the scheme is being heralded as the most significant in Africa's post—colonial history.
When complete, the 50 km journey time between Johannesburg and Tshwane will take just 40 minutes, with the trip from Sandton — a new city that is home to Johannesburg's business community — to the airport taking less than 15 minutes.
The project is being built as a public—private partnership, with a19.5 year concession period — 4.5 years for construction and 15 for operation. The winning consortium was due to be announced as IC went to press, but Bombela, a group comprising South Africa's Murray &Roberts (25%), France's Bouygues (25%) Canada's Bombardier (25%), Loliwe Rail Contractors (16.5%) and Loliwe Rail Express (8.5%) — both South African — was named preferred bidder on 2 July.
Construction is expected to cost in excess of ZAR 7 billion (US$ 1.08 billion). Work is due to get underway by the end of the year, with the major construction tasks coming on—stream in 2006. Completion is due in 2010.
Wider boom
But major projects like the World Cup and the Gautrain link are only part of the story in South Africa's current construction boom. Strong economic growth — the International Monetary Fund (IMF) forecasts a +4% rise in GDP this year — low interest rates and tax incentives aimed at encouraging urban regeneration are all giving the industry a boost. These factors have the biggest impact on the residential construction sector, and in South Africa that covers a huge spectrum of dwellings.
At the bottom of the market new residential construction is all about the eradication of poverty. There are several initiatives in place designed to move people out of shacks in 'informal settlements' and provide them with basic levels of sanitation and infrastructure. In Gauteng province for example, theDepartment of Housing (GDH) has pledged to remove 432000 shacks in 372 informal settlements by 2014, and provide the 2.5 million inhabitants with clean water and basic sanitation.
Building Africa and The Civil Engineering Contractor are published by Brooke Pattrick Publications in Johannesburg. The Civil Engineering Contractor is aimed at contractors and engineers operating in the civil engineering sector, and aims to provide business intelligence on opportunities that infrastructure and large—scale construction projects can offer to the industry, both within and outside of South Africa. Building Africa is aimed at built environment professionals and contractors specifically in the area of building construction. While its mandate is also to provide useful information and opportunities to its target market, its focus is more strongly on Africa as a whole. A great deal of the information featured in this article is based on articles produced by in—house journalists for these two publications.
Having plotted the location and extent of the communities using GPS techniques, GDH has contracted out the feasibility study work to determine the viability of new and existing settlements. Viable sites then go before a housing advisory committee for budget allocation and planning.
Despite a few start—up problems, GDH installed 44000 stand pipes in the 2004/5 financial year, against a target of 53000. However, it is confident it can put 85000 in place in the 2005/6 year, now that the cycle of planning, tendering and construction is gaining momentum.
Redevelopment is a key theme across the board in South Africa, and other initiatives have been launched in the last year to drive the regeneration agenda. Last year Finance Minister Trevor Manuel announced a tax incentive scheme to encourage rejuvenate the country's urban spaces.
Two special urban development zones (UDZs) have so far been designated in Johannesburg and Cape Town, and the scheme works by making the cost of refurbishing properties within these zones tax deductible. In fact the policy works on two fronts — the refurbishment costs are not only deductible from the rental income generated by a property, but also from the owner's overall tax liability, including any salaries. The idea is to make redevelopment attractive to private citizens as well as to property—owning companies.
Besides this policy—driven initiative, there are numerous other mini construction 'hotspots' in South Africa, where the need to replace old infrastructure and buildings is providing work for construction companies.
One of the most significant is the Coega Industrial Development Zone (IDZ) project near Port Elizabeth on the East coast. It is hoped the lure of good infrastructure, low energy costs and a vast 11500 hectares of available space for industrial parks will encourage global manufacturing companies to build new factories in the region.
A key part of the development is the ZAR 2.6 billion (US$ 405 million) expansion of the nearby Port of Ngqura, which is expected to be fully operational by 2008. The current phase, due for completion in October, includes the construction of a 1.89 km long quay wall and two breakwaters — one 2.7 km long and the other1.2 km — along with dredging and excavation of the port basin. The ZAR 1.4 billion (US$ 217 million) contract is being carried out by NHC, a consortium comprising Hochtief Construction, Concor and Ngqura Empowerment Contractors (NEC).
Meanwhile, construction of the IDZ's first factory, a ZAR 200 million (US$ 31 million), 3200 m2 weaving facility for Belgian textile group Sander International, is progressing well. Completion is expected in the first quarter of 2006.
City spaces
Urban redevelopment is also high on the agenda in South Africa. In Durban for example work is underway to transform a 1930s prison and other buildings in the city's waterfront Point district into modern apartments. The whole area of headland is slated for regeneration, with more residences, hotels, canals, a marina and a marine theme park all featuring in a plan developed between the eThekwini Municipality and Rocpoint, itself a joint—venture between Malaysian developer Renong (51%) and black business grouping Vulindlela Holdings (49%).
Meanwhile in Sandton, there is something of a boom in residential and retail construction taking place thanks to the district's fast—growing business community. Arguably the most impressive of these developments is the 146 m high Michelangelo Towers, which was due for completion as IC went to press. Built at a cost of ZAR 750 million (US$ 116 million), the 34 storey building will house 196 luxury apartments, shops, a hotel, swimming pool, gymnasium and sundeck, along with eight levels of parking garages.
All of this development is of course good for South Africa's economy, but the resultant growth of personal wealth brings problems of its own. There were record road vehicle sales in 2004, concentrated in Gauteng Province, and that of course means traffic congestion.
This is of course one of the reasons that Gautrain has been so warmly welcomed. This flagship project is part of a wider integrated transport plan for the province, launched in November last year, which should see bus, train and taxi services improved. The Provincial Government is also planning to use a system of subsidised fares and disincentives for private vehicle use to further encourage people to leave their cars at home.
It is inevitable that growth and development lead to problems with infrastructure capacity, but in South Africa's case it is fair to say the buoyancy and growth potential in the construction market outweigh such headaches.