New 900 tonne lifter from Enerpac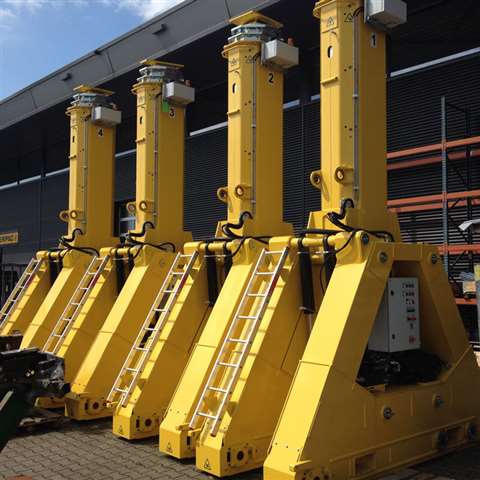 Enerpac has launched a 900 tonne capacity version of its SBL1100 folding boom telescopic hydraulic lifting gantry. Its two stage lifting cylinders give an 11.3 metre lift height. Capacity at the top of the second stage is 600 tonnes.
"Providing a more advanced solution than standard lifting systems, the SBL900 hydraulic gantry offers unique features such as a wireless control system and integrated self-propelled drive system," said Peter Crisci, Enerpac spokesperson. "These features, combined with safe, reliable performance, allow our customers to satisfy their complicated lifting applications."
For extra strength, capacity and lifting height an octagonal boom design is used. It also has a mechanical locking function to hold loads for extended periods. A set of drive rollers allows synchronized travel for sets of gantries. Being able to fold down the boom makes for easier transport. Hydraulics are self contained for easier set up and less of a trip hazard.
Each leg can be controlled individually or via the Intellilift wireless system. Synchronisation on lifting is accurate to within an inch (25.4 mm) and 15 mm on the horizontal travel. An option is a powered side shift for easier load positioning.