New launches from Toro
By Helen Wright13 October 2015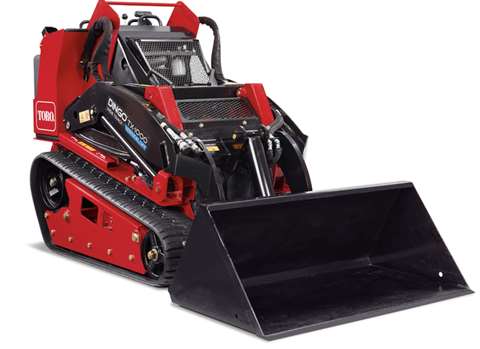 Manufacturer Toro has introduced a new compact tracked loader for the utilities market in the form of the Dingo TX1000, which has an operating capacity of over 1000 lbs (454 kg).
When the loader arms are fully extended, Toro said the hinge pin on the new model measured 81 in (2.06 m) from the ground to allow the TX 1000 to reach over the side of dumpsters and one-ton trucks.
The machine also features a vertical lift loader arm, which is said to keep the load closer to the machine to allow operators to lift more weight with greater confidence.
Toro marketing manager Josh Beddow said, "We know having one machine that can perform a variety of functions on the jobsite is of the utmost importance, and the Dingo TX 1000 has over 20 attachments that make this an incredibly versatile piece of equipment."
The underground and utility attachments available include a vibratory plow attachment for irrigation and cable installations; a bore drive head attachment for boring under sidewalks or other space-restrictive areas; and, high-torque and high-speed trencher attachments for small- to mid-size trenching projects.
Meanwhile, Toro has also introduced a new horizontal directional drill (HDD) in the form of the DD4045, which is said to offer increased rotary torque, re-styled guarding around the stake-down area, and a new software upgrade to Toro Drill Operating System, or TDOS 1.
The new software is said to provide a number of added features to HDD operators including streamlined drill controls, intuitive navigation, and single-screen display of all key information – such as tool rotation speed, engine RPM, thrust, torque, and drilling fluid flow and pressure.
Also new from the company are three new attachments for Toro's riding trencher models. To expand the versatility of the RT600 and RT1200 models, a new direct drive trencher (available on the RT600), a combo mount system (available on both the RT600 and RT1200), and a sliding offset feature (available on both the RT600 and RT1200) have been added.
Additionally, Toro now offers two options of trencher drive styles. The HD PowerTrench drive, which stores power from a flywheel that is transferred to the torque-amplifying planetary system, is said to give the HD trencher the power to overcome rocks or other obstacles in a wide range of conditions.
In contrast, the hydrostatic direct trencher is said to drive deliver durable, cost-effective trenching performance in less demanding conditions.