New mini excavators from Wacker Neuson
By Thomas Allen09 September 2020
Wacker Neuson has expanded its portfolio of excavators with the addition of two new mini excavators – the ET42 in the 4 tonne class and the EZ50 in the 5 tonne class - which are available in Europe.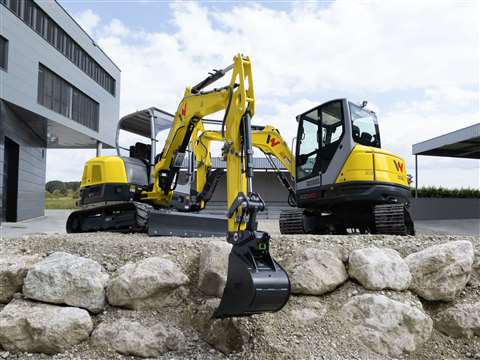 Stefan Bogner, Managing Director of Wacker Neuson Linz GmbH, the group's research and development center specialising in excavators, said, "In designing the new mini-excavators, it was important to us to develop compact machines that are easy to handle, impressive in their performance and in keeping with the latest technological developments."
To this end, the ET42 and EZ50 have been fitted with powerful drive systems to make them suitable for demanding tasks. They have three-point kinematics for enhanced break-out forces, insertion depths and dumping heights.
The "Load Sensing Flow Sharing" hydraulic system, which allows the machines to adjust automatically to the load, gives precise control of machine functions.
Also, four additional control circuits allow the use of a greater variety of attachments, meaning the new models can be used for a wider range of applications.
In addition, the new pressure release switch enables the quick change over of hydraulic attachments.
The models also have wide-opening service covers for ease of access.
The new excavators have large radiators and efficient hydraulic systems so that they can be used in ambient temperatures of up to 45˚C without suffering a loss of performance, according to the Germany manufacturer.
With regard to safety, the ET42 and EZ50 feature a new Active Working Signal (AWS), which means that when the excavator is ready for use, a red LED strip integrated in the engine hood lights up, warning people on the construction site that the machine is in service.
There is also the option of having a rear-view camera installed, with a 7-inch display in the cab.
On both excavators, the lifting arm cylinder has a protective cover made of flexible synthetic material.