SAIA partners with CareerSafe for online safety training
By Riley Simpson08 May 2023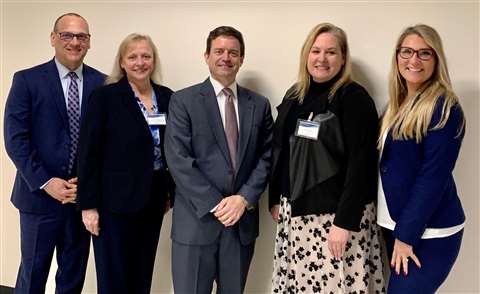 The Scaffold & Access Industry Association (SAIA) has enlisted CareerSafe, which provides affordable online education including 10-hour OSHA training courses, to advance safety and education – two SAIA core values — among the organization's industry professionals.
"The shared values of both organizations reflect our dedication towards excellence in education, integrity and the pursuit of sending our workers home safe at the end of each day," said Tracy Dutting-Kane, PE, vice president of Engineering at Layher, Inc. "This initiative, taken to increase education and safety measures among our industry professionals through our OSHA Alliance, is highly commendable. Such partnerships by organizations like ours lead the way for others to follow and work toward shaping a better future with stronger safety initiatives."
According to research firm IBISWorld, the scaffolding contractors industry continues to grow by an average of 1.6% per year, and $4.9 billion is expected in 2023. SAIA said the educational initiative could allow both of its partners to boost the safety of new, temporary and long-term scaffolding professionals across the U.S.
"It's a partnership made stronger due to our shared values and deep commitment to the OSHA Alliance," said Sherry Pruitt, executive director of CareerSafe. "Both CareerSafe and SAIA revere excellence in education, integrity and the pursuit of knowledge. By partnering and finding new outreach methods, together we can increase the education and safety of SAIA's numerous members and industry leaders."
CareerSafe's industry-tailored training programs provide workers with information about their rights, employer responsibilities and how to file a complaint, as well as how to identify, abate, avoid and prevent job-related hazards on a jobsite.
As members of the OSHA Alliance, CareerSafe and SAIA offer industry education, community and recognized credentials for safety. These courses are available for purchase.