Utilities: Without a trace
By Thomas Allen04 December 2018
The more efficiently and neatly a utility machine can carry out its work the better, and as they are often used in confined spaces or sensitive environments, the disruption caused needs to be minimised.
This was true at a recent project in Iceland, where there is strong demand for new residential developments and the associated utilities infrastructure.
In a remote area of Rangárvallasýsla, about an hour-and-a-half drive from the centre of the capital Reykjavik, a new residential area and hotel are being constructed at Rangárþing eystra. Gröfuþjónusta Þormars, a family-run business established in 1988, has been given the responsibility of installing all the utilities for the development, including the water supply and fibre optic cables.
For the project, the company is using one of Kobelco's ED160BR-5 excavators. It is a dual-purpose machine that was said to have both dozer and excavator functions, allowing it to cover a range of jobs including levelling, digging, pipe laying and backfilling.
The excavator has an operating weight of just under 16 tonnes and is Stage IV emissions-compliant. Downtime was said to be reduced by the large-capacity, 33.9 litre DEF/AdBlue tank and the ED160BR-5 was also said to be quiet when operating thanks to Kobelco's iNDr system.
The machine's operator, Heiðar Þormarsson, said, "Fuel consumption is also excellent, which is important as fuel can be so expensive in Iceland."
To lay the water pipes on the site, the machine is driven slowly away from a nearby stream, up the bank and along the grassland in the direction of the new development, while workers feed water pipes through a special attachment at the end of the machine's arm, which then ploughs them approximately 1.1m into the ground.
This method was said to have caused minimal disturbance to the ground, helped by the fact that the curved tracks of the excavator avoided significant damage to the grass.
Micro-tunnelling
It was also important for disturbance on the surface to be minimised on a recent micro-tunnelling project in France.
A joint venture comprising French contractors Valentin and SMCE Réha was responsible for modernising the municipal drinking water system in the Greater Strasbourg area. To guarantee a supply of drinking water in the future, the supply line of a new well in the nearby district of Plobsheim had to be connected to the city's pipeline network.
The project included four underground pipe jacking drives, and in Plobsheim the sections were between 50 and 215m long. They ran under the groundwater level, with the longest section running through groundwater in a non-cohesive geology and under a busy highway.
In order to avoid damaging the road, pipe jacking operations had to be constant. Otherwise, if the tunnel boring machine (TBM) stood still for long periods, minor heave or settlement could have occurred on the surface. So, in two-shift operations over a month-long period, the drive under the highway was conducted without interruption.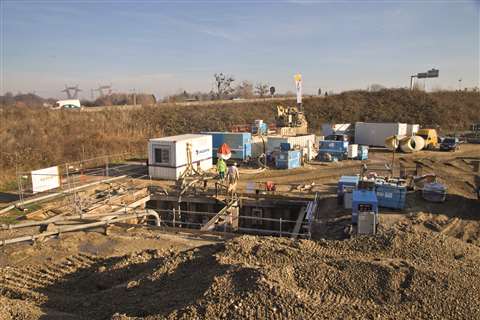 The two contractors opted to use a slurry-supported AVN machine from Herrenknecht, due to the water-bearing ground conditions with coarse gravel and sand, typical of the plains in the upper Rhine valley.
For the pipe jacking drives in Plobsheim, the AVN1200 was refurbished and adapted to the requirements of the project at Herrenknecht's Schwanau headquarters. The machine's diameter was expanded from 1,505 to 1,740mm, and it was equipped with a new mixed-soil cutterhead.
Asbestos-contaminated
UK-based infrastructure provider blu-3 had to remain particularly mindful of the surrounding context in which it was working during two recent projects in the UK. When carrying out preparatory work for a new-build mixed-use development in Luton, the company had to deal with asbestos-contaminated materials.
The £7.5 million (€8.57 million) works included the bulk cut and fill of 120,000m3 of the contaminated materials, as well as the construction of a spine road, groundwater remediation and initial service installation for the on-site area.
In addition, a carriageway had to be widened, the site entrances needed to be created, an extensive series of services required both diverting and installing to serve all units, and low and high voltage networks had to be put in, along with a new substation.
The main challenge, however, was said to be dealing with the significant presence of asbestos, in part because of the site's proximity to a Vauxhall factory.
Dust suppression measures were required during the cut-and-fill process, for which blu-3 used mobile atomisers at various intervals, along with water bowsers and ground hardening additives, to reduce the dust created and avoid potential issues with filters at the local factory.
Over at Elephant Park in London, blu-3 was also responsible for £4 million (€4.58 million) worth of preliminary work at a large residential development. The company had to deliver infrastructure works prior to the construction of apartment blocks.
Over a 65-week period, blu-3 had to create and install a combined sewerage and storm water drainage system, attenuation tanks, flow-restricting structures, gas mains, water mains, and electric ducts and pits.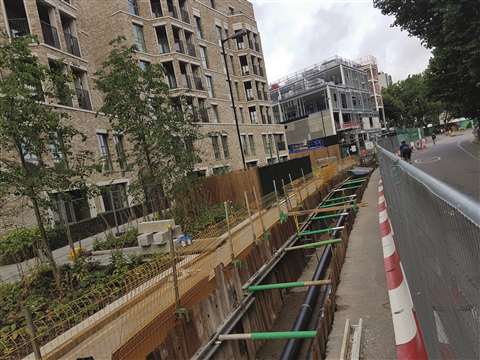 A key challenge was said to be the installation of utilities under an existing Thames Water gallery sewer access. To overcome this, blu-3 surveyed the site with confined space gangs prior to demolition and rebuilt it to the same specifications, while working within the public highway.
The works undertaken on Rodney Road required a special pedestrian crossing to be installed as part of a two-way traffic light control.
Also, the deep drainage works needed to be planned and managed to ensure that the risks associated with this activity could be minimised. The trench support solution comprised a combination of sheets, frames and trench boxes, and all excavations had their atmosphere monitored.
A large pipeline expected to cost €4.5 billion is currently under construction between Greece and Italy, via Albania. Stretching 878km, both onshore and under the sea, the Trans Adriatic Pipeline (TAP) project is part of an international energy scheme to pipe natural gas from the Caspian Sea into Europe.
The onshore work is being carried out by French-based pipeline contractor Spiecabag, which is responsible for a 187km section across Greece and a 215km section through Albania.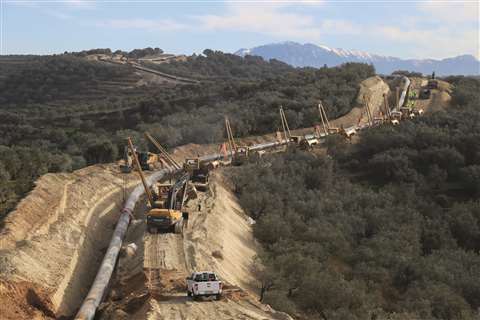 With any such project, it is of course important to avoid delays caused by machine breakdowns. This is particularly challenging in such a demanding environment as Albania, but along a 215km-long stretch of the pipeline in the country, from Bilisht Qendër in the east to Fier in the west, TAP has been able to report zero engine failures. This has been partly attributed to the introduction of a suite of telematics on every Volvo Construction Equipment (Volvo CE) machine operating across that region.
Intelligent telematics
Proactive monitoring is an intelligent telematics system provided by Volvo CE. It allows the machines to communicate with workers on and off site, monitoring all aspects of the machines' health and highlighting the most relevant codes and alerts.
Abhijit Menon, product manager for the Proactive Monitoring Service, said, "Traditional monitoring systems risk information overload, making it almost impossible to work through all the monitoring signals and error codes – and spot the issues that really matter. Instead the dealer can now provide a complete one-stop-shop solution for data management."
Proactive Monitoring has been active on all 91 of TAP's new machines in Albania – eight EC300DL excavators, 57 EC380D/El excavators, 16 EC480D/ELs excavators and ten A30F articulated haulers.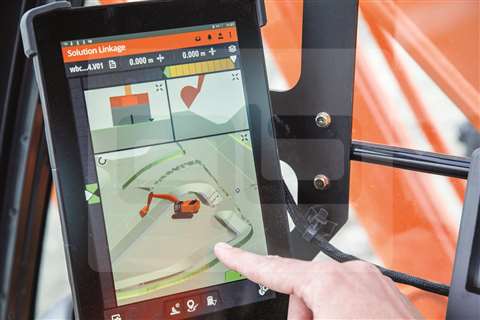 Rodrigo Konda, director of global key accounts at Volvo CE, said, "We have tremendous support from our Hub West aftermarket team, as well as our local dealers T&C and Saracakis. The combination of having local technicians on site, a stock of spare parts and the right training to cope with any challenge allows us to efficiently manage this large fleet. But Proactive Monitoring was the icing on the cake to make sure our local team was able to immediately investigate and pinpoint any problem."
New digital technology from Hitachi Construction Machinery is also helping to improve efficiency in utility projects, with efficiency gains of between 30 and 50%, according to the company.
Hitachi recently introduced the ZX210X-6 ICT hydraulic excavator with machine control to the European market. Semi-automatic operation of the front of the machine was said to ensure consistently high levels of accuracy, as well as improved safety.
One particular feature is the bucket angle retention, which allows slope finishing, for example, to be carried out with fewer movements as the angle of the bucket is maintained throughout. This means the operator can focus on controlling the excavator's boom and arm.
Overcut protection
Another feature that makes the operator's job easier – and can make less skilled operators more effective – is the overcut protection function. Operators do not have to worry about over digging since the edge of the bucket is controlled so that it follows the target surface.
The sensors mounted on the body, boom, arm and bucket of the ZX210X-6, said to be among the fastest available, work in tandem with the machine's hydraulic control unit.
The position can be determined with its 3D system, to which 3D civil engineering design data can be downloaded via the internet or USB device. The machine's position and altitude are then ascertained by satellite positioning and the sensors.
The 25cm touchscreen monitor in the cab, developed in co-operation with Trimble, is factory-fitted and was said to operate like a smartphone so that it is user-friendly.
Versatility has become an important characteristic for equipment manufacturers to work into the design of new utility machines.
In the development of the new WB93R-8 backhoe loader from Komatsu, the company said versatility was key.
Driven by a 75kW engine, it is the first of a range of new backhoe loaders that will be in line with EU Stage IV emissions regulations, and it features Komatsu's Power Shift transmission and four-wheel steering.
The WB93R-8 comes with updated Komtrax technology that includes GPRS 3G, monitoring of fuel usage and an AdBlue gauge.
Operator comfort was said to have been improved by the new 18cm multi-function monitor and the viscous engine fan clutch, which helps to reduce noise, while also cutting down fuel consumption.
Rental market
For Caterpillar, versatility was also a key concern in the development of its new utility compactors because they are aimed at the rental market.
The CB2.5, CB2.7, CB2.9, and CC2.6 range from 2.27 to 2.63 tonnes, and typical applications were said to include streets, cycle paths, courtyards and parking lots.
The machines use toggle-type switches for quick and simple activation of machine functions, and special glow-plug technology was said to make for easier starting.
For more efficient hoisting onto transport vehicles, the compactors are available with a single-point lifting option and a durable hitch. In addition, they can be fitted with a foldable ROPS (roll-over protection system), not only for reduced transport height but also to allow the machines to move under and around low structures when performing compaction tasks.
To make it easier for the new models to be fitted into a rental fleet, they have been fitted with Caterpillar's Product Link capability.
It enables close monitoring so that owners can remain informed about the location and service needs of their machines.
Atlas Copco has expanded its 8 Series Utility range of air compressors for utility trucks with the addition of three new models below 500kg in weight.
The company said the new compressors allowed operators that required compressed air at flow rates of up to 2.8m3/min to reduce the overall weight of their vehicles and also to save space, since the units have a smaller footprint.
Hendrik Timmermans, vice president of marketing for Atlas Copco's Portable Air division, said, "Not only do they weigh below 500kg, but all compressors in the Utility Air range now offer enhanced industry-leading service intervals."
Heavy-duty trencher
For large trenching jobs, Ditch Witch has introduced a new heavy-duty trencher – the HT275.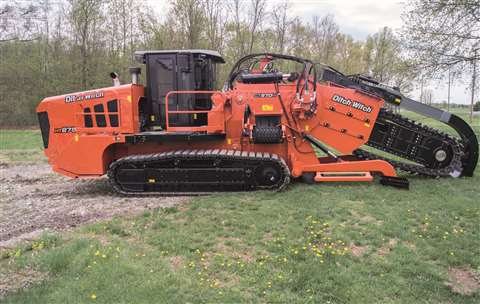 Said to be the company's largest trencher to date, it was designed to increase year-over-year return on investment on water, sewer, gas, power and under-drain installations, pipeline distribution and other heavy-duty trenching tasks.
It can be used on installations up to 3m deep and 66cm wide.
The HT275 has a hydrostatic trencher-chain drive with an infinitely variable displacement motor, which was said to allow operators to match chain speeds to soil conditions with relative ease.
It also has four hydraulic quick-disconnect blocks that reduce the time it takes to change attachments from days to hours, according to Ditch Witch. Also, the design allows operators to change rear attachments in the field without the use of heavy lifting equipment.
At the Bobcat European Innovation Centre, a new range of mini excavators has been designed for the European market.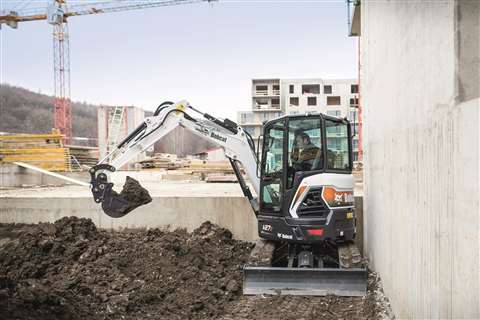 Ranging from 2 to 4 tonnes in weight, the E26, E27z, E27, E34 and E35z were said to have high digging forces, good stability and smooth control, while remaining easy to transport.
The company said that new features introduced on these models allowed them to be configured to suit a wide range of applications and customer needs.
Also, the machines have been made more durable by the cylinder-inside-boom design concept, which protects the boom cylinder.
Operator comfort was an important concern in the machines' design too, with the development of a new cab that has more space and improved entry and exit due to new ergonomic handles and a wider door.
Larger windows and narrower pillars make for better all-round visibility, and in-cab noise and vibration levels have been reduced.